As always, I encourage voters to take a little bit of time and read the bios before voting (I know how distracting those wonderful pictures can be). It doesn't take long, and it can be extremely fascinating to get to know our squad. Also, more than once, my vote has been swayed by the information provided. And speaking of my vote, just like last year, if there is a tie, I will nullify my own vote declaring the other cheerleader the winner (this actually happened).
Remember the main rule:
I will not be tolerating any derogatory, insulting or demeaning comments about our cheerleaders. They are all gorgeous, and I'm fine with you talking about how great they look or how awesome their answers are, but I will not stand by and watch anyone nitpicking about some perceived flaws about their appearances. If I see any more of this kind of talk about our cheerleaders, the comments will be removed. Repeated comments will be cause for warnings and or punishment from MHR. I will continue to post this new rule for anyone who may have missed it for the rest of the tournament. Thank you for being civil and giving the proper respect that our cheerleaders deserve.
But, without further ado, lets get down to business.
If you can't see the full bracket, just click on the picture. It should take you to the source image.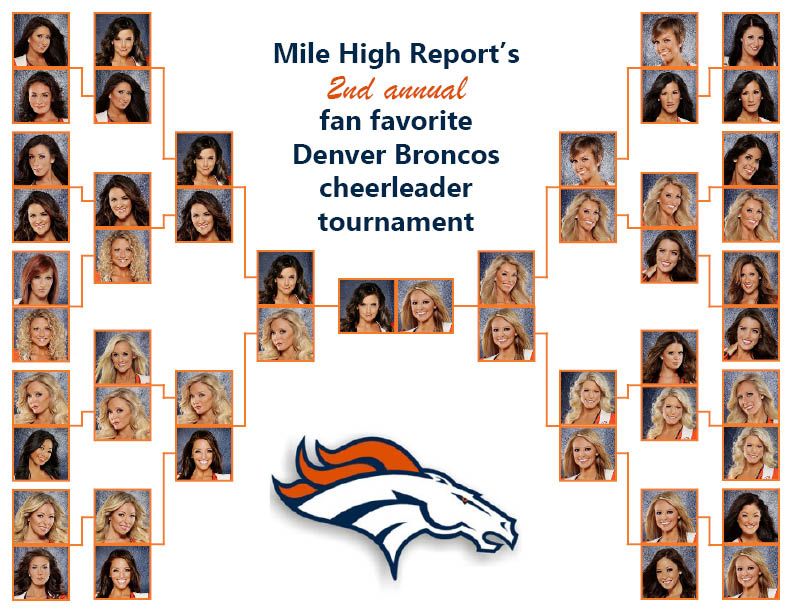 Third Place Match: Heather vs. Candace

Heather

I believe this is Heather's third season cheering for us. While her official profile on www.denverbroncos.com says it's her second, it said the same thing last year. So, we'll just stick with it being her third. She kept her profile short and to the point this year, so unfortunately we don't have a lot to go on. But, as always with our vets, we can look back to her answers from last year to find out a little more about her. This special education teacher from Englewood had a very unlucky draw in last year's contest, facing semifinalist and fan favorite Nikki in the very first round of the tournament. Despite the epic match up so early in our tournament, she managed to get 45 percent of the vote, and very easily could have drastically changed the end results of our first year. You can see her last year's bio and that match up here.
So far in this year's tournament, she found a way to defeat Kisato in the first round. In the second round, she easily beat Lauren H and in the quarterfinals, she beat Katie W. And, of course, she fell to make it to the championship by losing to Patricia in her semifinal match.
Her answers to her bio page on denverbroncos.com:
What is the best thing about being a Broncos Cheerleader?
Having the opportunity to work with such incredible women and an exceptional coaching staff. These women have become my close friends and the sisters I've never had. We share an incredible bond. Besides my teammies, I absolutely love the thrill of game day, getting to cheer for my hometown team, and perform for the greatest fans in the NFL!
What is your most memorable experience/game?
The 2011 season was a very special and memorable season with many thanks to Tim Tebow. Although there were many great moments, I will always remember that magical throw Tebow made to Demaryius Thomas to win the game in overtime against the Steelers in the AFC Wild Card game. I've never felt such emotion from a crowd of people like that in my life. I had tears of pure joy. I didn't want to leave the field that night. It was an amazing moment in Bronco's history that I'm forever grateful to have been apart of.
What is you're favorite book?
"Oh, the Places You'll Go" By Dr. Seuss. It's a timeless book and I love reading it to my students.

What are your favorite things to do in Denver?
Maybe I'm a little bias because I'm a native, but I absolutely love the city of Denver. The scenery is beautiful and there is always something to do. I love attending local sporting events, eating out downtown, hanging out in Wash Park, or riding my new cruiser around (I'm a little obsessed!).
Candace

Candace is another newcomer to our tournament who wasn't in last year's contest. This is her third year cheering for us in the past four years. This University of Dayton grad works as a surgical sales rep and I think we can all say welcome back!
In the first round of this year's tournament, Candace defeated Christina B. After that, she went on to defeat Christina C. in the second round. And I think we all remember what happened in her quarterfinal match with Sam. And, of course, she fell to make it to the championship by losing to Ashley in her semifinal match.
What is the best thing about being a Broncos Cheerleader?
The best thing about being a DBC is the friendships I've made over the past 4 years. My family lives in Ohio, so my teammates have really become my second family. They always know how to make me laugh.
What is your most memorable experience?
In 2010, I had the opportunity to travel with a few of my teammates to 7 countries on the Armed Forces Entertainment tour to various bases. My favorite memory is visiting soldiers at Landstuhl Regional Medical Center and the Wounded Warriors Project in Germany. It was rewarding to thank our soldiers for what they do and bring smiles to their faces.

How do you spend your time off the field?
My career requires me to work in the operating room and provide insight on products for specific patients and procedures. Needless to say, my schedule is pretty hectic and unpredictable, but if I find free time, I really love to travel and visit my family.

What has been your most memorable game?
I'll never forget my first game as a DBC. It was the Broncos vs. Browns game back in 2009. My whole family flew in to cheer me on. I remember we had just won the game and my teammates started heading back to our locker room. I was so excited to be cheering that I missed the signal to head in, and just kept cheering long after my teammates were gone. My family still teases me about it!
What is your occupation and how do the Broncos affect your work?
Anyone who has ever worked in the medical device field can attest to the long hours and high sales expectations, so it's definitely a high stress job. I love being able to go to practice after a long day and dance the stress away. It's helps me live a more balanced life.
Who do you admire most in the Sports industry?
I admire any athlete that uses their talents and stardom as a platform to give back to the community.
What is your favorite book?
"Through My Eyes" by Tim Tebow with Nathan Whitaker. Even though he's not a Bronco anymore, his book inspired me to never give up or forget the bigger picture. Hard work and determination will get you to where you want to be.
What is the best thing about Broncos fans?
Their passion for our team! Broncos fans are all over the world!
What do you do in your spare time to relax?
Hot yoga and bubble baths
Best advice to kids?
Don't let other kids bully you or make you feel like you're not good enough. Ultimately, it's their own insecurities that get the best of them eventually.
Most important goal in life?
Happiness
Place you would most like to visit?
Bora Bora
Who has been your greatest inspiration?
My parents. My father started his own custom home business when he was 19 years old. He taught me the importance of a strong work ethic. My mother runs her own personal training business. She is her clients' biggest cheerleader, and inspires them to lose weight and live healthier lifestyles.
What is the one thing that you value most in life?
My family. They are my greatest support system and have always believed in me and encouraged me to go after my goals.
Toughest part about being a cheerleader?
The toughest part about being a cheerleader is remembering all of our routines. We learn over 25 new routines each season and after 3 years on the team, they all start to run together!
Two people you would like to have dinner with?
My best friends and teammates, Tara and Allyson. I never leave a meal with them without my face hurting from laughing so hard.
Favorite things to do in Denver?
I love going to all sporting events, concerts, and charity events. Nothing can top a great concert in the summer at Red Rocks.
Favorite sport to participate in?
Living in Colorado, I'm lucky to be close to some of the best skiing in the U.S. I really enjoy escaping to the mountains on the weekends and skiing with friends...when we don't have a home game of course!
Three words that best describe you?
Driven, Passionate, Loyal
Most prized possession?
A teddy bear my Aunt gave me when I was born. It was the first gift I ever received and I still have it.
Greatest Accomplishment
Earning a spot on the team as a DBC. So many women audition every year to be a part of one of the most highly technically trained cheerleading teams in the NFL. I'm just grateful to make it back.
This is an important one Bronco fans. Only one will be remembered whenever we look back on our contests as being in the top 3. Good luck making your decision. As always, please feel free to add your opinions and any info you can find on these lovely ladies, and let me know if there's anything I can do to improve this series. Go Broncos!
One last look

Heather


Candace


brought to you by Gelder