As always, I encourage voters to take a little bit of time and read the bios before voting (I know how distracting those wonderful pictures can be). It doesn't take long, and it can be extremely fascinating to get to know our squad. Also, more than once, my vote has been swayed by the information provided. And speaking of my vote, just like last year, if there is a tie, I will nullify my own vote declaring the other cheerleader the winner (this actually happened).
Remember the main rule:
I will not be tolerating any derogatory, insulting or demeaning comments about our cheerleaders. They are all gorgeous, and I'm fine with you talking about how great they look or how awesome their answers are, but I will not stand by and watch anyone nitpicking about some perceived flaws about their appearances. If I see any more of this kind of talk about our cheerleaders, the comments will be removed. Repeated comments will be cause for warnings and or punishment from MHR. I will continue to post this new rule for anyone who may have missed it for the rest of the tournament. Thank you for being civil and giving the proper respect that our cheerleaders deserve.
But, without further ado, lets get down to business.
If you can't see the full bracket, just click on the picture. It should take you to the source image.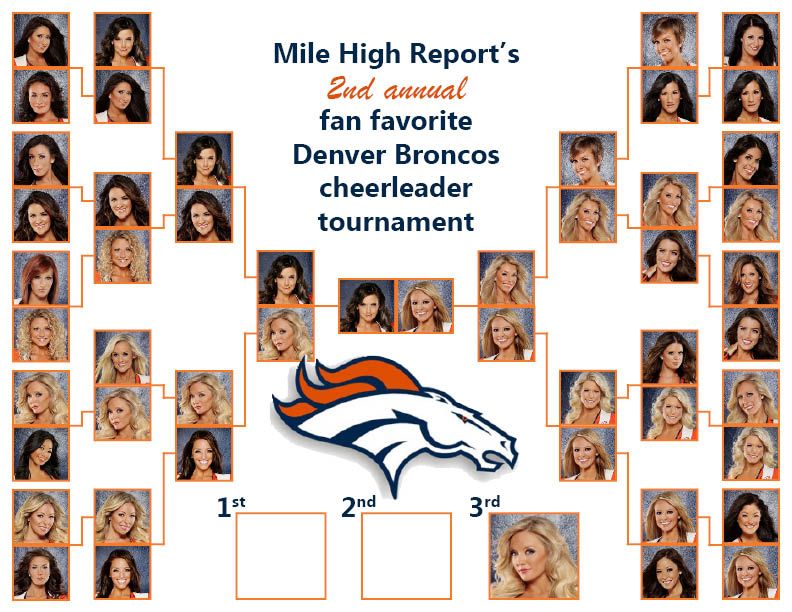 Championship: Patricia vs. Ashley

Patricia


This is Patricia's second season cheering for us. She's a graduate of CSU, majoring in Apparel and Merchandising with a minor in business and is currently working as a Sales Assistant. She also happens to be last year's winner. She beat Kim in the first round, Becky in the second round, Katie W. in the quarterfinals, Toni in the semifinals, before taking down fan favorite Nikki in the final round. She's now two wins away from a repeat performance. Can she do it again?
So far this year, after her first round bye, Patricia defeated Michelle by a wide margin in the second round. She was able to repeat that performance against Amanda in the quarterfinals. And she beat the eventual third place winner, Heather, in her semifinal match.
Fan Since:
I can remember! I was raised a bronco fan. I can't imagine rooting for any other team.
Alma Mater:
CSU
Degree:
Apparel and Merchandising with a minor in business
Occupation and how does Broncos affect your work?
I am a full time student and work at ace hardware as a cashier and sales floor assistant. Adding Broncos into my life definitely makes my schedule packed and always busy, but I like it that way I'm not one to want to sit at home I like being out of my home being involved in whatever I can.
What is the most important attribute of a Denver Broncos cheerleader?
Being involved in the community and also giving back to it as well. There is only so much one person can do for a charity and being a part of an organization where everyone is involved and out there giving back to those who really need help is something I absolutely love about the organization. I also love being part or a team where everyone has the same passion for dance that I also have as well.
Most memorable experience?
So far ... The Broncos Bunch promotion. There was this little girl that came up to Tristan, Michelle and I and handed us a picture her brother had drawn of a cheerleader cheering at a game. It made me realize that we are role models to a lot of young kids and that brought the biggest smile to my face when they gave that picture to us ... We made them sign it later as well.
Who has been your greatest inspiration?
As cliché as this sounds, my mom is definitely my greatest inspiration. She died when I was only 12 years old and she was a very successful woman who sadly died at a very young age. So whenever I say I want to do something or set a goal for myself I always am reminded of my mom and how her life ended very suddenly, and if I ever want to accomplish a goal in my life I need to work towards it every day with absolutely no regrets or telling myself I should have done something different. You only have one life and you need to make the most of it before it's too late and your looking back saying what you should have done differently, my motto is to always look forward toward the future at what you can do instead of looking backward at what you should have done.
What is one thing about being a DBC that most people don't know?
How hard you have to work on the team. Being a DBC means carrying a Legacy on your shoulders of all the DBC's before you. Every year the standards are higher and it takes a lot of work to meet those standards.
Best advice to kids?
Never say, "I can't!" Because if you work hard and set your mind to achieve something you can do whatever you want!
What sports do you enjoy watching or playing?
I love watching football and basketball, and I love playing beach volley ball.
What top three things do you hope to accomplish in your lifetime?
1. Work for Ralph Lauren Corp. In New York City, Its my dream job.
2. Own my own fashion apparel boutique and open it in multiple cities
3. Have my own company where I contract out hairstylists and makeup artist for various shows and special events.
What do you value most in your life?
My family and all the people I have met and become friends with. They all play a huge role in my life and I would not be the person I am today without all the encounters I have had with my friends and family. They make me want to be the best person I can possibly be not only for myself but for them as well.
Place you would most like to visit and why?
Europe. I went to Spain after high school and my mind was blown away by the culture and the history that lies in every stone of that country. The US is so young compared to Europe and I just want to learn so much more about the different cultures there.
Who do you admire most in the sports industry?
What a magnificent show they put on for their fans. Sports would not be the same without the fans that go to every game and cheer on every team they are the ones that really bring a sporting event to life and that's what I admire the most.
What is the best thing about Broncos fans?
They know how to bleed blue and orange especially when the raiders come to town! Not only that but they stay loyal no matter what. The broncos have had it tough the past couple of years but the fans are still there cheering them on. When things gets rough they are there to support the broncos and help them get through the season. But when the broncos are having a great season the bronco fans aren't going to jump on the band wagon they are going to cheer on the broncos all the way to the playoffs and the super bowl if they make it!
What book are you currently reading?
Water for Elephants. Its amazing, Im really trying not to go see the movie!
In what charities or community service organizations are you most involved and why?
CSU unity. It is a community service program that goes through our school and one day during the school year all the students at CSU volunteer to help someone in the community. It's a great program because it brings our school together as well as the whole fort Collins community.
What is something about you that fans might not know?
I am allergic to everything it seems like. Dust, nuts, sunflower seeds, dogs, cats, the list goes on and on.
What makes you laugh?
Little kids! The things they say and ask are so random and creative. Every time I have a conversation with a child under ten years old it brings a smile to my face and constant laughter.
How do you challenge yourself?
Through dance actually. I go to the studio at my school everyday and try to learn a new technical trick. I work on it everyday until it is perfect, and then I move on to another one. It keeps me motivated and always working towards achieving my personal goals and of course it make me a better dancer.
How do you spend your time in the offseason?
I have no offseason! I am constantly working on something. It is either in work, school, or dance. But when I do have free time I try and spend it with my friends and family by going on trips or just hanging out with them at concerts or parks.
In what area of your life have you achieved the most success?
In dance. I was never formally trained, except for in Irish dancing, and I had to learn a lot of technique on my own. My had work definitely paid off. I was captain of my high school dance team, danced for CSU for three years on the Golden Poms, and now I am DBC. I am very proud of everything I have achieved in my dancing carrier and could ask for anything more.
Ashley

Ashley is a rookie on our squad. This CU grad from Yardville, N.J., currently works in marketing as a sales associate at Monty Nuss Photography. She also is a coach for the ThunderRidge Varsity Poms team in Highlands Ranch.
In the first round, Ashley was able to defeat Katie K. and in the second round, she easily defeated Kara. She then went on to blow out Tristan in her quarterfinal match. And she defeated fan favorite Candace in her semifinal match.
What is the best thing about being a Broncos Cheerleader?
The best thing about being a DBC is having the opportunity to make a difference in the lives of youth in our community. Being a role model for the girls in our all-star program has been a blessing for me. I hope that they learn and grow as much from me as a I do from them!
What is your most memorable experience?
The most memorable experience for me thus far has to be dancing at the NFL Draft Party at The Tavern. So much Broncos love in such a small space... The energy in the room was incredible and I will never forget it!
How do you spend your time off the field?
I am a total nerd and LOVE reading books whenever I have free time! I also love to spend time with my wonderful family and enjoy going on hikes and bike rides with my boyfriend.
What is your occupation and how does being a Denver Broncos Cheerleader affect your work?
Currently I work at Monty Nuss Photography and I also coach the ThunderRidge Varsity Poms team in Highlands Ranch. As often as possible I try to pass on the skills that I learn through Broncos to the girls that I coach; not just in terms of dancing, but life skills as well. I must admit that trying to balance three schedules gets a little tricky at times, but I love what I do and am thankful for the opportunities I have been given.
Who do you admire most in the Sports industry?
The person I admire most in the sports industry is Todd Helton. Not only has be remained an incredible athlete over the years, but he shows true character and loyalty by being one of very few players in the MLB who has spent his whole career with one club. Denver is lucky to have him!
What is your favorite book?
Water for Elephants by Sara Gruen. I highly recommend this book to anyone who loves a clash between romance and action!
Where do you see yourself in 5 years?
In 5 years I see myself living in Colorado, teaching and coaching dance, hopefully newly married, with a Doberman! And of course I will still be the biggest Broncos fan!!
What is the best thing about Broncos fans?
Broncos fans aren't fair-weather fans! The weather in Denver can change from 60 degrees and sunny to 25 degrees and snowing in a matter of a few hours, but on game day, Broncos fans are at the stadium in blue and orange no matter what!!!
What do you do in your spare time to relax?
I love taking yoga at CorePower to relax after a stressful day. I also love sleeping when I get a chance to!
What is your best advice to kids?
The best advice I ever got was from Dr. Seuss so I will pass along his words, "You have brains in your head. You have feet in your shoes. You can steer yourself any direction you choose. You're on your own. And you know what you know. And YOU are the one who'll decide where to go!"
What is the best gift you ever received?
The 2006 Hyundai Tiburon that my parents got for me 2 years ago! I love you both!
Most important goal in life?
My most important goal in life is to create a lasting impact on every person I come in contact with. At the end of my life, I want to look back and be able to say that I made a difference in the lives of those around me. The best way I can begin to accomplish this goal is by being a good role model for the kids I meet and work with through Broncos.
What is the one place you would most like to visit?
If I could go anywhere it would be Bora Bora. I want to stay in one of those huts in the middle of the water and just forget about the world for a little while :)
Who has been your greatest inspiration?
My greatest inspiration is my Uncle Dan, who fought Pancreatic cancer for nearly 3 years until he passed in November of 2011. . In the hustle and bustle of our busy days, it's so easy to forget what is really important, but my uncle taught me to cherish the little things and never take a single moment for granted. I know that he is with me every day, giving me strength when I need it and helping me reach my goals :)
What is the one thing that you value most in life?
My faith
What is the toughest part about being a cheerleader?
The hardest part about being a Denver Broncos Cheerleader is finding time for sleep!! From the late night practices to the games and events, our schedules become extremely busy. Majority of the women on our team have full time jobs so our days tend to be pretty lengthy.
Who are two people you would like to have dinner with?
Beyonce and Twitch from SYTYCD (probably not at the same time!)
What are your favorite things to do in Denver?
I love going to sporting events so depending on the season you can find me at any Rockies or Nuggets games!
Favorite sport to participate in?
Basketball! I may be short, but I enjoy shooting around and playing 3 on 3 games with friends.
What are the three words that best describe you?
Trustworthy, Honest and Determined
What is your most prized possession?
My Broncos uniform! Every time I put it on I am reminded of how blessed I am to wear it. I love being able to represent Colorado in blue and orange and to be a role model for kids within the community. I never want to give it back!
What is your greatest accomplishment?
My greatest accomplishment is graduating from college. This past May I graduated from the University of Colorado at Boulder with a Bachelor's degree in Business Administration with an emphasis in Marketing. Throughout all of college I worked and paid all of my living expenses myself which has made me very independent and responsible. I am a proud alum and will forever be a buffalo! GO BUFFS!
This is a hard decision Bronco fans. Will Patricia repeat her championship performance? Or will Ashley win in her first year as our cheerleader? They both deserve it, so good luck making your decision. As always, please feel free to add your opinions and any info you can find on these lovely ladies, and let me know if there's anything I can do to improve this series. Go Broncos!
One last look

Patricia


Ashley


brought to you by Gelder