Training camp is right around the corner now. To those of who love the game of NFL Football, this means we can finally breathe again (as it is a well known fact most NFL fans turn into mindless undead zombies during the off season violently tearing at any little news story regarding the NFL that we can get our grubby little claws on).
So since I dig sharing my insights on our beloved team with MHR, here I am in all my glory. The focus of this post is going to be what Sadaraine is most interested in this year in training camp. We'll discuss thoughts on what position battles will be fun to watch and possible personnel moves that may be coming down the pipe.
The No Bull Disclaimer: This is an opinion piece. The main reason I do it is to share topics and insights I have that others may miss. Usually this is a catalyst for great discussion. Don't be afraid to disagree...just make sure to bring your big boy underoos to the party. If you have another way of seeing things, share and include the bits and pieces of why you think that way. I'm not above having my mind changed. Just because I think I'm one of the coolest cats in the room doesn't mean I'm not mistaken from time to time. Speaking of which, if you don't think I'm one of the coolest cats in the room, that's okay too...just don't waste your time insulting, whining, and / or complaining my stuff. MHR and the Internet is a very big place. It is better to seek someone who writes more to your speed than to waste your time talking to me about how I'm a 12 year old punk or an arrogant jerk. Seriously...I'll either ignore you or trash talk you for my entertainment and then ignore you.
Positions of Interest
So here is where we talk about what I think are the interesting battles for this season. Intrigue, competition, future planning, and either glut or dearth of talent would pique my interest in a position. We've had a pretty fortunate off-season in personnel changes. We also have a coaching staff that seems to actually develop talent well (GASP!). That makes training camp all the more fun to dig into. It also means there may be some very interesting choices to be made by the time we start trimming the fat.
Offense
Overall the offense should be a joy to watch this preseason. We will have a starting unit mostly intact in year two of running the Peyton Manning offense. The unit overall should look mostly sharp especially if it is the ones on the field.
Quarterbacks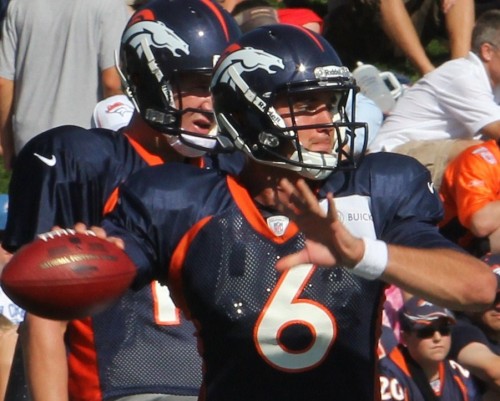 The majority of my interest here will be looking at Brock Osweiler to see if he's grown. To be honest last year he did not look good behind the center. His reads past one route were very slow. His throwing did look decent. I'm mostly going to watch for signs of growth in the mental aspects of the position: Is he diagnosing defenses at the line? Is he making read progressions? Is he being decisive and getting the ball out fast?
Secondary to this, I'll watch Peyton's throwing to look for signs of better strength. Is there more zip? He doesn't need it to be successful, but he's said in the offseason that he's throwing better now. Let's see it.
Running Backs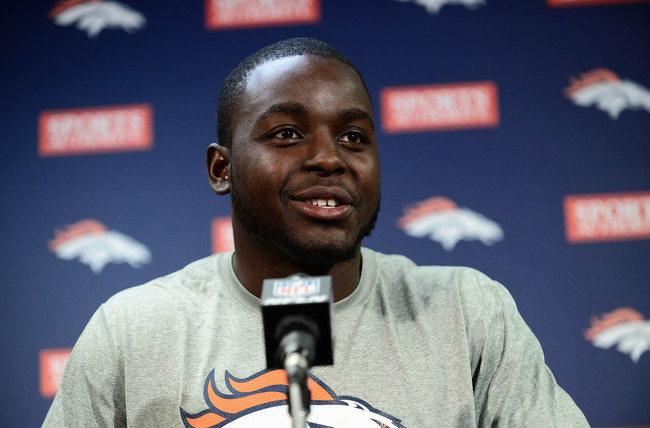 This position probably is the most up-in-the-air competition that will be easy to follow this preseason. Knowshon Moreno, Monte Ball, Ronnie Hillman, and Jacob Hester will be slugging it out to be our starter and / or #2 guy. Don't think for a second we'll be using a workhorse system. John Fox has shown he prefers keeping a rotation going.
I see things shaking out as I have them listed above. I think if Ball and Hillman don't show good pass protection you will see us bring in another guy or Hester will jump them (he has at least a puncher's shot to). I think the best situation for our team is for Knowshon to be our primary back for at least half the season, then give Ball more playing time as he gets a better feel for the game.
Hillman I see as a dark horse. I really wasn't impressed with him last year. I don't see how he can get much better, but I'd love him to prove me wrong. I think him putting on muscle this off season is a definite step in the right direction. I do also realize he is VERY young for an NFL player. So it is definitely possible for him to take a step in year 2 or 3.
I think we'll take 5 backs into the regular season. My hope is that our 5th is CJ Anderson. I've seen too much of nothing from Lance Ball and Jeremiah Johnson. It is time to let those two out to pasture.
Tight Ends
The big thing to watch here are the young-guns. We know what Jacob Tamme and Joel Dreessen bring to the table...but what can Virgil Green and Julius Thomas do?
I like what I see from Green a great deal. His blocking is superb. When they have sent him out in routes, he has looked very good to my eyes. I'd like to see him catch some more this year.
Thomas I'm not so impressed with. Yeah we have kept him this long so the coaches must like him, but he's been here long enough...why hasn't he seen playing time? He always looks decent in TC but never sees playing time in the regular season. What I want to see his Julius make big plays over and over this preseason. I do think we've had the luxury of a better TE in front of him (Tamme) so it is easy to let him be a back up and keep developing.
Offensive Line
Unless Ryan Clady holds out, this should be a boring group to watch in all honesty. Manning gets the ball out too quick in the passing game. They are all superb at run blocking. Contrary to what some have said, we've been doing zone blocking for years and our guys are comfortable with it (we use both main run blocking schemes and have for awhile). The only thing interesting to watch is if we have a guy hold out (Clady) or an injury on the line...or at least that's my take on it.
Wide Receivers
I'd really like this position grouping to be interesting, but it largely isn't to me. I have been to too many rodeos to think otherwise. What we get to see will mostly be uninspiring vanilla flavored play-calling when they aren't running drills. At the NFL level all the WRs should look great doing drills.
If I watch anything, it will be Gerell Robinson, Andre Caldwell, Tavarres King, and Greg Orton. There is no question who our #1, #2, and #3 guys are. Who's #4 and #5? I liked what I saw from Robinson and Orton last year. I didn't like Caldwell much at all. King is a rookie so it will be good to see what he brings to the table. Rookie WRs can climb ranks pretty quickly if they are sharp.
Defense
I'm not gonna lie...I love me some defense. I was more excited last year by the steps our defense made than I was by having Peyton Manning at QB. We made some very impressive strides and we kept our Defensive Coordinator in place. This year we look to have made several improvements to our roster on the defensive side of the ball (in my opinion this was necessary...it we had a big lack of talent there for years).
Defensive Line
At Ends we have Shaun Phillips, Robert Ayers, Derrick Wolfe, Malik Jackson, and Jeremy Beal duking it out. I like Jackson more than Beal from what I've seen in the past, but I don't put either of them at the level of the other three.
I think a lot of eyes will (and should be) on Ayers this year. This is his shot. Can you do more than bull rush? Can you cause enough havok to allow others in the front seven to make a play?
How about DT? I think this group of inside linemen is the best I've seen on the team in a decade easily and maybe more. Terrance Knighton, Mitch Unrein, Kevin Vickerson, and Sylvester Williams are the front runners in my eyes. I don't see Sealver Siliga beating out anyone. He's just never had the impact on the field (and that has mostly been against backups).
Safeties
Now we get to the nitty-gritty ladies and gentlemen. This right here could get ugly fast. This position battle is #1 this year in my books. It is hands down THE biggest weakness on the team. It has the most competition based purely off of personnel involved (though you could argue for the RBs).
First off, let's correct a easy to fall into categorization problem: There is no longer a SS in general for our team. Sometimes we have a guy play that role, but it is not the norm. Both Safeties on the field require pass coverage skills first and foremost. The days of having a Safety like John Lynch or Steve Atwater are at least a decade back.
That being said, we should see an interesting battle between Rahim Moore, Mike Adams, Quinton Carter, David Bruton, and Quentin Jammer. I honestly won't be surprised to see a completely new set of starters this year. My money is on Carter and Jammer. Here's why:
Adams is deficient in pass coverage. He was a regular cause for big plays / first downs by the other team last year.

Moore is better than Adams, but not by a lot. Dream boy has shown on more than one occasion complete lapses in safety common sense.

Carter's question mark is health. I'm hoping he has finally beat the bug and will show us more of the great play we saw from him in his rookie year.

Bruton has not ever shown me the pass coverage abilities (speed, fluid hips, etc) to be a starter. He does not make mental mistakes with the proclivity of Moore though, so there's that...

Jammer to me seems tailor made to cover TEs. The question there will be can he get down the mental aspects of playing safety?
Honestly I'd love to see something weird happen...like a rookie surprise at safety or something to that effect. I'm looking for two guys to step up and improve our defense. The problem I see is that each one of the guys in the running has a flaw somewhere.
Line Backers
There is a lot of talk of excitement regarding who is going to be our middle line backer. I just can't get excited about it though. Steven Johnson, Bradley Stewart, and Nate Irving...go to town. One of you step up and fill that spot. We'll see you around 30% of the time or so on game days.
The one thing I will say is that it is my expectation that Joe Mays will not be with us by the end of training camp barring a couple of injuries at the position. It just makes not sense...he's not good and he costs too much.
So outside of that we have two clear-cut starters (Von Miller and Wesley Woodyard). We have Danny Trevathan who looked very good to me last year and even got in some solid playing time. Again, I'm just not enthused about these position this year.
Corner Backs
Here we are to the Creme de la Creme folks. Our cornerbacks are some of the best in the game. That makes this position largely uninteresting as well if not for a couple of new faces. I'm pretty excited about Dominique Rodgers-Cromartie. Now that he is a place where he will be used well and developed by his coaches, he's a potential replacement for Champ for the foreseeable future. So DRC, Champ Bailey, and Chris Harris as your starting CBs? Fuhgeddaboudit!
They'll keep Omar Bolden, Tony Carter, and Kayvon Webster in all likelihood, but none of those three will challenge for a starting position in my estimation.
Special Teams
I have yet to really get into the Xs and Os of return coverage or blocking. I can point out blocks in the back. I can see good angles for the returners. That's about it. So when I talk Special Teams you will usually only hear about the guys kicking the ball and the guys returning it.
Place Kicker
I have said since the season ended that we need true competition for Matt Prater. I don't trust him from 40-49. There's good reason not to. He has been consistently awful at that range. My take from last year was that he got a pay day and started slacking when he should have been working harder. His kickoffs are absolutely unspectacular and he's not reliable. I am honestly sad and disappointed to see no kicker other than Prater listed on the Broncos roster currently. Prater is a liability instead of an asset.
Punter
Here's a kicker I can get cheer for. Punting isn't exciting. As a matter of fact, it sucks. It means your offense just failed to do its job well. But if you have to punt, you want a guy like this back there. He has a heck of a leg and uses it smartly for superb hang time. Just punting far is not good...you want to punt it as far as possible with a long time hanging in the air. That way your coverage guys can get down on the returner before he has a change to burn them. Britton Colquitt is superb at this and leads the franchise in gross (46.1 yards) and net (39.5 yards) punting averages. Now you tell me...why the heck we have an extra punter in camp this year?
Kick Returner
Trindon Holliday - The Man, the Myth, the Legend. I loved this signing last year. He's just what the doctor ordered. If there is anything to watch about his game, it is the drops. He's a threat to score every time he touches the ball, but the problem last year was he was a threat to muff or fumble as well. This is something I think he can improve on though. Last year Fox minimized the potential damage by having a more sure handed guy back for the shorter returns. It was a smart move and may be used this year as well.
Possible Personnel Moves
Here's something fun to discuss this time of year. What kind of things can we do with our personnel to get better? Here are my thoughts in no particular order with a minimum amount of crazy involved:
Take out the trash: Joe Mays, Lance Ball, Chris Kuper either need to be restructured or let go (in that order by the way). These are all no-brainers honestly.

Trade a TE for a solid pick: I can see Jacob Tamme being expendable. I just don't know if another team would want him bad enough to give us value back.
I got nothing on defense: I don't know what else we could possibly do on the defensive side of the ball. When I put on my GM hat, I think every want I had on that side of the ball has already been addressed.
Wherefore art thou Running Back?: There are not a ton of RBs out on the market that excite me in any way. I do feel like that is a position that we can upgrade even after picking up Montee Ball. The situation in Washington makes me wonder if we couldn't get Roy Helu from them, but that's seems more like a crazy pipe-dream than anything.
In the bag: Tony Carter isn't going anywhere unless we get a team to trade us a draft pick. He's my guaranteed non-cut out of the "bubble" guys people like to talk about. People saying otherwise don't understand his monetary value, don't understand the skill set he has, or don't know how to read between the lines regarding what coaches say and do with their players.