In two weeks, the Denver Broncos will get the opportunity to do something the Pittsburgh Steelers prevented them from doing eight years ago: play the Seattle Seahawks in the Super Bowl.
After going 13-3 during the 2005 season and moving on to AFC Championship game, Denver lost at home to Pittsburgh, who went on to knock off the Seahawks 21-10 in Super Bowl XL. Determining to not repeat history, Denver went 13-3 again in 2013 and this time knocked off the New England Patriots 26-10 in the title game to advance to face Seattle in Super Bowl XLVIII.
Being the AFC representative, Denver will be the designated home team (incidentally, both Denver and Seattle went 13-3 in the regular season). Apart from uniforms, though, being the "home" team often means little in a game that will be played at a neutral site, in this case, New Jersey.
As the home team, Denver is expected to wear their home orange jerseys with Seattle in white jerseys. That hasn't been confirmed yet, however, and neither uniform has been officially unveiled. We do know that Denver is 0-3 in Super Bowls when wearing orange, 1-1 when wearing white, and 1-0 when wearing blue (see, blue's not so bad).
While we wait for the official uniforms to be announced, here's some Monday morning talking points: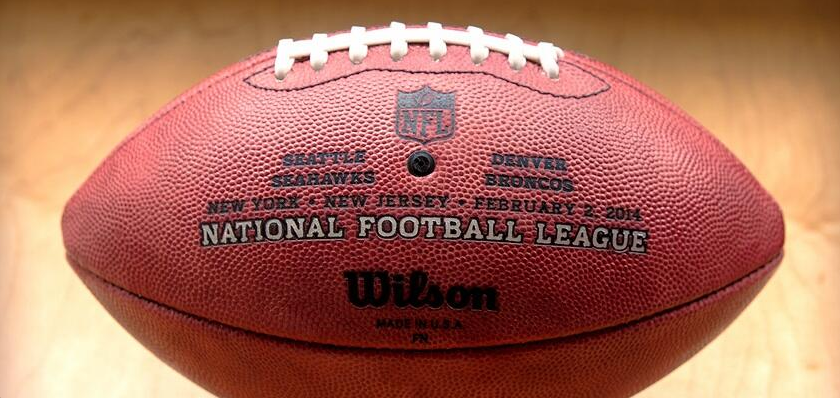 The game ball from Wilson is not very flashy, we can only assume there is an XLVIII logo on the reverse side (credit).
Patriots coach Bill Belichick believes

Wes Welker

intentionally injured cornerback Aqib Talib. It's a moot point now as Belichick's team was just manhandled by the best team in the AFC.
The Broncos opened as just 1-point favorites over the Seahawks but have jumped to being 3-to-3.5-point favorites in Vegas.
This will mark Denver's seventh Super Bowl, joining the Dallas Cowboys, Steelers, and Patriots as the only four teams to have made at least seven SB appearances (credit). Denver, of course, would have to win a pair of Super Bowls to move to .500 all-time in the big game, as they own a 2-4 record all-time.
From 1970 to the 1990s, Denver made at least one Super Bow every decade. After a long drought, they are aiming to start a new streak (credit).
Looking ahead to the 2014 season, Denver will likely play in the season opener again this September. If they win, they are guaranteed to host the season opener. If they lose, they would likely open the season on the road against Seattle (credit).
The game will also mark the first time since 1990 (New York Giants and Buffalo Bills) that the NFL's No. 1-ranked defense has faced off against the league's No. 1-ranked offense.
Of note, Seattle's quarterback, Russell Wilson, played college football with Denver's rookie running back,

Montee Ball

, at Wisconsin.
Denver only punted one

time (no, that is not a typo) in the postseason, giving

Britton Colquitt

plenty of reason to celebrate a Super Bowl berth: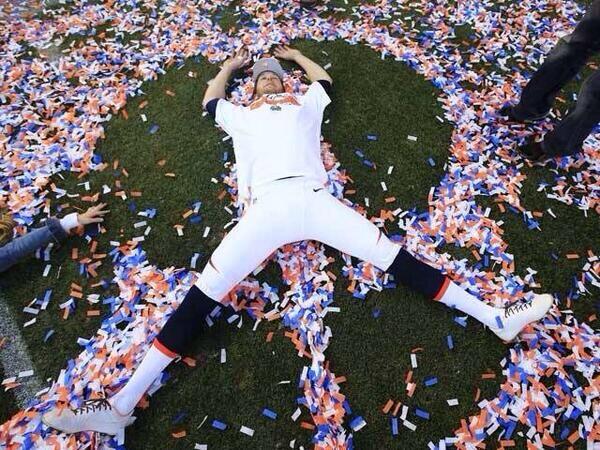 (Getty Images)
Seattle cornerback

Richard Sherman

sure likes to talk. He backs it up, though, and he will be a tough test for Denver's Demaryius Thomas. The match up brings back memories of when Thomas went against

Darrelle Revis

in 2010 when the latter was considered the best in the game. As a rookie, Thomas was held to just one catch—a seventeen-yard score over the top of Revis.
Here's former Broncos tight end Shannon Sharpe following Denver's win: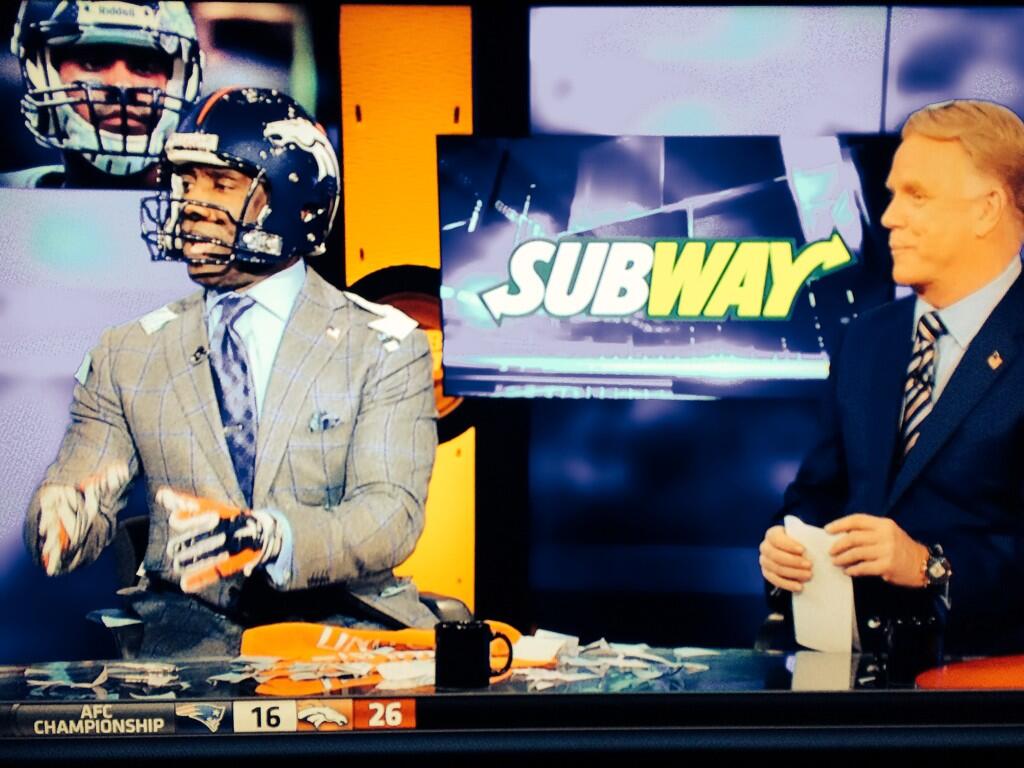 If Denver wins the game, quarterback

Peyton Manning

will become the first QB in NFL history to win a Super Bowl starting for two different teams.
Speaking of that terrible playoff quarterback, Manning has thrown for 1,126 yards in the three AFC Championship games he has won, scoring 94 points on 31 drives, that's 3.03 PPD (credit).
We've always loved Drew Litton here at MHR. After this Josh McDaniels-in-a-diaper cartoon, we love him even mo

re: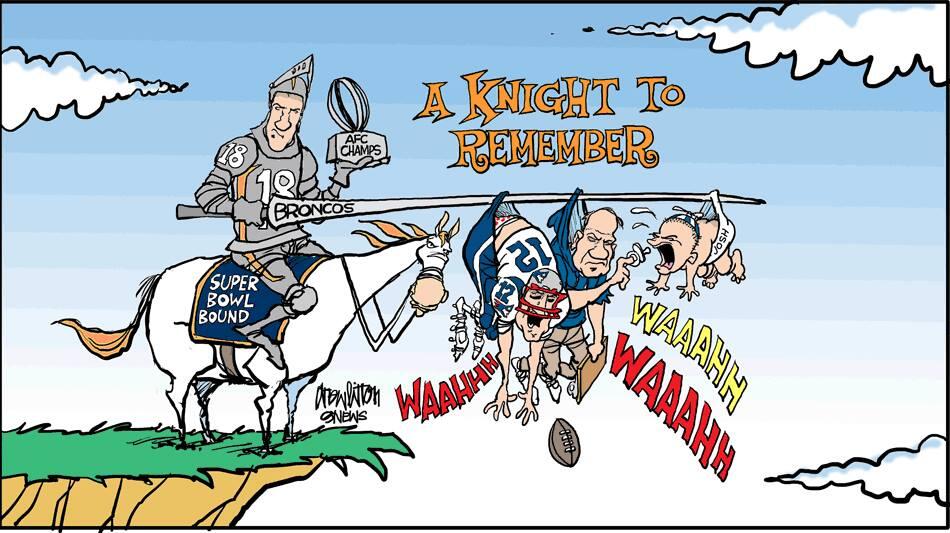 Denver's opponent in this Super Bowl is somewhat familiar. The Seahawks were in the AFC West from 1978-2001 and Denver owns a 34-18 (.654) record against them all-time. The last time these two teams played (in Denver in 2010), the Broncos won, 31-14.
How about cornerback

Champ Bailey

? I'm excited for Peyton, but nobody on this team deserves a ring more than Champ. After fifteen years and an NFL defensive back record 12 Pro Bowl selections, Champ will finally get an opportunity to win a Super Bowl. Make it happen, Denver!
Though I do believe this one should be for Champ, I would love to see John Elway hold up the Lombardi Trophy and shout "This one's for Pat!" if Denver wins the game. I would probably cry. Admit it, you would, too.
Those are all the nuggets I have for today. Have any of your own? Share them in the comments below!