Yesterday concluded day four of the Denver Broncos OTA program, with several players and John Fox meeting with the media afterwards. Digging through the fluff and drivel that often comes with media pressers, there were a couple of excellent quotes worth mentioning.
When asked what the underdogs could do to make the roster, Coach Fox offerered, "Just get better. Whether you are upper-tier, middle-tier, lower-tier, this is a 'What have you done for me lately' league - It's competitive. We expected it that way and we've got 90 guys competing for 53 positions."
I love the rhetoric, but I could look at the roster and say with relative absolute certainty that there are more like 50 guys competing for 13 positions on the roster. And I think I am being pretty optimistic about that.
Meanwhile, everyone noticed how terrible Brock Osweiler was in practice, so Foxy was unable to avoid the questions that ensued from Brock's horrendous performance Monday. What else could he say but, "We like the way that Brock's progressing and that's why we're out here; otherwise we could all be at the beach. We're out here practicing to get better and I like his progress."
We've got 90 guys competing for 53 positions.
- John Fox
It's doubtful Fox likes his progress that specific day, but there are plenty of other practice sessions only insiders are privvy too. John Elway has shown he cares more about winning than anyone within the organization, so we have to believe Brock is progressing just fine and yesterday was just a bad day at the office.
The biggest point of emphasis this offseason has been the fumbilitis that Peyton Manning and the Denver Broncos have suffered from since 2012. And really, it was a problem in 2011 with Tim Tebow at the helm as well. Adam Gase already mentioned this emphasis last week, but Fox expanded a little on that saying, "Time will tell. It's something that I've always been a big believer that you get what you emphasize. So it's a big emphasis this offseason and will be intro training camp and into the regular season. Like I said, all that stuff, time tells."
So, to sum it up, John Fox hopes it all works out. Thank you, Foxy! I think.
Ronnie Hillman was interviewed as well and he spoke a lot of being accountable and all that, but one comment struck me as funny enough to share. He was asked if he has lost any speed and in response he said, "I mean, I can't feel it. If y'all see it, let me know so (I can) change it a little bit (laughter). But no, I don't feel like I lost any speed. I just feel like I became more explosive, if anything."
At this point in his career, I believe him to be one of the 50 guys competiting for those last 13 spots along with every other running back on the roster.
All-Pro offensive goard, Louis Vasquez was next up and was immediately asked about the offensive line changes. Like the pro he is, Vasquez gave an non answer, "It's one of those things where you've got to get the feel for the guy. Especially on the offensive line, we've got to be on the same page. So it's been a learning experience, which is good for me."
I assumed he was talking about Orlando Franklin moving inside, but the more I think about it, the more I think he might be talking about Chris Clark and Winston Justice. The right tackle position is poised to have the greenest of the bunch starting, to which Vasquez offered, "We're rotating right now with Chris Clark and Winston Justice. They have a few years under their belts, so it's not taking veyr long because they've been in the game and they know what offensive line play is about."
That sounds like diplospeak for, 'I really don't know yet, but I'm not going to bash my brothers before they've had a chance to succeed.' I am okay with that, but its definitely a position battle worth watching as we get closer to training camp.
No one wants to relive that Super Bowl disaster, but all Broncos players were forced to watch some cutups. Vasquez said, "It's a bad taste in your mouth, but you just take it for what it is, learn from it and build on the good."
Yes, please build on the good ... of every other game played last season.
Last up on the podium was Derek Wolfe. I will skip the question after question about his previous health issues as its all stuff we already knew. Wolfe is back up to 290 pounds and appears to be rock solid in the health department and these questions just seemed redundant and lazy on the part of the reporters there.
The bigger news for Wolfe was his movement into the interior of the defensive line. "The reason I was outside so much last year was because of the weight loss. Me putting all the weight on - I'm 290 pounds. I can play inside no problem," Wolfe said in response to playing inside and asked if he likes it he added, "Yes, it's where I'm more comfortable."
I'm 290 pounds. I can play inside no problem.
-Derek Wolfe
That is excellent news, because it opens up more playing time for Malik Jackson who has show quite a few sparks at times last season. He may be a dark horse pass rush nightmare for opposing offenses in obvious passing situations. It should be fun to watch!
There were tidbits about his health moving forward that were interesting, however, and asked how he approaches his health now, Wolfe said, "It's not pushing myself to the limit every day. It's just kind of taking things in stride to try to save up that energy for game day. Use everything you've got to train and get ready for it but do the right things. I don't have to push myself every workout of every day. I don't have to go train three times a day. Do that one work out and put everything you've got into that one workout and then rest. That's the biggest thing I've learned is rest."
As fellow MHR staffers, Topher Doll and Scotty Payne, pointed out to me tonight, we have a great starting rotation for the defensive line, but even one injury could really start to affect the effectiveness of that rotation. The Broncos essentially have 5 defensive tackles and 5 defensive ends, but only six players to draw from. I did not count Quanterius Smith as he is an unknown at this point.
What could have been...
Some slick swag from the five time Super Bowl Champion Denver Broncos are headed to Africa this week, overtaking the Buffalo Bills dynasty of the early 1990's as the team with the most Super Bowl championships in African history. Yes, that is the distinction the Super Bowl loser gets every season, but its for a good cause and my only regret is that I didn't get one of these shirts too. I'd even buy an Oakland Raiders t-shirt to send instead if they'd let me do an even trade!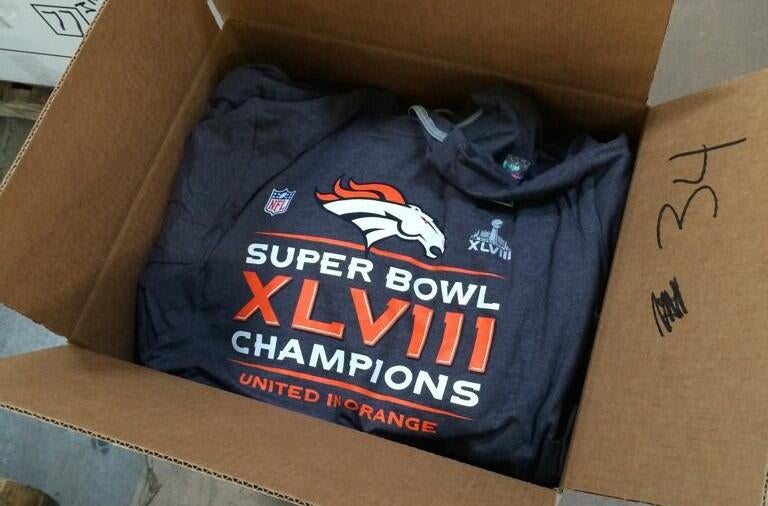 Le sigh...
But It's okay Denver!
With Peyton Manning chucking the rock and beasts like Demaryius Thomas dominating the National Football League, there is still hope the above image will represent the real thing come February 2015. Optimus Prime also pulled a line from one of my favorite comedies, Coming to America, from this awesome Instagram from somewhere in beautiful Colorado.
Horse Tracks