Since the NFL stands for "Not For Long," we suppose we shouldn't be too surprised by the latest offensive rankings from ESPN Insider and PFF. Not a regular season game has gone by since Denver's 2013 record-setting offense left the field, yet they've already lost their top offensive ranking to another team heading into 2014.
ESPN used PFF's "graded depth charts" to rank the NFL's offenses heading into 2014, and Drew Brees and the New Orleans Saints came out on top. Clearly the difference-maker in PFF's equation is the running back position, where the Broncos' 29th-ranked unit drops them down a peg.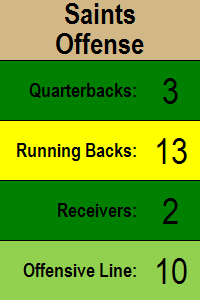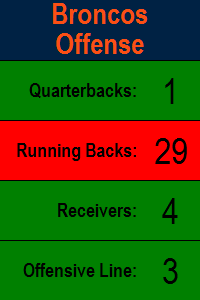 1. New Orleans Saints

With our third-ranked quarterback situation, and plenty of talented targets for Drew Brees to throw to, it's easy to see why the Saints are our highest-ranked offense heading into the 2014 season. [...]

2. Denver Broncos

It's always been said that Peyton Manning had the quickest release in the NFL, and that was evident again last year, with his snap-to-throw average of 2.36 seconds once again the lowest in the league. The Broncos lost Eric Decker in free agency, but still have plenty of talent around Manning, including wide receiver Wes Welker, who was second in the league with 688 yards from the slot last year.
Ranked ahead of the Broncos' offensive line are the Philadelphia Eagles (1st) and the Minnesota Vikings (2nd). Ranked ahead of them at receiver are the San Francisco 49ers (1st), Saints (2nd), and t he Chicago Bears (3rd).
Still, this feels like "paralysis by analysis", and just emphasizes to us how any one site's "advanced metrics" never paint the complete picture. The bottom line when it comes to an offensive ranking should be points scored. The 2013 Broncos scored 605 points last year, 161 more than the next closest team, the Chicago Bears.
With that kind of difference between the Broncos and everyone else, and with the Broncos returning nearly every starter in 2014, it should be clear to anyone ranking offenses that the Broncos sit at the top of the pyramid. Any metric that suggests otherwise should probably be tweaked for common sense.
Ranking all 32 NFL offenses [ESPN Insider - paywall]