The defense just experienced their worst performance of the season in almost every aspect, but I don't think that was a function of the players who played as much as it was a function of the performance in this game relative to how well they have played in the previous seven. Because of their freshly hired offensive coordinator, we had no idea what they were going to do on offense and it showed in the first half. Our defense is very good at studying the opponent and you can't do that when there is no tape to break down tendencies in terms of play-calling.
Defensive Line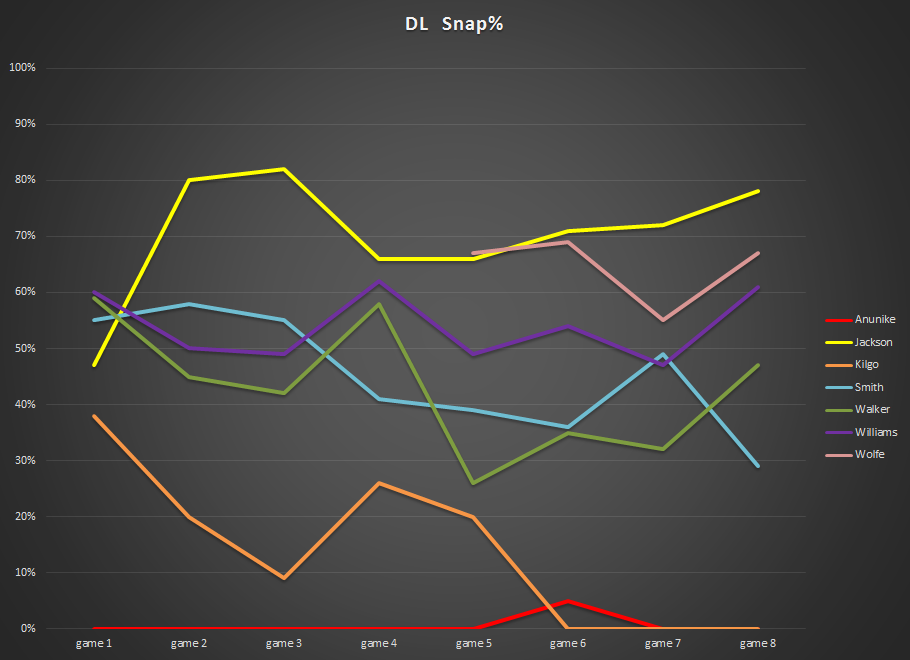 Kenny Anunike has been game-day active for the past three games and has seen a grand total of four defensive snaps in those three games. It seems like he is being wasted as a game-day active since he doesn't play much on special teams either (6 special teams snaps vs CLE and IND and zero against GB). Darius Kilgo began the season getting about one third of the NT snaps. He has been a game-day inactive the past three games. Malik Jackson appears to have taken Darius Kilgo's playing time. Sylvester Williams' playing time has been fairly consistent (unlike his results). Derek Wolfe has been used consistently since returning from suspension. The general trend for Vance Walker and Antonio Smith has been a slight downward trend.
Linebackers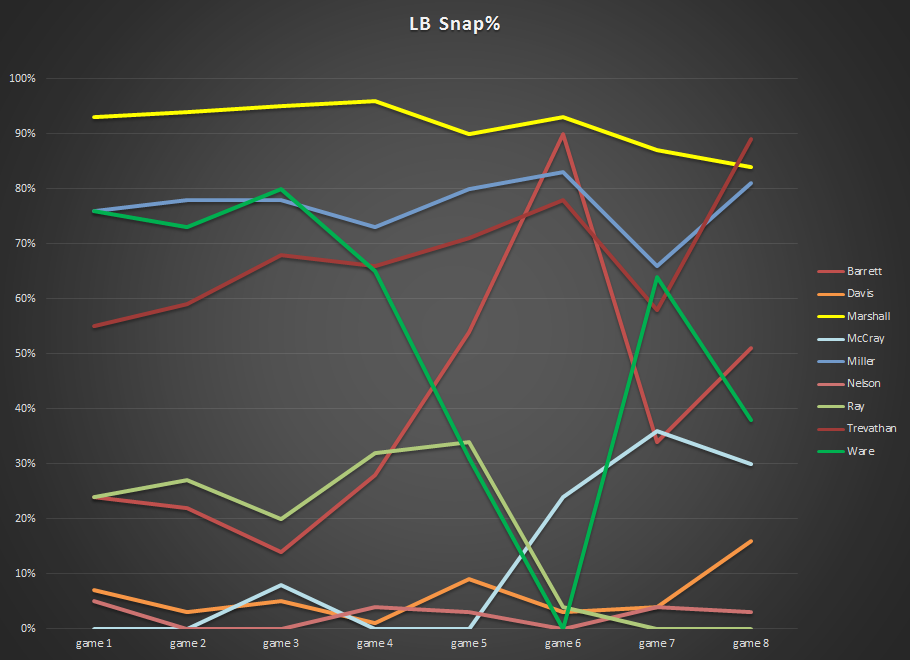 Shaq Barrett's playing time increase should jump out at you since it would appear that his pt is directly related to Demarcus Ware's playing time. Larentee McCray appears to be getting Shane Ray's snaps while he recovers from his knee injury. The general trend for Danny Trevathan is upward with a blip for the Packers game where he saw less than 60% of the defensive snaps.
The Colts game was the first time all year that he has seen more of the defensive snaps than Brandon Marshall. Marshall has been our every down LB so far this year with him getting  more than 90% of the defensive snaps in most games. Todd Davis playing time is directly tied to Brandon Marshall's. Corey Nelson is one of our most heavily used special teams players, but he is only situationally used on defense (not sure what situation though).
Defensive Backs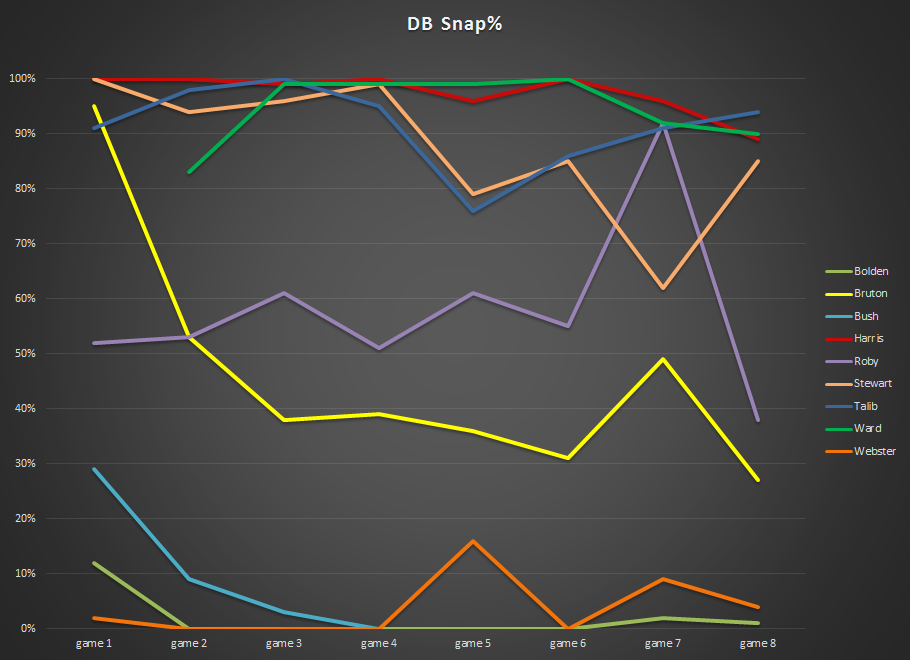 David Bruton got TJ Ward's snaps during the first game when TJ was suspended. His playing time at safety has been mostly consistent since then with a slight downward trend. Against GB we used Bruton in place of Darrien Stewart quite a bit. Chris Harris Jr has been the ironman of the defensive backfield along with TJ Ward, once Ward got back up to game shape. Both guys have gotten rested a little bit recently (CHJ missed a few plays because he was hurt against IND).
Bradley Roby got used really heavily against GB then used very little against IND. Other than that his playing time has been consistently in the 50-60% range so far this season. I suspect he will get Aquib Talib's snaps next week while he is suspended, but Kayvon Webster could be the beneficiary since he saw the most defensive snaps in game five when Talib hurt his ankle. Josh Bush is no longer on the team.
Were any of these trends surprising to you?