You have to love the product you are seeing on the field from our Denver Broncos. I'm a little more old-school than most here at MHR and I love me some tough, hard-nosed football with dominating defense and powerful running. I really appreciate an aggressive offense that airs it out, but given my druthers I'm all about running the ball and playing defense if I had to choose.
That's why I was so optimistic when we hired Gary Kubiak this year. He believes in that kind of football, too. And now we've seen that a big key we were missing earlier this year was a QB who could run this offense. I love Peyton Manning. I've loved him playing ball for us. I want for him to go out on top and get that win record. But I'm a Bronco fan first and foremost. I really really like this train that is starting to gain some steam. I like the winning football I'm seeing on the field. Let's dig in and chew on this juicy game with all the fixins.
Offense
There is some stuff that needs cleaned up in our offense (more on that below), but overall when I look at this game, I'm loving what we did. Kubiak dialed up a lot of variation in our stretch game and sprinkled in some inside zone to take advantage of some alignments the P*ts were using to try to set up better run blocking to the outside. Our passing game was aggressive and attacked areas of weakness (primarily the backup linebackers inside) as well as using personnel and formations to get single coverage on the outside for Osweiler and Sanders to attack.
I really think this was the best scheme offensively we've seen to date. It isn't just the play calling though...the coaches are rounding the team into form. We're getting vastly better run blocking now than we did in weeks 1-3. The pass protection has some issues, but they aren't constant.
My favorite thing I noticed in this game is that the team is adjusting to the game as it progresses. The best example of this would be the delayed A gap blitzes NE was using liberally through the first half or so of the game. As time went on though, you saw us scheme a RB there and assigned to that gap. It led to some big time throws by Os that just weren't working earlier due to that pressure.
Quarterback
I can't sing the praises of Brock Osweiler enough really. The No Bull critic in me does want to point out the flaws though:
He is holding the ball too long. The biggest area of study for him today is to learn how to make the right decisions faster. Unless your name is

Tim Tebow

, you can't hold onto the ball 10 seconds waiting for something to get open.

His pocket movement needs work. If the line is constantly having to give ground up front for whatever reason, you have to be able to drop step to get yourself another 1/2 second at times. The complication here is that he has to learn to keep his eyes downfield and his brain working on dissecting the coverage while he moves his feet without thinking...this will take time and experience really.
But those two things aside, I really am impressed with what Brock has done in his first two games starting for the Orange and Blue. My eyes tell me that he's got the goods as far as athletic ability, mental fortitude, attitude, and most importantly poise. He needs experience now. He can really turn into a an impactful NFL QB if we are willing to dedicate the time and he is willing to keep putting in the effort.
The thing you can't measure on the stat sheet is really telling to me: he showed the whole team that he can lead them into battle in the worst conditions and help them fight to the end to get the job done. Every player that was asked about him in the post game press conferences were saying the same thing: we have his back and we know he has ours. You can see it in their eyes: this team will go to battle with Brock. That's a pretty damn powerful thing to see from a guy so young in his playing career.
Line
One of the best things I can say about this line is that they are scrappy as hell. Do I think we have some of the best talent in the NFL on our line? No. But these guys are buying into the system and they are giving their everything to do their job the right way and it shows.
The run blocking this game was phenomenal. We had big gaps ready for our RBs to run through. Our guys were hitting the combo blocks and getting to the 2nd level. The game winning run was set up by some of the most beautiful zone blocking you can ask for with a friggin big time cut block by Ryan Harris. Another guy who looked really good in the run blocking game was Max Garcia. This rookie is going to be a solid player for us for the near future.
As I mentioned above, the pass blocking needs work. Matt Paradis has a very hard time anchoring in the middle against the rush. He gives up ground really fast. Garcia did as well at times from what I saw and this problem was a big contributing factor to how many tipped balls we saw Sunday night. It cost us a drive and needs to get cleaned up either from the line or from the QB dropping further.
I think the NFL may be getting too much tape on Michael Schofield as well. He had a fairly rough game and is one guy on the line who looks like he took a step back this week instead of making a nice step forward. His game wasn't a dumpster fire by any means, but it stood out to me enough that it was worth mentioning.
Running backs
The team was really trying to get Ronnie Hillman going early and to the edge. The Patriot defense was not having though. They played disciplined football and made him look fairly medicore to poor in the 1st half. I think if he looks at the film, he'll see some cut back creases he could have gotten decent gains (4 yards or so) from. It appears to me that he's relying on his jets to the outside more so than anything else. A speed guy like him can really make defenses crazy if he pulls the cutback more often from his repertoire.
C.J. Anderson flat out looked like a stud running back in this game. I have no idea who could watch his body of work in this game and not be impressed. His jump cut that Chris Collinsworth pointed out during the broadcast was absolutely filthy with perfect weather conditions. That he was able to change direction that fast in the snow with that much burst really impressed me. He's looking healthy and confident in our scheme. This is the right time of the year for a guy like him to step up the way he is and for our line to really galvanize in front of him as well.
Receivers
Let's get the dirty work out of the way: Demaryius Thomas should feel ashamed of his effort in this football game. He looked like an entitled punk running routes and expecting the QB to deliver him the ball instead of attacking the ball to make the catch. He looked more like what I expected from Julius Thomas after last year: a guy who plays for a contract, but doesn't give to wooden nickels about the game of football and how blessed he is to be able to play at the level he's playing at. If I'm Kubiak, I bench his ass until he decides he wants to be a man and help this team win. Don't believe my eyes? That's fine...go check the stat sheet: we targeted his sorry effort 13 times and he came up with 1 catch. And no, that one catch doesn't make up for jack or squat.
Also, I don't want to hear about his effort in 2013's Super Bowl game. This isn't about what he did last year or the year before. This team needs him dialed in and obliterating poor fools with the rest of the team, not sitting back on his routes asking for some more Hors d'oeuvres to be passed onto his platter.
The other 8 targets that Osweiler threw to did a pretty fine job. I had noted Andre Caldwell looked pretty silly stopping his route instead of attacking the end zone at the 2, but we can write that one off for a pretty darn spectacular TD catch late in the 4th quarter. Big time props, Caldwell. I've bagged on you a lot over the past couple of years, but I'm very proud of the work you are putting on the field this year.
Emmanuel Sanders was immaculate in this game. He made big time catch after big time catch attacking the ball with fervor (take notes, DT), getting plastered for it, and still hanging onto the ball all the way to the ground. He was a boss on the field and I love seeing the chemistry he's building with Osweiler.
Also, big time H/T to Owen Daniels who no matter how much I've said he has lost a step this year, keeps showing us that he still has the route running acumen and hands to be a stable contributor to our offense. He made great chain-moving catches and showed some pretty crafty route running.
C.J. made an impact in the passing game with 4 catches for 40 yards. We need to see more of that from our backfield. Adding that weapon in the way we do with a sprinkle here and there keeps the defenses guessing and opens up more of the field for us to attack. I also hear that there's a pretty good chance if a play gains you 10 yards on average, you'll probably make a first down or two in the game.
Defense
There were some serious gaffes in this game by our defense. New England capitalizes off of mistakes like no other team in the league and we paid for it with points on the scoreboard. Every one of Brady's 3 TD passes were against a bad situation from us scheme-wise. I'd love to be a fly on the wall when Phillips reviews the tape to find out what happened to create those situations.
Front 7
Can we get some props for Derek Wolfe!? This kid is balling out of his mind since coming back from his suspension. I know over the years there's been at least a handful of folks in Broncos Country that write him off as JAG on the line, but let me tell you that is complete bull. Wolfe isn't the guy who's going to get flashy sacks every game. He's the unstoppable, unrelenting force of nature who can't be bargained with. He can't be reasoned with. He doesn't feel pity, or remorse, or fear. And he absolutely will not stop, ever, until the refs blow the play dead.
I also loved the effort we saw out of Von Miller in this game. I have no idea why we keep thinking he should be in pass coverage against NE inside the red zone, but whoever dials that up needs to just stop it now. He's a pass rusher. Let him pass rush. Let him cover a short zone, but do not split him out in man coverage. He's just not that guy. His sack was big time (I love a pass rusher who gets it done in big moments, not just against the trash teams). He also actually drew some flags due to guys holding him...what a novel thing. It was so joyous to see a team actually get called for holding him.
There wasn't a lot of impact, but Vance Walker appeared to fill in at NT for us and helped us not miss Sly too much. Well done to you and Malik for holding it down with our big guy out.
Brandon Marshall looked like a stud in coverage in this game. Danny Trevathan's performance was a step back from that, but still solid to be sure.
Also, big credit to the guys up front for their dominance in the running game. The P*ts got a whopping 39 yards rushing. Sure, NE decided in snowy weather to only try 16 total run attempts with no receivers to throw to, to be fair. I'm gonna hold back on calling their offensive coordinator a genius for awhile though.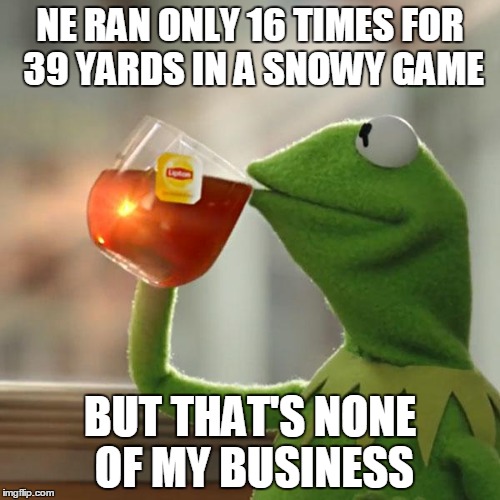 Secondary
Losing T.J. Ward hurt. I didn't like what I saw from David Bruton and Omar Bolden in his stead and I wish a speedy recovery for him. It seems like both those guys were not processing what was happening fast enough to play aggressive. Hopefully if TJ is out for awhile, more practice time for them will sharpen them up a bit.
I thought our corners looked pretty darn good. I loved the aggressiveness especially from Aqib Talib. He had a couple of really great pass defenses where he poked the ball away over the target's shoulder as it got there.
Bradley Roby looked really good as well. He's grown as a corner since last year. He's not making as many big mistakes and is using technique and smarts to defend more than raw athletic ability this year. This game was no exception.
Special Teams
The dog house has a little more room in it...go sit with DT, Britton Colquitt. Your punting was poor outside of one monster punt. At least we made him take a pay cut this year. Sheesh. A punter that can't punt the ball 40 yards is like a WR that can't frigging catch a ball that hits him in the hands (AMARITE, BEY BEY!?).
Brandon McManus had one really junky field goal kick, but he made 3 others and how much can you bag on a guy with weather conditions like that? Hopefully he grows from it and gets more practice when our weather permits him to relive those situations so he can get more comfortable with it.
Final Thoughts
This was a big time win for our team. I don't just mean that as a guy who can't stand cry-baby Br*dy whining to the refs. I don't just mean it as a guy who would take great joy in seeing NE have a 20 year streak of losing records. I mean it as a guy who watched our team build confidence, show guts, and take the champs best shots for 12 rounds and come out victorious.
It was a regular season victory. But it one that defines this team and this season for us. It is a rock they will be able to lean on and remember as we forge ahead towards the post season. "Remember what we did down by 14 in the 4th quarter against the world champs..."