Today we continue our annual 90 player roster breakdown in 90 days. If you missed the previous player breakdowns, you can check them out here.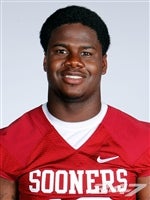 Name: Durron Neal
Position: WR
Height: 5'11"   Weight: 201 
Age: 23   Experience: R
College: Oklahoma
As an OU fan, it is fun breaking down players I've watched play throughout college. After doing Corey Nelson's breakdown a few weeks ago, Durron Neal is the next Sooner on the docket.
Neal was an undrafted free agent and signed with Denver shortly after the draft. He played fours years at Oklahoma and really started to be productive in his final two years there. He logged nearly identical seasons in 2014 and 2015 statistically with 40 receptions, 500 yards, 12 ypc, and three touchdowns.
His numbers are not overwhelming, and he wasn't nearly as productive as his counterpart Sterling Shepard (who is a darkhorse for OROTY, imo). However, Neal was a good second option in the Sooners' passing attack and made some big catches.
The Good: Neal reminds me of Shepard a little bit in that he is undersized but has great hands and is shifty after the catch. In OU's offense, wide receivers were often on short routes designed to get out in space to make something happen. This fit Neal's skill set well as he made some good plays on screen passes.
Check out the highlight video below for some of the plays he made.
The Bad: He is undersized and not particularly fast in terms of straight line speed, clocking in around the 4.4 - 4.5 range. While he played No. 2 WR for OU, his only spot in the NFL is likely as a slot guy as he his not as polished of a route runner as Shepard is coming out.
Quotable:
Never a bad day to #BeAChampion, lift someone up, and spread kindness.#PositiveVibesFriday pic.twitter.com/g2GNTR32Al

— Broncos Off Field (@BroncosOffField) July 8, 2016
When opportunity presents itself, Seize it ! All I wanted was a chance. Thank you! Time to work.

— Durron A. Neal (@RealDNeal) April 30, 2016
Congrats @RealDNeal on your signing - best of luck with @Broncos! #OUDNA #NFLDraft2016 pic.twitter.com/eHg19LIrpK

— Bob Stoops (@OU_CoachStoops) April 30, 2016
Status: As much as I would love to see him make the roster, I just don't think there is room in this crowded WR group heading into camp. Neal has limited return experience, which further hinders his chances of sticking as just a pure slot receiver. Hopefully he can find his way onto the practice squad and have a shot next year.