Doing NFL power rankings is just so much more fun when your favorite team is just too damned good for other fan bases to handle. After an offseason of doubt and projections of first to worst, the Denver Broncos are once again competing with the New England Patriots for AFC supremacy.
How do you like those apples, ESPN?
Some good teams are stumbling out of the gate, but others are coming out hot. For all of the claims of parity, its the same 6-8 teams we see every week for years now at the top of and bottom of these rankings.
Let's get to it!
Week 3 NFL Power Rankings
1. Denver Broncos
That's right. Trevor Siemian is a thing and that Broncos defense is every bit as good as it was in 2015. Take that, Arrowhead Pride. How does it feel to still be playing second fiddle to this magnificent Broncos franchise?
2. New England Patriots
God I hate Bill Belichick. I fully expected the Patriots to be 0-4 when Tom Brady got back. They are every bit as good as the Broncos from top to bottom and I hate them for it. HATE.
At least the Broncos are the one team that frustrates you, Bill. Take it like a man.
3. Pittsburgh Steelers
Yes, three AFC teams at the top here. The NFC is clearly the inferior conference and the Super Bowl should again be won by the AFC. The Steelers have issues on defense, but their offensive weapons alone make them a threat in game they have.
4. Minnesota Vikings
Who knew Sam Bradford could be an efficient quarterback? I thought he just signed insanely massive contracts then promptly left them mostly unearned on the football field. Not on Sunday. He earned it and that Vikings defense is starting to look a lot like that Broncos defense. These guys are contenders with, or without, Adrian Peterson.
5. Arizona Cardinals
I learned something important about the Cardinals that I wish to share with all of you. They lack the killer instinct that true champions have. The Cardinals players, much like the Panthers players before the Super Bowl, mailed it in when they faced what they felt was an inferior team in the Patriots in Week 1. Result? Defeat. They woke up to annihilate the Buccaneers, but this is one red flag I'll remember come January. They are a good football team, though.
6. Houston Texans
The Houston Texans have another elite defense. It seems to be a repeating theme up here at the top of these power rankings. They should have beaten the Kansas City Chiefs by four touchdowns, but Brock Osweiler is definitely having some growing pains. He just can't catch a break. It's like Peyton Manning's ghost is haunting him...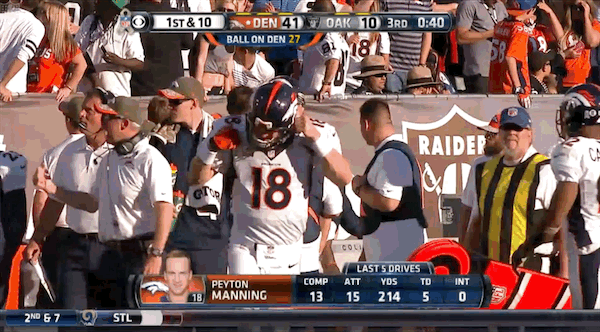 Dat score doe. lulz
7. Carolina Panthers
Did you know that Cam Newton destroys other teams? Just not the Von Miller-led Denver Broncos. You can see some of the awesome stats that Cam put up on the San Francisco 49ers compared to the Broncos in one of my recent posts. It's quite funny, because Panthers fans really are butthurt about how the Broncos play defense.
8. New York Giants
The New York Giants fire Tom Coughlin and suddenly they don't start out with a losing record. Coughlin teams always seemed to start out 0-2, but now they are 2-0. Go figure. Their front office was ridiculed for "buying a defense" this offense, but it appears to be working out so far. John Elway was one ridiculed for a defensive spending spree in 2014 and we all know how that one worked out. If Eli Manning and this offense starts clicking, look out!
9. Cincinnati Bengals
The Bengals lost a tough road game to the Steelers, but they will challenge for the AFC North title later this season. The game was a physical one, which I liked due to the fact that the Broncos now have to play Cincinnati on the road next week. Hopefully this team can steal one from a worn out contender in Week 3.
10. Green Bay Packers
I am using my telepathic powers to read Aaron Rodgers mind as the game ended on Sunday Night. "Well that sucked." And by 'that' I mean Rodgers. He sucked and he sucked bad. I'd hate to play an angry Rodgers after this one, especially with his Street Fighter powers.
11. Baltimore Ravens
Last season the Ravens were beset by bad luck game after game. I almost felt bad for them, but then I'd conjure up an image of Rahim Moore taking a bad angle and then I'd point and laugh at them. This year, karma is paying them back as all things return to the median at some point. They were a playoff team two years ago, so maybe they are again in 2016.
12. Dallas Cowboys
I am quietly boarding a "Cowboys are actually good" bandwagon. Dak Prescott is breaking records and that offensive line should win the battle most times. If their defense is just average then they might actually have a chance to take the NFC East. If not, I can always jump back on the "point and laugh at the stupid Cowboys" bandwagon again. I prefer that one anyway...
13. Philadelphia Eagles
Carson Wentz didn't need a red shirt year and these Eagles are undefeated. Granted, they beat the lowly Cleveland Browns and Chicago Bears to get there so... maybe I'm buying fools gold here at $1200/oz. Oh and by the way, this is your worst 2-0 team in the NFL.
14. Kansas City Chiefs
Oh how the mighty have fallen. Just weeks ago, I put them above the Broncos in my power rankings. I had sipped a little too much of that offseason koolaid narrative that was spoon fed to us all by members of the national media. Now look at 'em. No seriously, LOOK. AT. THEM. Then do this: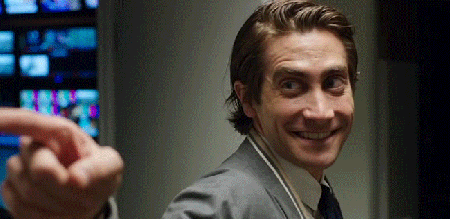 15. Atlanta Falcons
Matt Ryan lived up to his nickname Ice as he shredded the worst defense since the 1951 Yankees. The Falcons looked good on the road and maybe, just maybe, they can challenge the Panthers for the NFC South. Oh and if you are curious about the 1951 Yankees and the Raiders, I tweeted about it already.
I just read that the #Raiders defense has given up more yards in first two weeks since the 1951 Yankees. Lets all point and laugh now.

— MileHighReport (@MileHighReport) September 19, 2016
16. Seattle Seahawks
The Seattle Seahawks seem to have forgotten what an end zone is. Here we are pissing and moaning about Trevor Siemian only having a few touchdowns inside the red zone and here is Russell "F***ING" Wilson who can't even lead his team into the end zone once in two games.
17-30. See Below
In no particular order, these teams are bullshit wannabes. They have some good parts and some bad parts that will likely leave them somewhere between four and eight wins. Good job derelicts.
These sad franchises are the Jacksonville Jaguars, New Orleans Saints, Tennessee Titans, San Francisco 49ers, Detroit Lions, Tampa Bay Buccaneers, New York Jets, Indianapolis Colts, Oakland Raiders, San Diego Chargers, Miami Dolphins, Buffalo Bills, Washington Redskins and Chicago Bears.
31. Los Angeles Rams
Oh yay! You won a game. A 9-3 stinker in your home opener. The Rams are well on their way to winning three games this season. I'll also bet they will give Jeff Fisher an extension like the morons they are.
32. Cleveland Browns
At this point, I just feel bad for Browns fans. Think about how much suffering they have had to endure at the hands of the stupid people running their franchise. #brohug