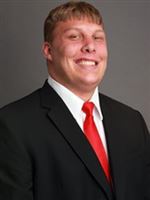 Name: Garett Bolles
Position: Left Tackle
Height: 6'5"   Weight: 297lbs
Age: 25   Experience: R
College: Utah
The Denver Broncos entered the 2017 NFL Draft with one big glaring need on their roster, and the need was left tackle. They filled that need by selecting former Utah offensive tackle, Garett Bolles in the first-round of the 2017 NFL Draft.
The Broncos had that need at left tackle because they declined the option on 2016 starter Russell Okung which made him an unrestricted free agent this past winter. Okung ended up signing a big deal with the rival Los Angeles Chargers during free agency. Now the Broncos will turn to Bolles to fill the void left by Okung and hopefully grow into one of the better left tackles in the NFL.
After Denver Broncos General Manager John Elway called Garett Bolles to congratulate him on being drafted by the Broncos in the first-round, Bolles told Elway something we all wanted to say ourselves. He told Elway "I love you".
"I'm a big teddy bear off the field, so I definitely love Mr. Elway. He took a chance on me when a lot of teams passed me up and he believed in me. All I needed was one team to fall in love with me and that's exactly what the Denver Broncos organization did. They fell in love with me and that's what it took. Like I said, I did say I love you because I appreciated what he did. He could've chosen a lot of other people, but he chose me to come in and make a big impact with this great organization. That's what I plan on doing. I told him that I'm not going to let him down. I'm going to work my butt off to get what he wants out of me, and that's a promise."
Bolles has been through a lot in his life, but one trait about him that cannot be questioned is his commitment. When he tells Elway that "I'm going to work my butt off to get what he wants out of me, and that's a promise." I believe the man.
(Credit: Bill Streicher-USA TODAY Sports)
Now Bolles enters the Broncos spring practices having to earn himself the starting left tackle spot. Right now, the Broncos have veteran tackle Donald Stephenson taking the first-team reps at left tackle, and Head Coach Vance Joseph says Bolles needs to earn the right to get first team reps.
"It's a different deal there. Obviously we drafted Garett Bolles in the first round, but he's got to earn his place. Donald Stephenson has been here every day between Phase 1 and Phase 2. He's a veteran player, he played for us last year. As far as a starter right now, it's Stephenson with Bolles."
Joseph continued by repeating that Bolles needs to "earn his place" and that he's no different than any other rookie out there on the field. All of them need to "earn their place" and will not be handed anything.
"Not really. He is a rookie that has to earn his way. That starts with the classroom and knowing what to do. Then, transferring from the classroom to the field. He's no different than Carlos Henderson or DeMarcus Walker. He's a rookie, he has to earn his way."
I expect Bolles to eventually "earn his place" and bypass Donald Stephenson rather quickly. For now, the Broncos need Bolles to make the adjustment to the NFL and hit the weight room some to become a little bigger and stronger.
The Good:
There are a lot of things to like about Garett Bolles.
First, he is a highly athletic offensive tackle. He ran a 4.95 40-time during March's NFL Scouting Combine and had the best times of any offensive lineman in the rest of the testing drills(Broad Jump, 20 Yard Shuttle, and 3 Cone Drill). He has the best feet of any tackle in this draft and with his athleticism, he is dangerous as a blocker in the open field. He reaches the second level effortlessly.
His other top trait is his nastiness. He plays through the whistle, is borderline dirty, and just will be highly physical on every snap. Bolles says he wants to put people in the dirt.
"When I'm on the field, I want to put people in the dirt," Bolles said Thursday. "And that's what I'm here for. As an offensive lineman, you want to be the nasty prick that you can be. And whoever is in front of me, I want to drive them and put them in the dirt. So I'm just going to try to be that every single day. And when I come off the field, I love my family. I just learned how to turn the switch to to go back to the new Garett."
The Broncos were looking to add that type of mentality to their offensive and their defensive lines this offseason, and Bolles fits that mentality perfectly.
I love Garrett Bolles. My favorite OL by far.

—

Ross Tucker

(@RossTuckerNFL) April 28, 2017
Atlanta Falcons first-round pick Takkarist McKinley also had some nice words for the Broncos first-round pick. He called Bolles the best offensive lineman he faced in College. He also said that Bolles is "Strong, athletic, and physical" and also called him a "prick", but meant it as a compliment.
So there's a lot to like about Bolles and if he can put it all together and lives up to his word, the Broncos may very well have a very good left tackle in the making.
The Bad:
You cannot talk about Garett Bolles without talking about his age. He will turn 25 years old on May 27th which so happens to be tomorrow(Early Happy Birthday Garett!). That is pretty old for a rookie and if he gets his fifth-year option exercised by the Broncos, he will be 30 years old the time his rookie contract is up. That's not ideal, but it's the scenario the Broncos put themselves into and hopefully Bolles has a lengthy and productive career.
Being a left tackle, one of your top traits has to be pass protection, but that is something that Bolles himself said that he needs to improve on the most as a player.
"Definitely my pass protection. That's something that I need to get better in. I'm planning on getting better against the greatest spot, against

Von Miller

, which is going to help me to become a better football player. I'm going to help him become a better football player. He reached out to me last night and just said, 'Congratulations. I can't wait for you to be a part of the team.' I'm excited to work with him and just have him teach me whatever it takes for me to better offensive tackle in this game."
Another concern I have is that he only played one year of football at the FBS level before making the jump to the NFL. So he went from playing at a small D1 school two years ago to being the probable starting left tackle for the Denver Broncos. That's quite the jump in a short span of time and shows that he may have a long way to go before he figures it all out as an NFL pro.
My last concern is his weight/strength. He is under 300lbs and lacks the ideal strength of an NFL tackle. So he will need to commit to the weight room this offseason and add some strength to his frame so he can handle NFL players.
Quotable:
Garett Bolles on his "Welcome to the Broncos" moment
"Just putting on that helmet. When you have the Bronco on the side of your helmet, that's awesome. When you put on the blue and orange, that's special. We have the greatest fans, everyone says, but when you put on that helmet, you have to wear it proud. You've got to be proud to be a Bronco and I'm just so grateful to be here. We have such great teammates and it's such a great organization. It's a dream come true to be here."
Roster Status:
Bolles is a lock to make the team obviously but will have to battle for a starting role this summer. His competition for the starting left tackle job are veterans Donald Stephenson and Ty Sambrailo. Considering how both of those players have looked last year, I do not think it will be long before Bolles takes over as the Broncos starting left tackle.
The question is how long it will take him to reach that spot. The quicker the better I feel about Bolles. If it ends up taking a little while, I may have some major concerns considering the two players he is competing against.