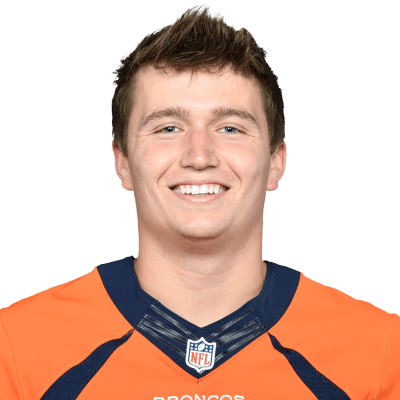 Name: Drew Lock
Position:Quarterback
Height: 6'4" Weight: 228
Age: 23 Experience: 2nd
College: Missouri
Drew Lock was long considered a (no pun intended) a lock to be drafted by the Denver Broncos throughout the entire process. However, the Broncos passed on him at 10th overall, 20th overall, and with their first second-round selection. However, using an extra second-round pick they received from the Pittsburgh Steelers in a first-round trade, they traded up to the 42nd overall selection to select Missouri quarterback, Drew Lock.
Lock played a total of four seasons at Missouri and was a four-year starter for them during his college career there were he improved each and every season. During his four-year career at Missouri, Lock totaled 12,193 yards passing, 99 touchdowns, and 39 interceptions. He completed 56.9% of his passes and also rushed for 437 career yards and a total of 9 career rushing touchdowns. During his senior season at Missouri, Lock totaled 3,498 yards passing, 28 touchdowns, 8 interceptions, and completed 62.9% of his passes. This performance help Lock become the Broncos second-round selection and the top quarterback on the Broncos board in 2019.
The offseason workouts, practices, and Training Camp practices for Lock were all going well. He wasn't in the conversation to be the Broncos starter and was allowed to grow and progress without that weight on his shoulder. However, a sprained thumb early in the preseason derailed all of that and landed Lock on the injured reserve sidelining him until early December where he made his first start.
This start was against the Broncos division-rival Los Angeles Chargers and at home in front of the Broncos faithful at Mile High. Lock didn't waste much time at all and quickly energized the fans by throwing two touchdowns, both to wide receiver Courtland Sutton and helped lead the Broncos to a comeback win against the Chargers.
The hype train began there.
He then went on to have an early career setting game on the road versus the Houston Texans were he threw for 309 yards and 3 touchdowns in a 38-24 blowout win. Things went sour the following weekend on the road against the eventual Super Bowl Champion Kansas City Chiefs where the entire team struggled in blizzard conditions. The Broncos ended up losing 23-3 giving Lock his first career loss as a starter. However, he would bounce back leading the Broncos to two more victories over the Detroit Lions and Oakland Raiders.
Lock would finish the season with a 4-1 record as a starter and he totaled 1,020 yards, 7 touchdowns, and 3 interceptions. He was only sacked 5 times, he completed 64.1 percent of his passes and had a quarterback rating of 89.7. A very solid rookie campaign for Lock which leads many to believe he's going to achieve some great things in the league moving forward.
Denver Broncos General Manager John Elway cemented the fact that Drew Lock is the future at quarterback. In a sit down with 9NEWS Denver's Mike Klis, Elway said that "Drew is our plan".
"He's a young guy that finished strong," Elway said. "We liked what we saw in him. Liked how he handled things. He went into a situation that wasn't really a great situation and handled it very, very well. We think he's talented and think he can do it for a long time. Drew is our plan. … "He gave us all the feeling that he may be the guy who can compete here for a long time."
Elway backed this statement up by making a number of moves which all helped set Lock up for success in 2020.
First, what might have the most impact on Lock's success in 2020 is the addition of former New York Giants Head Coach Pat Shurmur as the teams, offensive coordinator. He replaces Rich Scangarello who was fired after one season with the Broncos and is tasked directly with getting the most out of Drew Lock.
Now, Elway didn't stop there. His next plan of action was to surround Lock with as many weapons as possible. He already has 2019 first-round pick, Noah Fant, at tight end, Pro Bowl wide receiver Courtland Sutton at wide receiver and 1,000-yard rusher Phillip Lindsay at running back. He proceeded to add 2020 first-round pick Jerry Jeudy and 2020 second-round pick K.J. Hamler to the wide receiving group. These two add big-time speed and playmaking ability to an offense that severely needed it. He then added former Chargers starting running back Melvin Gordon to the backfield to pair with Phillip Lindsay giving the team a solid 1-2 punch in the backfield.
On paper, just about everything is there for him to succeed. He has an experienced offensive coordinator with success under his belt. He has two experienced and talented running back. He has a legit number one receiver with two exciting rookies to pair with him. He has an athletic play-making tight end that is a matchup nightmare for defense and experience and momentum from the end of the 2019 season.
The offensive line remains a question mark, but everything else is there for Drew Lock to succeed in 2020. Will he? That's mostly up to Lock himself and how he meshes with Shurmur and his offense. With all of that said, the Lock hype train is moving full speed ahead and hopefully, he ends up meeting and potentially exceeding these expectations.
The Good
There is a lot to like about Lock's game. First, he has the look and physical build of a starting quarterback. He's 6'4", 228 pounds and athletic. He has a very strong arm that allows him to make every throw asked of him on the field as well as mobility to allow him to extend a play, escape the rush, and even take off running the ball if it's there for him. He's no Lamar Jackson but his mobility and athleticism remind me a bit of Aaron Rodgers.
The real questions about Lock coming into his rookie season were his ability to process the pass rush, not panic and make the correct throw, and his ability to read NFL defenses. Even though it was a small sample size, I believe he answered all these questions and showed at the very least he improved
Lock appeared to improve each and every week too. The statistics don't always show that, but he appeared to become more comfortable, confident, and decisive in his reads. Now, rookie mistakes did and will still happen, but overall he appeared to show he had "It".
Another thing I enjoyed was his moxie. He looked like an established starter out there. Confident, celebrating with his teammates, becoming a leader, seeming aloof to struggles, and just continued to sling it around and most importantly, the Broncos kept winning. Again, he just continued to show that he had "it".
This is my personal opinion, but you can tell early on if a quarterback is going to be good or not. They either quickly show they have the qualities needed to become a successful quarterback or quickly show they do not have it. Paxton Lynch quickly showed he did not have it. Russell Wilson quickly showed that he had it. Very rarely does a quarterback struggle with the basics and suddenly have it click for them down the road. This is just my personal unproven opinion, but I think Lock has "It"
He has the size, he as the arm, he has the early success, he has the quick development, the confidence, the weapons, the moxie, the hair, the look, the talent, he has it all to be a very good quarterback in this league. Now will he? We all sure as hell hope so but I'm liking his chances right now.
Finally, he has the weapons. I already covered this, but it's worth mentioning again. On paper, he is surrounded by a lot of talent at each skill position. In the backfield he has Phillip Lindsay, Melvin Gordon and Royce Freeman. At wide receiver, he has Courtland Sutton, rookies Jerry Jeudy and K.J. Hamler along with DaeSean Hamilton and Tim Patrick. At tight end he has Noah Fant, Jeff Heuerman, and rookie Albert O and more. If all of these guys live up or come close to their expectations, the Broncos offense and Drew Lock could see a big jump in 2020.
The Bad
The hype. It's getting too big and if Lock doesn't line up to the now immense expectations putting on him, fans and the media could turn on him quickly. Expecting him to make the same jump Patrick Mahomes and Lamar Jackson made in their second seasons is pretty unrealistic. Now, I do think he has a good chance to have a good 2020 season, but lets be a little more realistic with the hype.
The coronavirus has interrupted a very important offseason for Lock. It will be his first offseason as an NFL starter where he needed to grow as a player, continue to develop, gain chemistry with his teammates, and most importantly, learn a new offense. However, the ongoing pandemic has cancelled OTA's and mini camps and has left them to learn the offense via Zoom meetings. These meetings and their effectiveness remains to be proven, but, a team learning a new offense with young inexperienced players seem to be at a disadvantage. Teams like the Chiefs and Saints for example have veteran players with longtime coaches in a system they all likely no very well. So they can hit the field running come Training Camp. The Broncos however, will experience growing pains and add in the potential removal of preseason games could limit their amount of on field time with each other and we could see it spill over into the regular season.
Now, none of this can proven and is all unproven because of the circumstances in the world right now, but, its a tough hand to be dealt for Lock and the Broncos. Hopefully, they can hit the practice field without many hiccups and still have a solid 2020 season offensively.
What to expect from Broncos quarterback Drew Lock in 2020
Like what I have said many times in this story and what others have said this entire offseason, all the pieces are there for Drew Lock to be successful in 2020.
I think a 3,500 to 4,000 yard season is likely if he can stay healthy and anywhere from 25-30 touchdowns as well. That would be my best case scenario for Lock this season. I would hope he would continue to limit the amount of turnovers as well.
The Broncos offensive line will factor into his success as well. He played well despite a poor offensive line in 2019, but they'll need to do better if he wants to stay healthy and continue his success throughout the entirety of the 2020 season. Garret Bolles will need to continue his late season improvement(if he even improved at all), the interior offensive line will need to live up to their expectations and right tackle Ja'Wuan James will need to stay healthy as well.
I think the Broncos found their Franchise quarterback for the next 10 years in Drew Lock and I think the 2020 season is the beginning of many years of success for Lock and the Broncos.