So another week and another increase in draft slot. This draft was done with us selecting No. 12, which as of right now looks too good. That being said, lets get on with it.
1st Round - DeMarvin Leal, DL Texas A&M: While I struggled with this pick, because Willis and Corral were off the board and I was close to taking Carson Strong here, I felt like lets assume we win the Aaron Rogers sweepstakes and are now in a win now mode. While we definitely have issues with the O-line, as has been highlighted, our production from the defensive line has been pretty subpar this year. Leal is arguably the best interior line prospect this year with the ability to be lined up over the Tackle or Guard, and showing he's an excellent run defender, displaying power, motor and discipline to easily counter offensive schemes. He needs to refine his pass rushing technique as he lacks good counters now but he has shown marked improvement this year. He has the tools to be an every down defensive lineman who can dominate every phase of the game.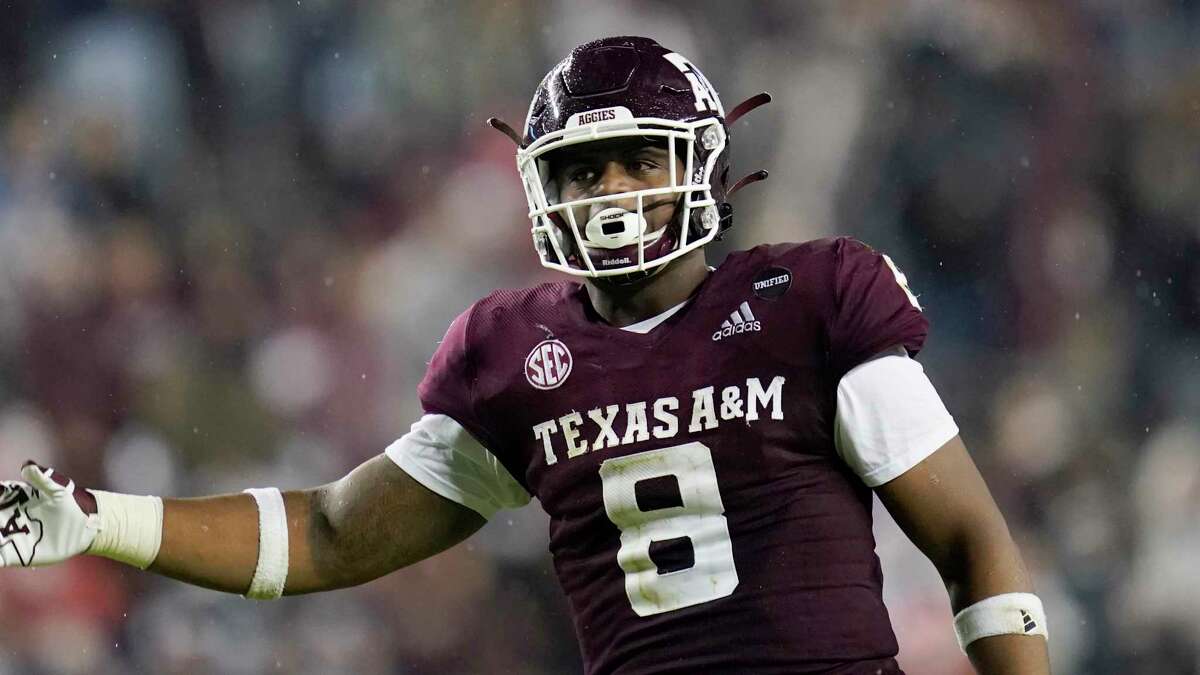 2nd Round - Tyler Linderbaum, C Iowa: Centers have a tendency to fall in the draft, and while I absolutely love Linderbaum and would have no problem drafting him in the late first round, he is kind of a zone heavy Center and could see him falling just because of that. That being said, I think he would be an absolute steal here and helps stabilize the line. If we do win the Rogers sweepstakes, then it makes sense to go to a zone heavy west coast scheme as rogers excels in that offense. Linderbaum would be ideal center for that scheme.
3rd Round - DeMarvian Overshown, LB Texas: As has been exposed, we need a huge talent infusion at LB. Overshown is somewhat light for a ILB but is the new hybrid safety LB that can be highly effective in coverage and as a blitzer. While he will have a hard time consistently stacking and shedding blocks, he is more than athletic enough to get past blockers and attack the ball carrier prior to allowing blocks to set up.
4th Round - Tyler Vabrel, OT, BC: This kid understands the fundamentals of football and blocking. While he isn't a plus athlete, he makes up for it in hustle and understanding and skill. I think he has the prowess to be a quality starting RT in the NFL.
5th Round - Charlie Kolar, TE Iowa State: He's not going to out run many players, but he definitely understands how to use his frame, route running ability, and technique and ability to box out defenders to make catches. While Fant and Albert O may be athletic freaks, both seem to have a hard time staying on the field or being consistent week in and week out. Kolar is a true red zone threat and while not the most powerful blocker, he is at least willing to work at it, something Fant and Albert O seem to lack.
7th Round - Steven Gilmore, CB Marshall: Younger brother to Stephon Gilmore, Steven has shown to be a player who understands technique and is a feisty defender. While his height and lean frame likely limit him somewhat to likely only being a slot CB in the NFL, he should be someone who adds depth to our CB room and be able to contribute sooner rather than later.