Well another week and another mock draft. Still had us picking 24, maybe that is too high but figured I would still view us as borderline playoff team this year. So with that lets get going.
1st Round - Myjai Sanders, Edge Cincinnati: With Chubb's injury history and Von's age, this position likely will be a need. Reed looks like a very serviceable No. 2 player off the edge but there will be a need to get an elite pass rusher. Sanders is a little under the radar, But Sanders definitely has some elite physical traits that make him jump out, natural length, great explosion and acceleration, and he is a twitchy type athlete similar to Von. While he doesn't have the freakish bend that Von has, he does show natural ability to generate power and then swim under the tackle, much like Von. This season the stat sheet hasn't been as blistering as last season, make no mistake, the Bearcats defense has been awesome this year and his presence is a big reason why the Bearcats may end up in the college football playoffs.
2nd Round - Mykael Wright, CB Oregon: You can never have too many good DBs, Wright is not an imposing CB but he plays with great attitude and instincts and has been a leader on the Oregon defense and many former recent Ducks playing in the NFL see him as the best DB coming out of Oregon in awhile. He has impressive lateral quickness, is a willing tackler and plays bigger than his size. He does have a slight frame and while he has excellent at pass defended he does seem to have some issue with making int's more consistent with only 2 so far in his career at Oregon. But with him and PS2 I think this gives the Broncos two solid CBs for the next 10 years.
3rd Round - CJ Verdell, RB Oregon: I really like Verdell, especially if Gordon leaves after this season. While he is a shorter back, he isn't small and he definitely has the nice wiggle and ability to get north and south quickly. The one thing I really like about Verdell is he has a nose for the end zone.
4th Round - Danielle Faalele, OT, Minnesota: Here's a kid relatively new to Football, was a rugby player through school, but is a freakish athlete standing 6' 8" and 380 lbs. He actually move really well given his size (I credit that to the Rugby) and he has everything you would like out of a RT. What he is is still somewhat raw, he will need coaching but I think he has all the tool that you could want as a starting RT.
5th Round - Phidarian Mathis, DT Alabama: A key cog in Bama's defense, this experienced DT may not be exceptional in any one aspect, but he has a very well rounded game, has a ton of productive SEC experience, and should transition well into a rotational d-lineman with the Broncos. He has very good size and power, good technique and has shown good burst this season pressuring opposing QBs. While I think this is somewhat low for him (I think he is a late day 2 pick) in this mock I happily take him here.
5th Round - Shawn Jolly CB Appalachian State: Other than his size, he likely will be a guy taken in Day 2 of the draft. However, due to his height he likely is confined to a slot CB role. He is a natural CB and picking him here should be an absolute steal. He has lockdown ability and will remind a lot of people of CHJ with his play style.
7th Round - Kayden Lyles C?G Wisconsin: Somewhat under the radar player who is recovering from season ending injury in 2020, Lyles is another tough Wisconsin offensive lineman who should be able to play C or G. I don't know if he can unseat Cushenberry immediately, but he should bring some more depth to the Center position and has an outside shot of winning the job. He has played on a variety of positions on the line and should be able to also fill in at guard.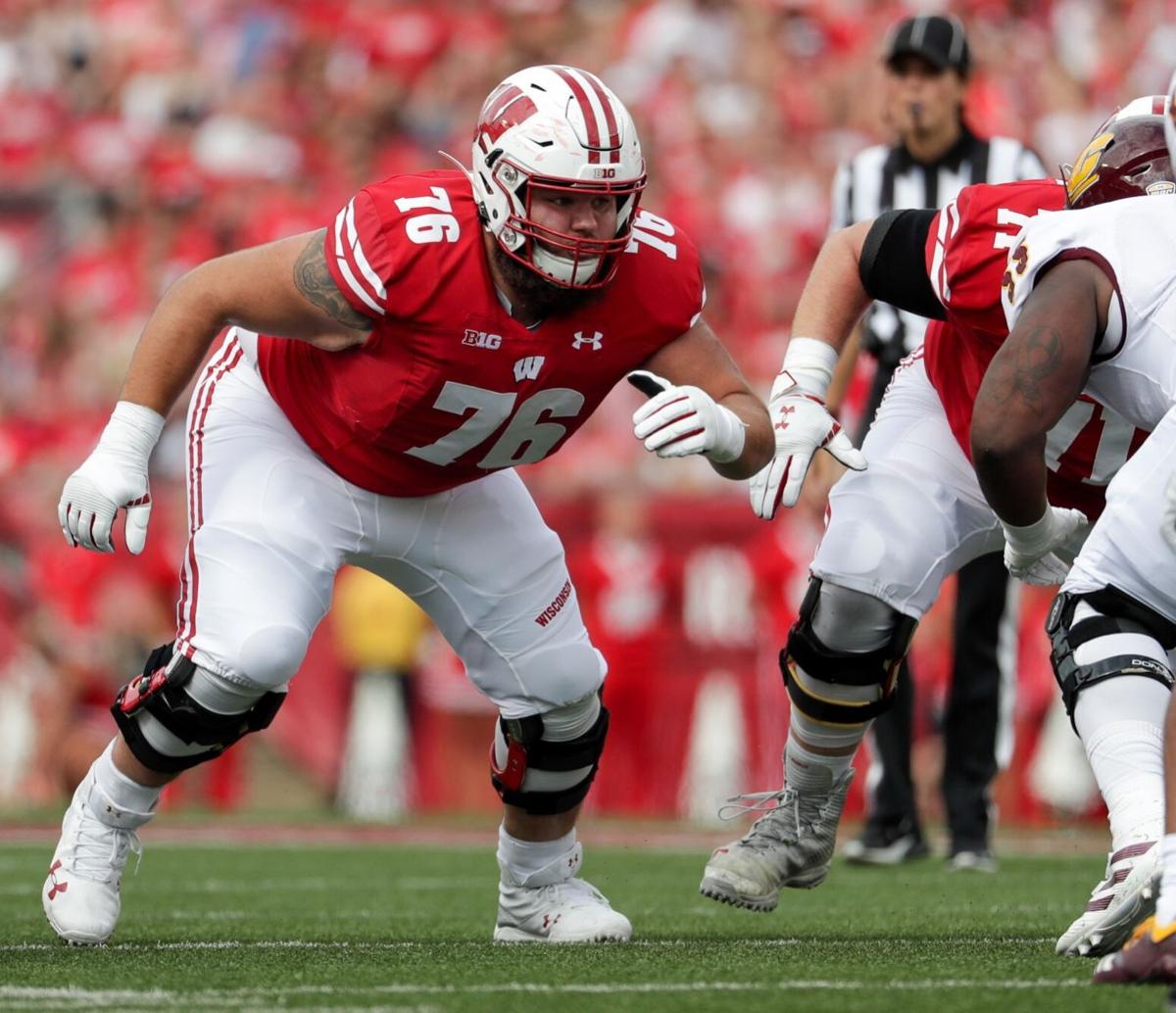 7th Round - Mike Rose, LB Iowa State: He's a old school MLB who loves to attack the run and does not shy away from tacking on blockers. Has great ability to stack and shed blockers. Where he will struggle is in space and coverage as he doesn't have the elite speed to cover in space. He should be a guy you can bring in on short yardage situations and be a ST star who can be a wreaking ball inside. He is someone who I think just enjoys playing football and is going to be a player that probably does better than the athletic measurables say.
7th Round - Trey McBride TE CSU: If he lasts this long it's mainly cause he is playing at CSU. Defeinately has a chance at sticking on the roster and making his way onto the field. Nice combination of pass catching ability and solid blocking ability.