Well, although not for certain, it does appear that we will still be drafting somewhere in the teens in 2022. With that I thought I would do the next installment of the way to early draft, this week we are sitting at picking No. 15.
Round 1 - Kaiir Elam, CB Florida: I can hear it now, but we drafted a top CB last year, why would we get another CB in the 1st round. Well, lets just say after PS2, and likely departures of some CBs on this roster, we are going to need another top CB. Elam was simply too good to pass at this point. Does he solve all the issues, nope, but look at it this way, this gives the Broncos arguably the best young secondary in the league if Sterns continues to improve and becomes a starter next season. Elam I don't think is as talented as PS2, but I think he is just a tad less talented. He is big, fast, and long and provides another player who can help erase larger WRs out of the game. He has struggled with smaller and more shifty WRs in getting too aggressive at the line of scrimmage and whiffing on the jam, which has lead to some big plays on him. He seems to have gotten better at that this season though.
Round 2 - Kenny Pickett, QB Pittsburgh: Pickett has steadily been driving up the draft boards and he may be someone that the Broncos have to move back into the back half of the first round to get. He's QB1 on Mel Kiper's draft board although I would never judge Kiper as the best judge of QBs in this league. That being said, this kid has a ton of game experience and has really seemed to put it all together this season. His numbers have been outstanding and even in bad games, his numbers still are more than decent. He does still take a fair amount of sacks so he will need to work on his internal clock and understanding when to just get rid of the ball versus taking the sack. While his arm is decent and shows good zip on the balls, his placement can be inconsistent and he also has a tendency to bounce around to much in the pocket which leads to poor or erratic set ups when throwing (hence the erratic placement). Is definitely going to have to continue to perform in order to shake off the one year wonder label, as previous season he has been really below average. I think this will be a perfect reason to keep TB for two years and truly give Pickket time to show he can develop into a starting NFL QB.
Round 2 - Kenneth Walker III, RB Michigan State: another player who is going to have to shake off the one year wonder label. This season has been outstanding, averaging nearly 7 yd/carry and already scoring 15 TDs. He likely will win the Heisman Trophy provided he finishes out the season on his current pace. So why would he be here in the back end of the 2nd round. Well again, he will have a lot of people labeling him a one year phenom. What I do like is he has very good long speed and a great second gear. The fact he now owns the longest run from scrimmage for both Michigan State and Wake Forest shows he definitely has the jets to take it to the house wherever he is at. this season looks like similar to Pickett, he seems to finally clicked with having patience and vision to let the play develop and then get through the hole. With Pookie and KW3, we would have a pair of RBs with a true thunder and lighting type combo.
Round 3 - Daniel Faalele, OT, Minnesota: Hopefully this will be our RT of the future. Truly a massive human being, he has shown he does have some very good movement skills. Relatively late to the game, he still need to get a better understanding of hand placement and overall footwork on pass sets, but he has a lot of great tools you can't teach. And while I had my doubts due to Bolles age and inexperience, Faalele, while he did start playing football in HS, he will still be relatively young and still not a ton of game experience since he sat out the 2020 season due to COVID. That being said, he is really athletic for his size, and should become an excellent starting RT in this league with the correct coaching and patience.
Round 3 - Zion Tupuola-Fetui, Edge, Washington: The fact he is playing this season at all is remarkable, considering he tore his Achilles in April this year. He has played the past two weeks and already registered one sack. Last year he lead the nation with sacks per game with 1.75. If he comes fully back from the injury and continues on his trajectory, he will be an absolute steal here. He is an excellent pass rusher who uses his hand really well, and has very good bend and burst to get under tackles and get home to the QB. He also has shown he can chase down runners from the backside and can hold up at the POA on running downs.
Round 4 - Tyler Vrabel, OT, BC: Extremely versatile, smart, and knowledgeable. Vrabel may be able to start quicker than say Faalele. I love his versatility and I think he could literally play any position on the line. I see him as either a quality swing tackle or even potentially moving inside to starting at Guard or even Center. He shows very good power in the run game and has very good pass sets. He does have some athletic limitations but overall he is able to overcome those by excellent technique.
Round 5 - Ali Gaye, Edge, LSU: I am not sure if he comes out or takes a redshirt season. Gaye was having a decent season until he got injured and required season ending surgery. He has a nice blend of size and speed and really nice length. His draft position (if he comes out) will likely be related to his medicals coming back clean. Still unclear what the nature of the injury and surgery was. He definitely would be someone the Broncos would have to develop, he has moments where he looks outstanding and other moments where he looks like he is thinking too much and not reacting naturally. If he can put his natural gifts together with ability to quickly process consistently, he could be another gem.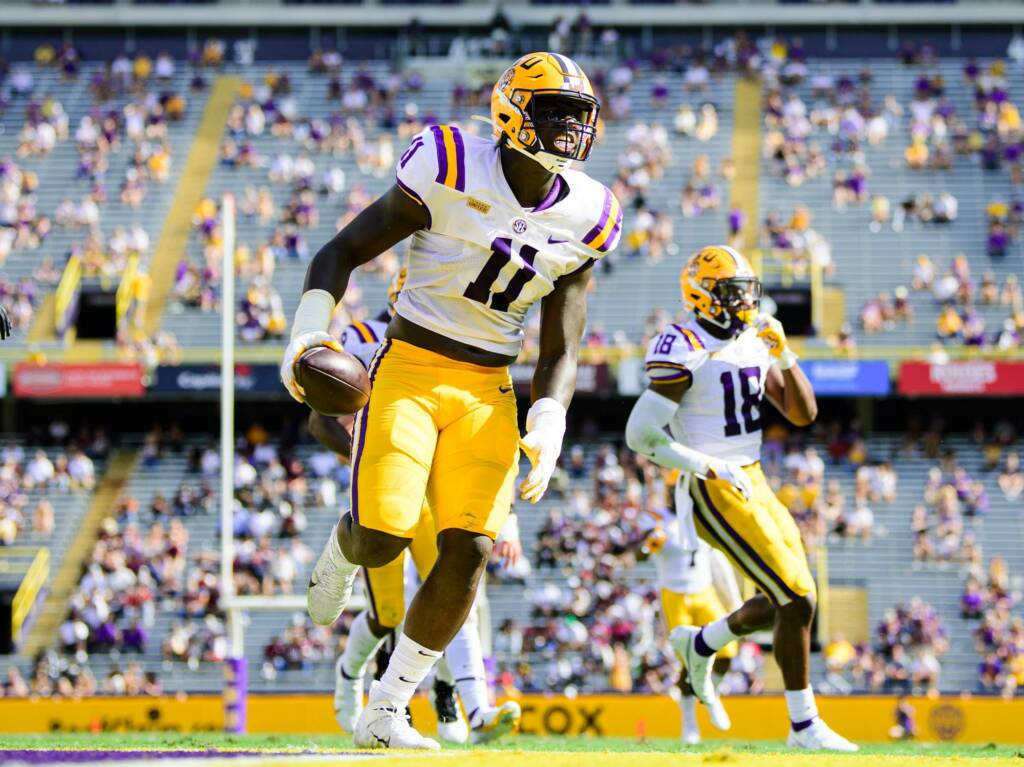 Round 6 - D'Jordan Strong, CB Coastal Carolina: Had he been a little bigger player, I have no doubt he would be a late day two pick, but due to his size, I think he drops into day three area. He shows really good instincts and very good coverage skills. There are questions about his long speed and he is going to struggle against bigger and more physical WRs in the NFL.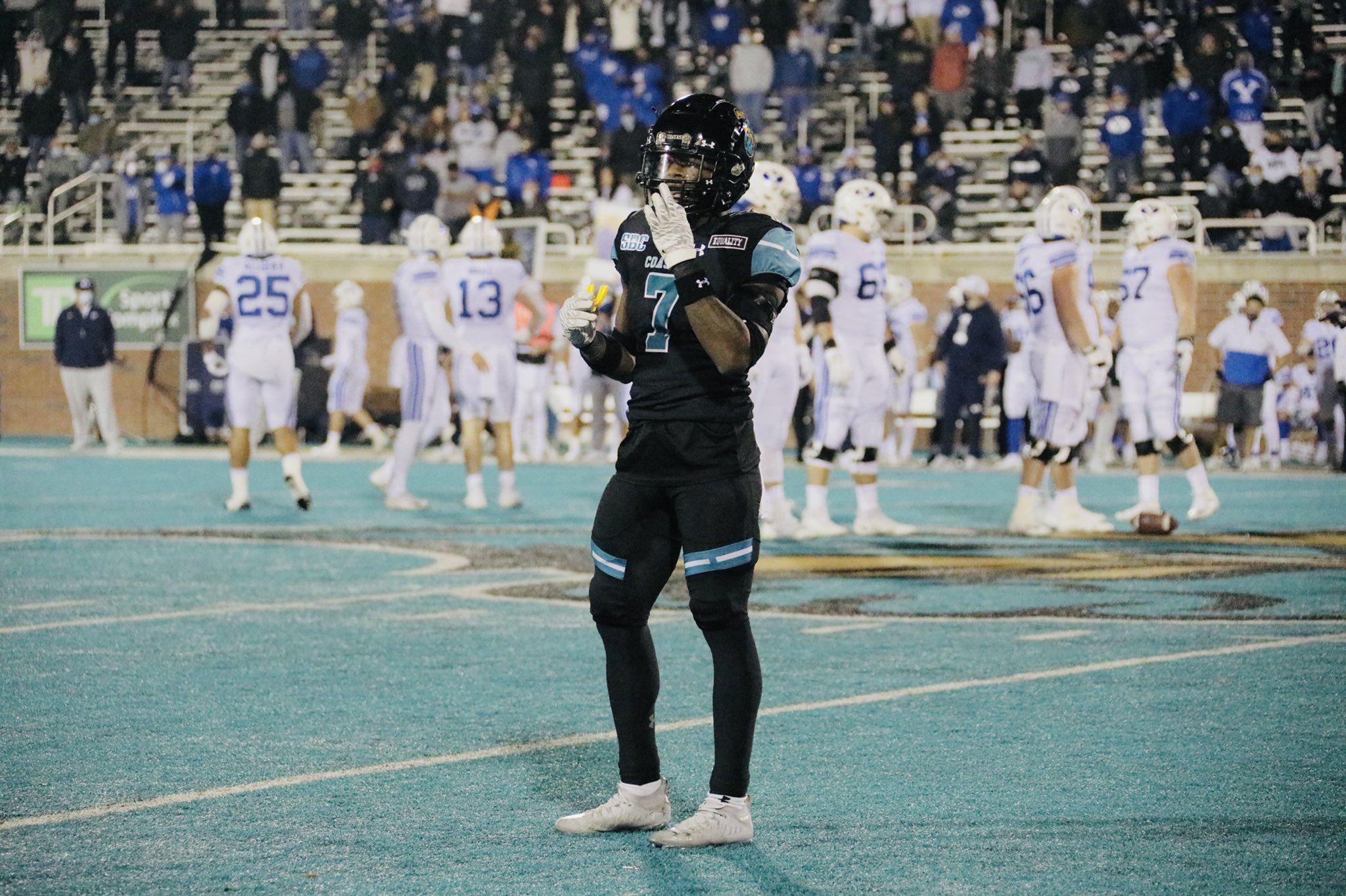 Round 7 - Phidarian Mathis, DL Alabama: Not too sure about the people rating him so low, I think he is one of the more complete defensive line prospects coming out. It would really shock me to see him drop this far. I think he has shown this season he has good capabilities of rushing the passer as well as being a solid run stopping lineman. He is versatile and can play multiple positions on the line. Probably never going to be an all-pro but he definitely can be a solid starting lineman in the league..