Wow, amazing how 24 hours can change perspectives. I won't rehash everything, but thought I would give my opinion on potential QBs for next years draft:
Malik Willis, QB Liberty - this kid I think is likely the 1st QB off the board next year. While depending on how the final draft order lays out, he might have the potential to be No.1 overall, right now, I think he likely is somewhere in the 3 to 10 range. What to like about him, well he is off the charts athletic. And while labeling a QB hyper athletic in years past might mean he wasn't a good passer. He is an exceptional passer, especially on the run and scrambling. He has a solid arm and great scrambling ability. I would compare him to a poor man's version of Kyler Murray. I think much like Murray he is looking to make the play by throwing versus running, although he is good at running, so he uses his ability to keep plays alive to extend plays. And while his athletics gifts can be a gift, they also can be a curse in his case. Where he tries too hard to make a play every time, which leads to taking too many sacks and throwing too many hero balls. I think you have to take the good with the bad in his case. The other issue is that he has been feasting against the weak schedule, games against tougher opponents like Syracuse, and University of Louisiana with some higher talent level he has struggled. Obviously some of those struggles are due more to lack of supporting cast around him than anything. This week he plays Ole Miss, which I am guessing is going to make his life extremely hard. If he can shine in that game I think it vaults his status up significantly, I am guessing he will struggle but I don't think it diminishes his stock that much. I would be for the Broncos drafting him, especially depending on who the new HC and OC is, whether we will be in position remains to be seen. I doubt he would be able to start next season unless the offense was really simplified for him, as I think he will have to adjust to NFL defenses and play design versus what he is currently doing.
Matt Corral QB Ole Miss - Mixed feeling on Corral for me, kind of a poor man's Baker Mayfield. I like his attitude, I like his leadership, but he doesn't have the arm Mayfield has, and some of the decisions he makes if he caries that over to the NFL is going to have him have a significantly shorter career. I also question how much of his success is play design from Ole Miss versus actual capabilities from Corral. He has struggled against some tougher defenses and does have a tendency to trust his arm too much. Right now I think he will likely go somewhere between 10 to 20. As I said, still kind of mixed feeling on Corral. Could see him having a really productive career, also could see him being a career backup also.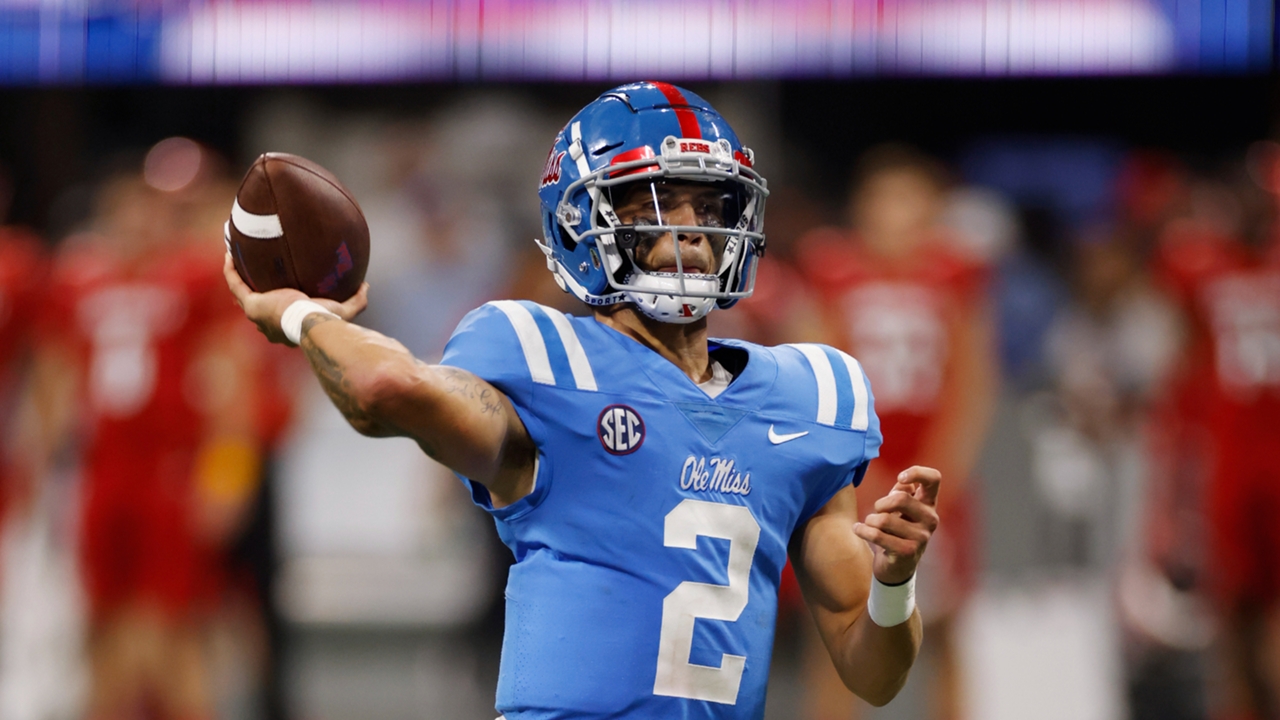 Carson Strong QB Nevada - For me, Strong is the top QB coming out next year. He has shown he has a outstanding NFL arm, great mechanics, and accuracy. What he lacks is athleticism so he is not going to make too many plays on his feet, and while he has good movement in the pocket, he still has a tendency to hang on to the ball too long and takes too many sacks trying to let plays develop. In the NFL he is going to have to speed up that internal clock as his frame is not going to be able to take the punishment. There are also some potential long term knee issues from high school. So depending on medicals he may go anywhere from the beginning of the 1st round to the 2nd round. I would be in favor of Denver grabbing him provided the medicals show no significant issues going forward.
Sam Howell, QB UNC - Howell seems to have regressed this season and I think ultimately he is going to be out of the 1st round and into the 2nd round or later. I honestly don't see him as being an NFL starter, although I think some team will try. I would say he's a poor man's version of Drew Lock without as good of an arm. Maybe a little harsh, but this season was supposed to be his breakout and he has looked pretty mediocre. I really was expecting to see a step up this season in Howell, but time and again he has played uninspired ball.
Kenny Pickett, QB Pitt - Someone who basically seems to have come out of nowhere, I think Pickett will work his way into the 1st round this year. He is having an outstanding season and showing extremely good accuracy and ability to target all sectors of the field, which he had not shown before this season. If he continues and finishes out the season strong, I would not be shocked or sad if the Broncos targeted him, maybe moving back a little and picking him up somewhere in the mid twenties. I would say somewhat similar to Mac Jones, although Pickett had far more starting experience than Jones did, but both kind of come in as one year wonder labels. He's not an athletic as others on this list, but he has shown this season he can make quick and accurate decisions. Last week was arguably his worst week and he still managed to go 39 for 55, 519 yards, 3 TDs 2 Int in a lose to Miami.
Desmond Rider, QB Cincinnati - I'm really not sold on Ridder being a starting NFL QB. He obviously is a great athlete and very good leader, but I struggle when I look at his accuracy and mechanics. I kind of look at him similar to Tim Tebow. He's a very good system QB and someone who can make throws when the guys are open, but he doesn't have the accuracy to throw a guy open or hit the tight window you need to in the NFL. I am guessing someone will see the athletic potential and maybe move into the back end of the 1st round and draft him similar to Jordan Love in Green Bay. I don't think Denver needs a project type QB. So I would stay away (IMO).
Greyson McCall, QB Coastal Carolina - He's an interesting prospect, I think he obviously benefits from the conference he plays in and has put up some ridiculous numbers that somewhat inflate his stats. I don't think he has the NFL caliber arm and is going to struggle in the NFL making the tighter throws. He definitely has good athleticism and ability to force opponents to account for him. There's a lot to like about him but I think there may be some fundamental issues he can't overcome with the ability to fit balls into tighter windows than he has had to do at Coastal Carolina. Again, someone may take a chance on him somewhere in the back end of the 1st round.
So looking right now I would personally rate the QBs as follows:
1. Carson Strong (provided medicals check out)
2. Malik Willis
3 Kenny Pickett
4. Matt Corral
5. Greyson McCall
6. Desmond Ridder
7. Sam Howell
And while I would only give 1st round grades to Strong and Willis, borderline Pickett, I understand that QBs get pushed up so I wouldn't be shocked if 4 or 5 Qbs go in the 1st round this year.