As we get ready for the next Broncos season to get going, I thought I would post some players to keep an eye on in the college game. Naturally, as long as we have two potential starting QBs the reality is that QB will be a position of need and interest this offseason unless either Drew Lock or Teddy Bridgewater take some tremendous strides in their careers.

So with that I thought I would break down some potential prospects in next years draft.
Spencer Rattler - Oklahoma - Spencer is likely going to be the 1st QB off the board next year unless someone has a meteoric rise like Joe Burrow did two years ago. While Rattler isn't the elite level QB prospect of say a Trevor Lawrence and maybe is more in the mold of a Baker Mayfield. Rattler is going into year three of Lincoln Riley offense and will be set to have a great season. He has a plus arm and is good inside and outside the pocket, while not a huge running threat, he is nimble enough to get out of harms way and pick up yards when the play breaks down although he looks to beat you with his arm first. Their schedule is not too daunting, with most of the tougher opponents schedule in Norman. Their depth at skill positions is solid and biggest concern on offense is likely loss of experience up front with starting C and Tackle being drafted. Expect to see Spencer Rattler and Oklahoma in the playoffs as long as they don't have any major injuries and don't beat themselves by taking someone lightly.
Sam Howell - North Carolina - He had a very solid campaign in 2020 and was the 2nd best QB last season in the ACC behind Trevor Lawrence. That being said he definitely plays in a fairly simple college offense that was heavily reliant on a fantastic running game led by current Bronco Javonte Williams and his dynamic running mate Michael Carter also in the NFL. With the loss of two top RBs, Howell will have to step up and show he can do more than RPO and be effective being the primary focus of the offense. Howell has great touch and has shown he can be highly accurate although he can also wait too long in the pocket to try to get a play to open up and take a hit or get a sack which negates his accuracy, however, he has failed to show up against top flight competitors. He compares to me as someone like Derek Carr who is going to have to be put in the right system and have good coaching to be effective in the NFL. His arm strength is decent but not elite. This season, UNC should be a very solid team and should have the potential to challenge for the ACC title with no Trevor Lawrence in the conference. Their line should be solid but must keep him clean as he is not a great escape artist. He may be able to push for the No.1 overall pick, he could also fall into the 2nd or 3rd round if he has a lack luster campaign.
Malik Willis - Liberty - Arguably the most physically gifted QB in this class as far as arm strength and running ability. Playing at Liberty he is obviously not playing elite competition and has only one year of starting experience in college. There is not denying how physically gifted he is, he has a lot of Michael Vick in his game although he is not as fast or as a dynamic runner as Vick was. Similar in size and stature with similar arm strength. His problem is consistency as he makes too many inaccurate throws and tries too much to make hero throws. His offensive line was little help last season as he was almost constantly on the run or scrambling, if he can get more steady line play and work more on taking what the defense gives him then he can definitely push his way into a top ten to top five pick next season. He also could end up being a guy who is taken in the 4th round due to poor mechanics and inconsistency that someone sees as a project.
Kedon Slovis - USC - While his 2019 season was outstanding, with many projecting him to be top QB coming out this year, the 2020 season was more down to earth. Most of the issues last year can be attributed to two factors, one the offensive line was not that good for USC, and two their ground game is uncharacteristically bad. That being said, their pass protection should be better this season, and Graham Harrell as OC, don't expect USC to look to do anything but pass the ball. Slovis showed he could be highly accurate in 2019 and highly effective, basically taking the starting job away from heralded recruit JT Daniels who is now in Georgia. Their WR corp should be vastly improved over last year with talent coming in from the transfer port (I know it was you KD Nixon, you broke my heart Fredo), and their schedule is not overly hard with out of conference games with BYU, San Jose State, Notre Dame, and not having to play against Washington and Oregon in conference this year. While I don't think they are going to be playing in the conference championship (I am thinking CU or Utah) they easily could wind up in the conference championship game as well and maybe beating Oregon or UW. Slovis likely suffers from being a thin framed QB who despite great accuracy and a well beyond his years understanding of the game does not have an NFL level arm. He struggles with getting velocity with down field throws and driving the ball consistently into tight windows. He likely will be a 2nd to 4th round pick.
Carson Strong - QB - Nevada - Strong made a huge jump from 2019 to 2020 as far as completion percentage and effectiveness. He has very solid mechanics and has a very good arm, adept at making the big time deep throw with an outstanding WR in Romeo Dobbs where they simply could outrun and out throw the coverage. He is poised to have another strong season and the comparisons to Josh Allen will be comparable. While Strong arguably has as good of an arm as Allen, he is not as big and athletic as Allen, but I would say at this point in his career he is a better passer as far as mechanics and accuracy as Allen was. I think the comparisons are mainly due to the bigger kid with rocket for an arm, playing in the Mountain West. Strong with a strong season, could easily leap frog most of the players listed here, although may have a tough time beating out Rattler as the top QB taken. With games at Cal, KSU, BSU, Fresno State, and CSU they have a relatively daunting schedule but it should give Strong the ability to highlight his skills against quality competition in hostile settings. If he can show up and produce this season, I easily could see him being the 2nd QB off the board and a top 5 pick. Likewise I could see him easily dropping into a day 3 pick if he struggles against better competition.
JT Daniels - Georgia - As mentioned previously, an early season injury led to JT Daniels losing his starting gig to Kedon Slovis. Now at Georgia, JT Daniels stepped in at the end of the season and the passing game took a solid step forward at Georgia, however, the bowl game he was lets say it kindly, bad. Georgia has a solid all around team with a great offensive line, solid WRs and solid RB and rushing attack. They should challenge in the SEC, if Daniels can prove he is all the way back from his injury he has all the tools to be a top NFL QB, he has yet to show it though consistently. While he was a true freshman starter for USC in 2018, that season was not what anyone would call a success. He actually was looking very good in 2019 before blowing out his knee. He has good size, good mobility, very good arm strength and accuracy. Playing in the SEC he obviously will be playing against some of the best defenses but other than a tough opening day game against Clemson, they actually have a relatively easy schedule with no regular season games against Bama, LSU, MSU, or Texas A & M although they do play in Florida in the swamp. There really should be no reason they are not playing in the SEC title game and likely have a better than average shot at the CFB playoffs as well. If Daniels can be consistent and not have another bowl game where he was throwing into double coverage and making bad throws, he does have the skill set to be top QB taken overall.
Desmond Ridder - Cincinnati - Ridder is a highly gifted runner that has improved dramatically as a passer, he still is not nearly as accurate as he needs to be if he wants to play in the NFL. If he can improve his accuracy and provide better mechanics, he has a chance into making it into a day 2 pick. Ridder has been a bigger running threat early in his career but will need to show he can do more than a run first option. With the exception of losing their star LT Hudson and losing top RB, the offense returns most of it's starters and while it wasn't asked to do a tremendous amount last season as they relied on their defense to be dominate and the offense to be able to control the clock and maintain field control, this year Ridder could have a solid chance to have a breakout type of performance with a more dynamic play calling. For playing in a non power five conference, Cincinnati's schedule is actually fairly tough, with games at Indiana and Notre Dame to go along with games against traditionally tougher opponents like UCF, S. Florida and improved Tulane and SMU. If Ridder can show he can be effective against the top tier competition he has an intriguing tool set that some coach is going to want to look at. Likewise, he could regress and fall out of the draft completely.
Brock Purdy - Iowa State - I was somewhat surprised Purdy decided to remain at Iowa State, but I think he believes another solid campaign will only elevate his stock. Purdy is a smart and heady QB who understands game management and how to attack a defense. What sets him back is athletic limitations. He doesn't have the arm strength to consistently drive the ball to the outside throws and that somewhat limits his ability to use the entire field. He also has a tendency to abandon the pocket early and not let plays develop. He does have a very quick release and he does scan the field quickly and works through progressions. Likely resigned to a backup at the next level, he's the type of player you hope gets a shot. Likely will be either a late day two pick or more likely day 3 pick. Purdy should be poised for a very good season, as the offensive line is excellent, he has two fantastic TEs, and his receivers are all big targets. Their schedule also sets up well with most of their tougher games at home with the exception of Oklahoma. If they can run the table and knock off Oklahoma in Norman (no small feat) then they should be in the CFB playoffs.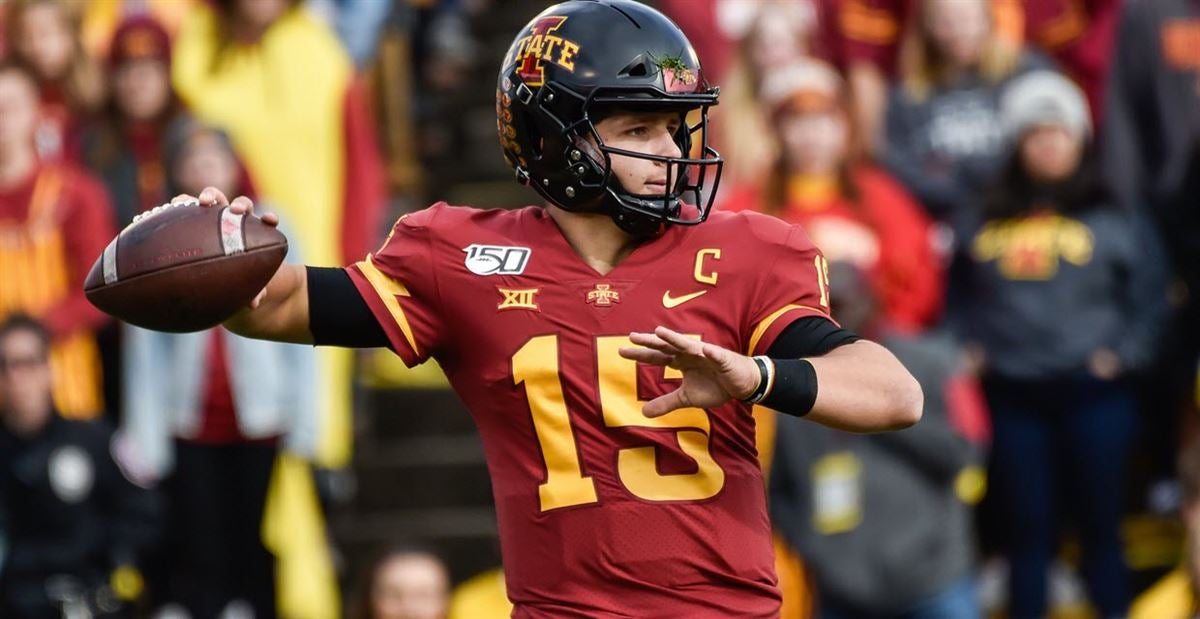 Phil Jurkovec - BC - Brian Kelly said he was the best QB prospect he ever signed, which may be true but apparently he couldn't beat out Ian Brock at Notre Dame and so transferred to BC. Last season Jurkovac put up very solid numbers at BC, he has great size, is a plus athlete who can run if needed, and shows good pocket awareness and good to very good arm strength and accuracy. Has a slightly unorthodox throwing motion which may be of concern. Other issue is he tends to not attack downfield taking easier dump offs and shorter routes. I think Jurkovec is kind of the biggest wildcard where I could see an outstanding season leading to a day 1 selection somewhere in the mid to late first round to being a late day 3 selection if he has a poor season. With a transition from a run dominated offense to a passing friendly offense last season, this season Jurkovec could be set for a great campaign. Most of the starters are returning and they have another year of experience under a new offense. The schedule sets up as relatively tough but they do get home games against University of Missouri, FSU, and VT although road games at Clemson, GT and Louisville. So he will have opportunity to face some pretty stiff competition on the road in hostile environments.