One thing that got highlighted this past game is our interior line is still suspect, while I have high hopes Muti will be a starter sooner rather than later and an upgrade at guard. I do think we are not done with looking to upgrade either at guard or center. While we drafted Meinrez, he likely is at least a year away at best, and no guarantee that he can beat out Cushenberry. So I thought I would look at some potential top interior line prospects that may be available next year in the draft.
Tyler Linderbaum, C Iowa - Linderbaum likely will be a first rounder and maybe even top 15 pick next year. He is a special player at Center. I would not be sad if the Broncos picked him up or even moved up to get him. Centers being drafted in the first round are kind of rare, and what separates Linderbaum is his movement skills. This kid simply has great feet and very good power, he will get knocked a little for being on the smaller side, but he is a guy who looks like he will be an All-pro in this league for a long time. He may actually end up being the 1st offensive lineman off the board this year, he is that good.
Kenyon Green, G/T - Texas A&M I profiled him earlier under potential tackles next year. Due to some issues with his arm length and experience he may ultimately find his home at guard versus tackle. Think of a bigger and more athletic version of Dalton Risner, where he struggles is consistency in pass blocking but he definitely can move people as a run blocker. I like him a lot in the 2nd round as a guy you maybe start at RT then kick him into guard if he can't handle the tackle aspect.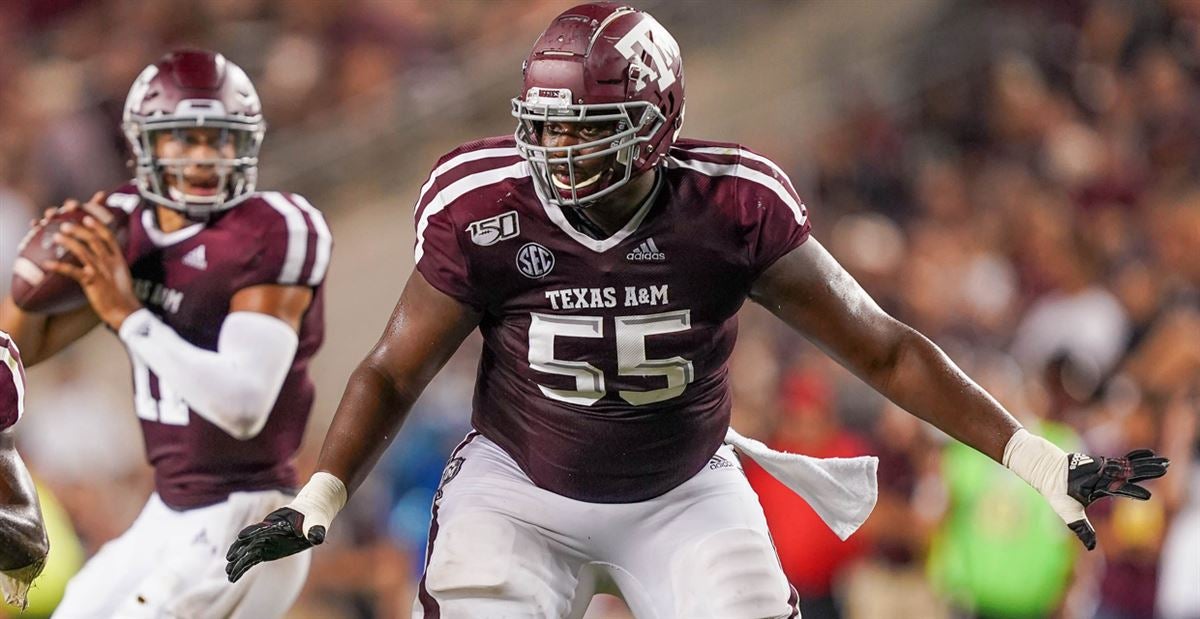 Ikem Ekwonu, G, NC State He has kicked out to tackle but likely doesn't have the feet to play tackle, he is a true road grader who just simply overpowers people at the point of attack in the run game. Again he will need to improve his pass blocking, but pair him with a guy like Muti inside and that is a tremendous potential. He may slip into the back half of the 1st round, but likely will be a high 2nd round pick.
Darian Kinard, G, Kentucky - Massive man but lacks foot speed needed to be a tackle. He is a dominate run blocker for Kentucky and again will have to show improvement in pass blocking. I think he is likely a late day 2 pick to early Day 3 pick with likely a year on the bench. He looks like he needs to work on conditioning. But he has shown well playing in the SEC.
Dohnovan West G/C - ASU He likely is too short of arms to be an effective guard, but he has shown outstanding ability in pass protection for the Sun Devils. Great at mirror and sliding, has very nice movement skills, and is experienced. While likely a late Day 2 pick, he does have the chops to be a starting Center in the league.
Jarrett Paterson, C Notre Dame Paterson is kind of an unheralded prospect but has some very nice skills and heavy experience. He should be a Day 2 pick and looks like he should be an excellent starting Center in the league.
Alec Lindstrom, C BC, What's not to like about Centers from BC, his brother is current Falcons Chris Lindstrom, Alex looks like another in long line of tough and productive BC lineman to come out. Another guy who should be a Day 2 or early Day 3 pick.
Kyler Schott, G Iowa Another factory for offensive lineman, Schott somewhat gets over shadowed by Linderbaum, but is no slouch. He is also somewhat undersized but plays with same nasty disposition and has excellent footwork and movement skills to go along with good power. He likely will be a Day 3 pick, but someone is going to be happy with him