So another week and another mock. I thought I would go a different direction this week. So with that lets get started:
Pick 20 – Nolan Smith, Edge/OLB, Georgia – The reality is without the injury Smith likely would be a top ten pick this year. He is a versatile player who is equally good in pass coverage, rushing the passer or stopping the run. He's an ideal 3-4 OLB in that he is an asset in coverage and in rushing the passer so you can use him a multitude of ways, very similar to Barron Browning in that he likely can excel in a lot of areas. As we have seen you can never have enough good edges in this league, and a combo of Gregory, Browning, Bonito and Smith should give the defense a solid core of players at the edge position with some flexibility. Too good of a value to pass at this point in the draft.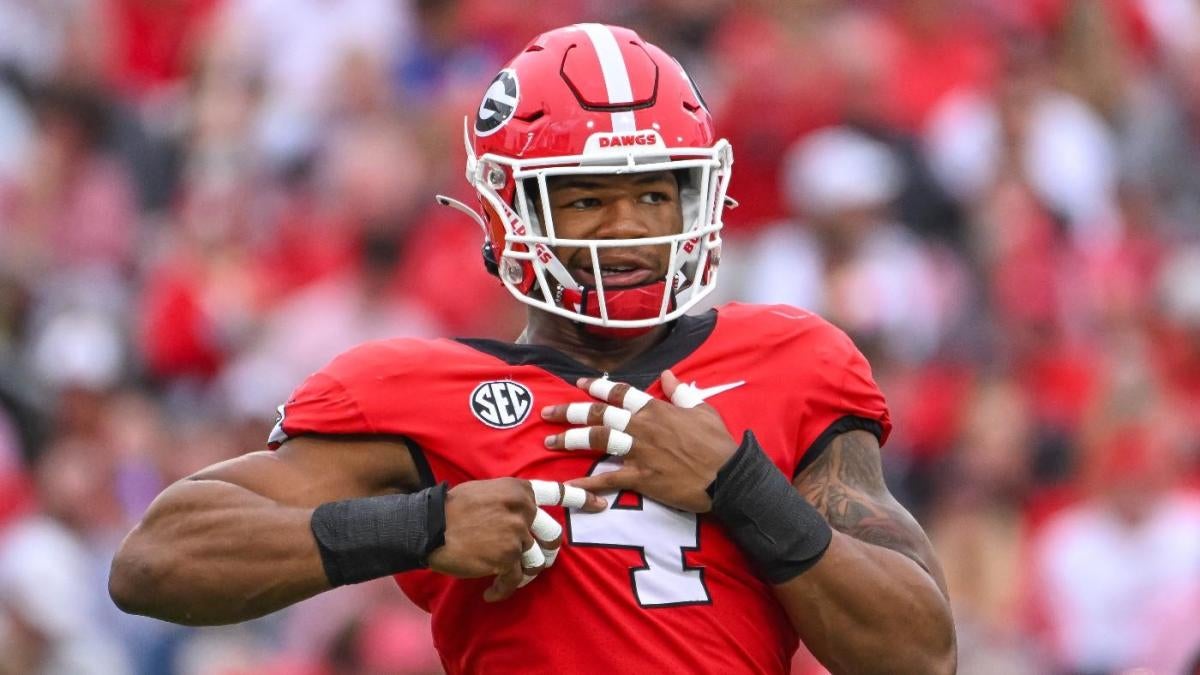 Pick 73 – Zach Evans, RB, Ole Miss – Evans has remade himself after a disappointing start with TCU. He's a guy that was highly recruited out of high school (being rated as the 2nd best back in the country), who has really found his stride at ole Miss under Lane Kiffin. He's a compact runner but does have excellent burst and very good long speed. His yards per carry has always been excellent and he works well in a committee type rotation system, and should be a guy who can be an excellent compliment or lead back if Williams struggles in recovery. He is not that much of a pass catching threat but he is effective when getting the ball in space and probably will need to work on that aspect of his game. Not sure how significant an injury Evans suffered in the Alabama game, but this is why he likely is around here.
Pick 79 – Traded for 4th and 6th round picks
Pick 110 – Cooper Beebe, OT, KSU – This is a guy who's a little under the radar but has steadily improved while at KSU playing multiple positions on the line including guard, RT, and LT. Some project him as a guard in the NFL, I think he's a solid RT prospect. He plays with a good nasty streak and finishes blocks. He's got very good power and adequate speed. He got good length but not ideal, which is why I think he would be a prospect for the right side of the line.
Pick 118 – Chris Smith II, S, Georgia – Kjax is eventually going to retire, Chris Smith II is very similar to Kjak in that he is a tad on the small side but has excellent range and carries a big stick when hitting a WR. He's an ideal center fielder type safety that has very good ball skills, a willing hitter, and can cover a lot of ground quickly. That being said he is undersized and can get overwhelmed by blockers in the run game.
Pick 144 – Dontayvion Wicks, WR, Virginia – I've profiled Wicks previously, I really see him as an excellent prospect that has great size, speed and explosiveness and playmaking ability. Still kind of a sleeper pick since he plays for a pretty bad team in Virginia. And with the heartbreaking tragedy that has fallen on the UVA team I am sure Wicks's mind and heart are going to be somewhere else for awhile.
Pick 192 – Tyler Davis, DL, Clemson – Davis was a fairly heralded recruit for Clemson who has struggled to overcome injuries and plays on a very deep Clemson line. This season he looks like he is starting to regain his stride already notching 4 sacks this year and 23 tackles while being used in a rotational role. He's quick and twitchy player, he's a tad on the short side at 6' 2", but has good power. Similar style as DJ Jones, he has a chance to develop further with Denver as a rotational guy.
Pick 247 – Olusegun Oluwatimi C, Michigan – He's got a lot of good traits as a center and has good movement skills and can get out to the 2nd level well, at this stage he is much better in run versus pass blocking as he still is a bit sloppy with his footwork and can get overextended on pass blocks by stopping his feet and lunging. Will have to improve and likely a practice squad candidate early on, but has a lot of very good tools to work with.