Another depressing week, so lets get to the mock draft.
Round 1 – Pick 25: Jared Verse, Edge FSU – I realize this probably isn't the biggest need going into next season, but Verse is a player with immense upside who is still young and raw, but has fantastic tools. He's playing his first season at a Power 5. He is very good at both run and pass defense, he's got a great first step and has solid speed to track down plays from the backside and great quickness to slip blocks and shoot gaps. What he lacks is solid play recognition so he can be a step slow plays, but I think that is more to do with being relatively new to a Power 5 program and playing that level of ball, he should get better with more snaps.
Round 3 – Trade pick for 4th and 5th rounder picks, plus 2024 5th round pick
Round 3- Pick 77: John Michael Schmitz, OC, Minnesota – He's maybe not a name getting a lot of national love, but he is probably one of the best center prospects coming out next year. Schmitz has good size and good length, especially for a Center and does move well for his size 6' 4", 320lbs. He is able to get to the second level and hit moving targets. He is extremely strong, and does not get overpowered in the trenches. While there is a lot to fix on the offensive side, Schmitz would be a great start in having a solid pivot that can help open running lanes and hold up consistently in pass blocking. He plays with a nasty disposition as well.
Round 4 – Pick 104: Cooper Beebe, OT Kansas State: I profiled Beebe earlier, still like him due to his flexibility in playing multiple positions and I think he has a good shot at fitting into a starting RT position. He's not elite, but he is a guy who should be able to win most battles.
Round 4 – Pick 128 – Chase Brown, RB, Illinois: I was tempted to go with a RB much earlier, but I felt fixing the offensive line was probably a higher priority than RB. This season Brown has been the featured back in a resurgent Illinois program. He has elite game breaking speed and is a threat to take it to the house anywhere on the field. He is also an excellent pass catcher and is flexible enough that you can line him out wide and use him as a WR. He's not physically imposing and leaves some to be desired in pass protection, but as a back that you can use well as a homerun threat either running or catching the ball.
Round 5 – Pick 140 – Tony Grimes, CB UNC: Grimes may very well go much higher than here, if he's available, well worth takin a shot on this former 5 star recruit. Excellent speed and good size combo for a CB, is very god in man to man and press coverage, has excellent ball skills. Does tend to play somewhat conservatively when playing off and can get sloppy in his footwork, but has excellent traits, doesn't get challenged too much currently so doesn't have e popping numbers.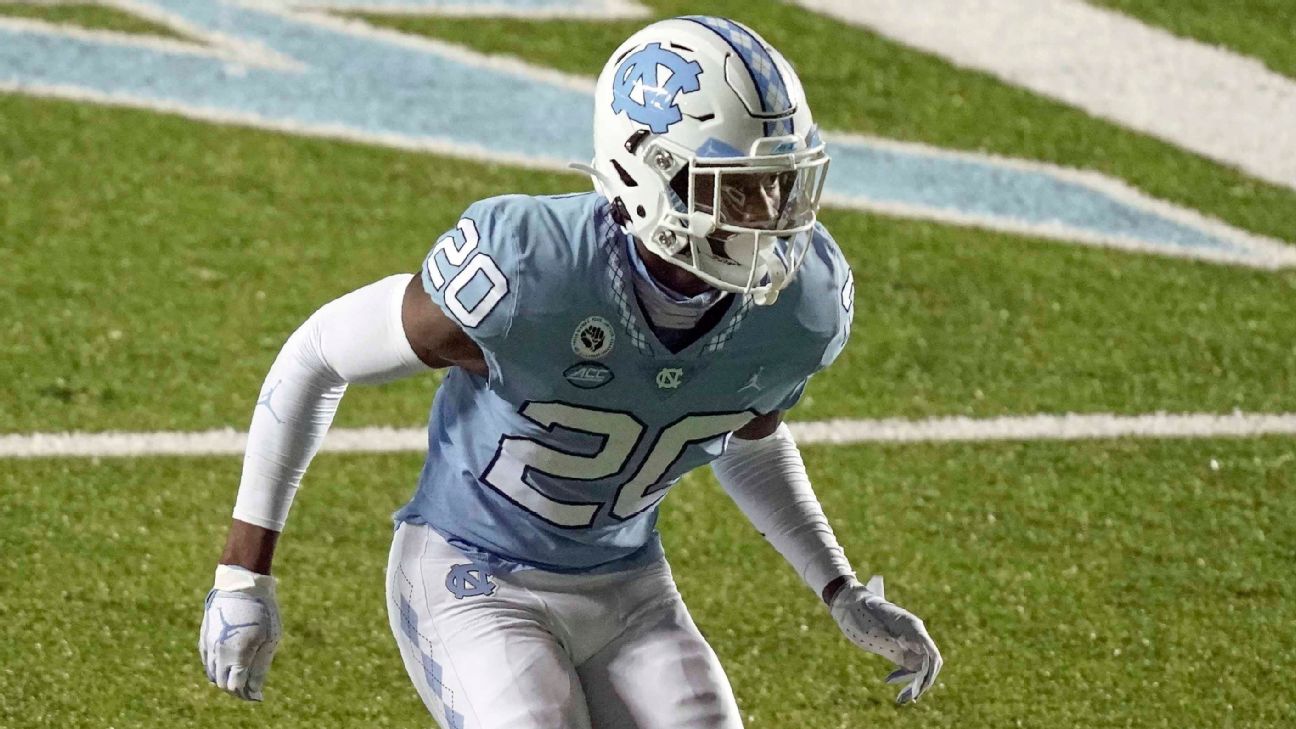 Round 5 – Pick 143 – Mike Morris, DL Michigan: A lot to like about Morris who has an excellent first step and reaction time. He has good power and length and decent explosion. He struggles with playing with consistent leverage which I think is a coaching issue so he has a tendency to play too high. Very similar in Dre'Mont Jones regarding physical makeup and style.
Round 7 - Pick 247 – Dee Winters, LB TCU: Highly athletic LB prospect who is a bit undersized but has excellent range and speed. Hits with violence and rads and reacts quickly. Due to his size, he is not great at getting off blocks and as a pass rusher needs a scheme to allow him a free run to the passer. I see him as a core ST player that can work into a rotational role at LB.