Mock drafts start to get a little clearer as we start getting into the playoffs, of course the big unresolved issue for the Broncos will be whether they end up shipping off their first round pick in order to get Sean Payton as the next HC. With that being said here is my current mock draft.
Pick 28 - O'Cyrus Torrence, OG, Florida: If we keep this pick and it isn't traded, this is making a ton of sense. It looks pretty obvious Rizner will likely not return. I went with Torrence over someone like Harrison out of Oklahoma because I think overall, Torrence is a better overall prospect although his positional value is not as high.
Pick 67 – Darnell Wright, OT Tennessee: I think he can be a guy who can likely start at RT next season and hopefully help build some stability on the like, with the RT position always seemingly in flux, hopefully Wright can bring some stability to the position.
Pick 68 – Jaylon Jones, CB, Texas A&M: This was mainly a value pick here. Jones is big an fat, and would pair great with Surtain as boundary corners. He's excellent in run support and he is a guy who has the makeup speed not to get beat over the top. That being said he likely would of gone much higher based on his physical traits if his play consistency matched. The reason he is here is because he is too inconsistent, I think that can be a thing that can be coached into him where in college he was relying too much on being a better athlete, in the pros he will have to get much better on his technique.
Pick 107 – Zach Evans, RB Ole Miss: Evans is an intriguing prospect out of HS who has been really good when given the chance to play but has struggled to stay on the field consistently. So some issues with injuries but he doesn't have a ton of wear and tear. He has nice size and speed, excellent either running inside or outside and shows excellent burst and has ability to outrun angles. Nice vision and he does a god job bouncing of tacklers. He needs to work on his pass blocking and also needs to work on his route running. But should bring some much-needed juice to the RB room.
5th Round pick – Traded for later 5th and 7th rounder.
Pick 180 – K.J. Henry, Edge Clemson: He's a player I think never quite lived up to the expectations coming out of HS that many had for him. He's got the ideal size and frame to be a solid edge guy and has shown he can be good in coverage and pass rush. What he lacks is the quick twitch you would like to see from an edge guy so while he is solid, he is never been dominating. He's a solid rotational guy that you can bring in to help spell guys and can also make a name for himself on ST.
Pick 194 – Ainias Smith, WR/RB Texas A&M: I have my doubts to how much Hamler will ever have much affect on the field due to his injury concerns. Smith is a guy who has played RB and WR and is in the mold of the hybrid type player that you can work in and out of the backfield and find ways to get them the ball. He has elite quickness and speed and is a threat to take it to the house due to his run after catch abilities. I think he fits today's modern NFL in a player that you get the ball to and let them create.
Pick 243 – Lathan Ransom, S Ohio State: He's experienced and played in a lot of big games at Ohio State. That being said he's going to have to make the team on ST first then show he can play consistently on defense. He's big and fast but his play hasn't always lived up to his talent level. Worth a shot as a 7th rounder here.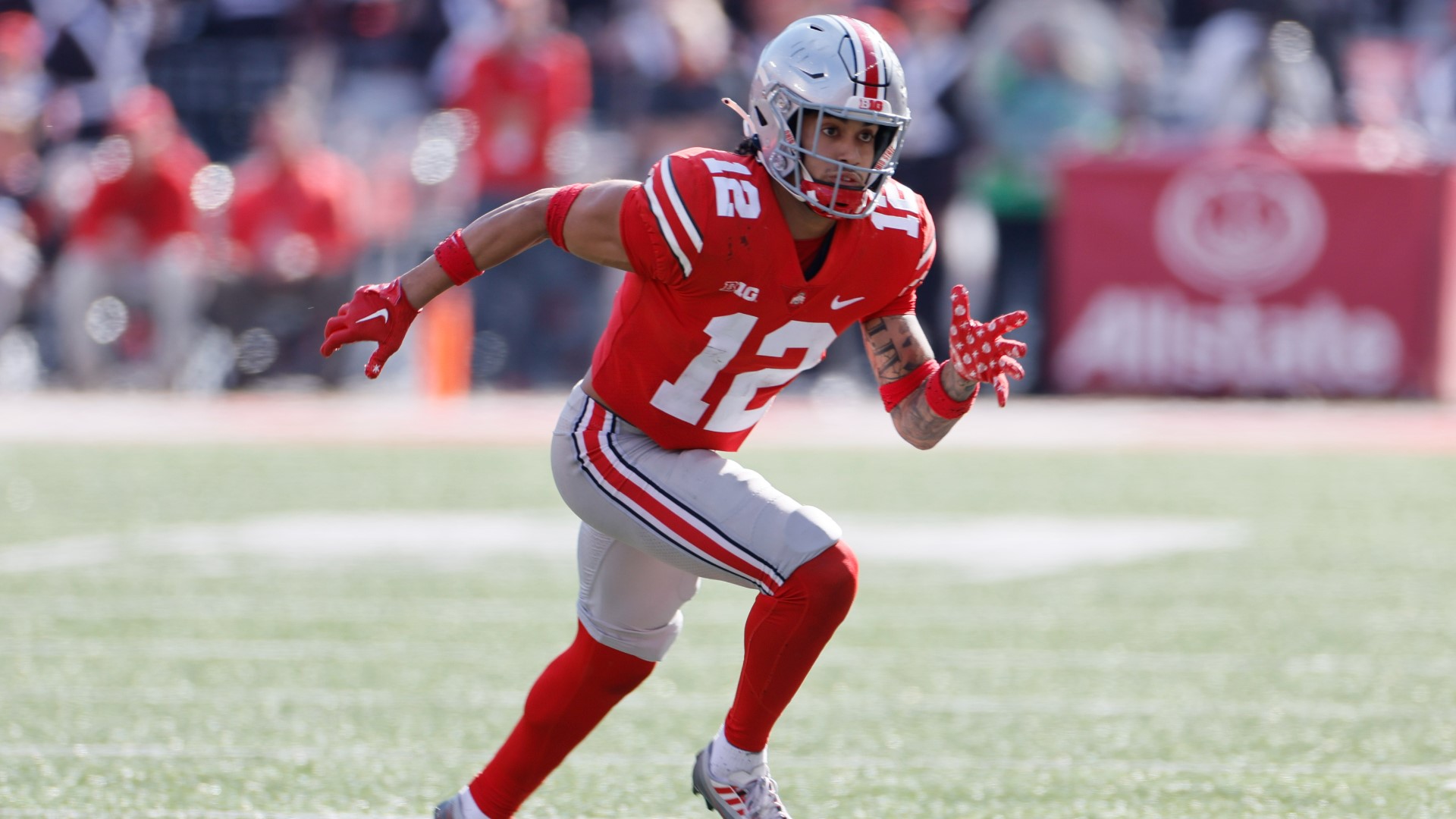 Pick 253 – Zak Zinter, OT/OG Michigan: He's got the length to play tackle but lacks the foot speed and quickness to be more than a fill in type player. He's a guy who can play multiple positions on the line and has generally good technique, especially on reach blocks and is solid overall, will likely be the 6th or 7th O lineman on game days. Not an ideal starter but can fill in when called upon.