An unlikely mock, but I think one that if it happens would be the best case scenario this year. So lets get going.
Pick 29 -€" Anthony Richardson, QB Florida -€" Let me be clear, I really don't think he falls this far in the draft unless there is something that really raises a red flag pre-draft. That being said, if he is here, I think the Broncos have to take him. He definitely will need time on the bench and it's a big time gamble, but at the back end of the 1st round, this is where you can take those gambles. I am sure if he drops, the Broncos will get multiple phone calls to get a QB with the 5th year option. He is raw so someone is going to have to get him coached up, the question is he the next Josh Allen or the next Paxton Lynch. But unless the team on the other end is offering up something crazy, I think the Broncos hold on and take Richardson, and let Wilson decide how bad he wants to be QB 1.
Pick 67 -€" Blake Freeland, OT BYU -€" I'm not convinced that anyone on the o-line is safe. Including Bolles. This again would be a gutsy move and allow the Broncos to free up some cap space. You likely could bring back Cam Flemming and let the two battle it out to be starter in training camp, but my gut tells me Freeland likely would be an upgrade over Bolles. I think he's better in pass pro and while not as athletic as Bolles, I think mentally he is a much better at pass protection than Bolles and while you give up some in run blocking, I don't think it's much.
Pick 68 -€" traded for later 3rd round and 5th round pick
Pick 93 -€" Luke Wypler, C, Ohio State -€" I believe the Cushneberry era is over, especially when he said he was able to play and they kept him on IR. While Wypler isn't my favorite center prospect in the draft, I do think he has the makings of a good center in the NFL. He's played against some of the better defensive lines and done a good job generally in both pass and run blocking, he's smart and he has enough athletic enough to definitely get out well in the second level and he does a good job with his technique mitigating more powerful defensive lineman.
Pick 107 -€" Tre'Vius Hodges-Tomlinson, CB, TCU -€" He's fast, really fast. Very good ball skills and will excel covering the slot. The question with him will be size, can he hold up against the run. But this is a kid I think will become similar to CHJ in that he got overlooked coming out of college due to size but I think if he can physically hold up he definitely can be a force on the defense.
Pick 139 -€" Colby Wooden, DL, Auburn -€" He's an under the radar type of player but has been very productive at Auburn and brings solid skill set as a pass rusher. He's got nice hands, good variety of moves and he plays with a great motor. I think he will work well in rotation and has a lot of similar traits as Dre'Mont Jones.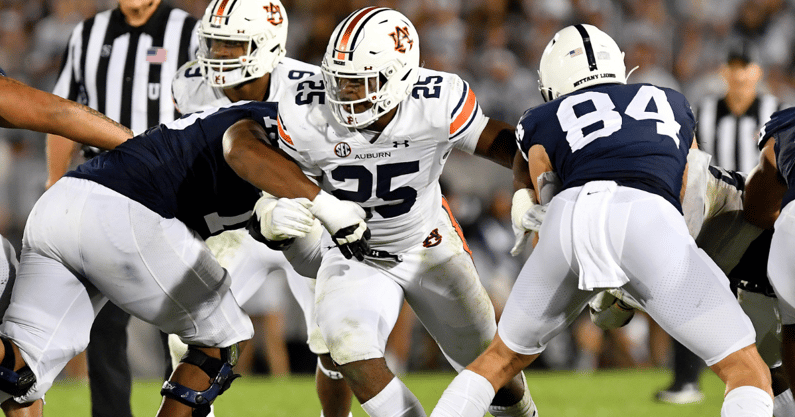 Traded 5th rounder for later 5th and 7th round pick
Pick 156 -€" Tykee Smith, S, Georgia -€" He started at West Virginia and then transferred to GA and got lost in somewhat of a depth issue at Georgia. He's played CB at WVA and was solid there but seemed to struggle to get onto the field in a loaded defense of GA. He likely will be a safety in the NFL and is solid speed and size but will likely have to make the team as a ST first. I like that he has the ability to play multiple spots and fill in as a CB.
Pick 194 -€" Kendre Miller, RB TCU -€" I really like Miller but he doesn't seem to get much love on most of the rating services. While he isn't blazing fast, he plays a lot faster than what he is timed. A lot of things I see he reminds me of TD. Great vision, good size, gets north and south quickly and sneaks up on guys in that he plays a lot faster than what he will time at.
Pick 199 -€" Andrei Iosivas, WR Princeton -€" Tall and extremely fast, he's a kid I think is going to get a lot more hype going into the draft. He's 6'3 and probably will run a sub 4.4, he's got long arms and great catch radius. He definitely can create separation and he runs well after the catch. He will have to show that he can be a more effective blocker in the pros.. But he has chance of being special.
Pick 242 -€" Dee Winters, LB TCU -€" Another horned frog, but shows the talent level on the team. Winters is a bit undersized but has great speed and ability to cover sideline to sideline. However, despite his speed he struggles in pass defense. He will need to work on that aspect of the game but he is excellent on blitzes and closes quickly and locates the ball quickly and reacts. Another early ST candidate who can hone his overall play while contributing.