LET'S ROCK - HERE'S THIS DUMBAZZ FIRST 2023 MOCK DRAFT:
First Round - Andre Carter LB/EDGE Army:
Some may consider this a over drafted position as mocked rounds 2-4. At 6'7" and 250lbs with a 4.5 40 this guy can fly. He's not an edge, he's not a LB, he's not a DE - he's like Browning all of the above! The Cards have Simmons and Collins just frighteningly talented and athletic core defensive players - to me Carter and Browning would be able to be that type of tandem. Here's a few strengths listed on this dude:
- Made Bruce Feldman's Freak's List - ranked #13. He wrote "Now a 6-7, 260-pound senior with 15.5 sacks, and four forced fumbles in 2021. Carter's length is only more amazing when factoring agility test this offseason. Army coaches say that when Carter's doing change of direction work with their skill guys, he finishes in the top three. They also say his reaction time and processing speed is unmatched.
- Andre Carter II is an incredible athlete with a massive wingspan, elite agility, and change of direction coverage. The only thing holding him back from being a first-round selection in the 2023 NFL Draft is his although very noble is his commitment to the military which could well impact his playing time in the pros.
THIRD ROUND - Zach Evans RB Ole Miss: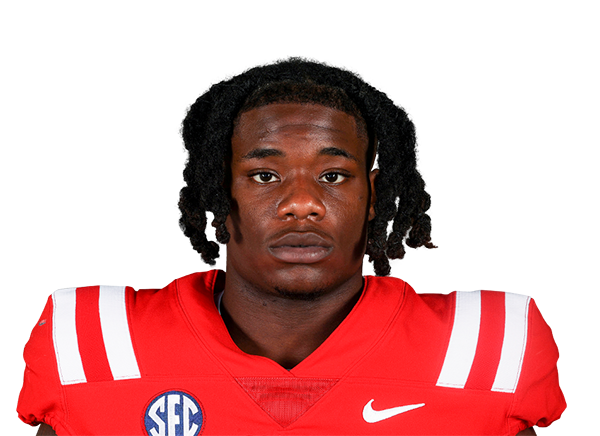 Here's a guy that immediately is a change of pace to Javonte and if cannot go then with Murray an outstanding tandem. A pure RB that can make the over the shoulder catch, not smallish as at 6' and 215lbs runs hard but not violently and is a speedster with 4.42 40. He's got the ability to be like TD, not quite as physical but damn close and definitely faster. Not gonna be a strong pass pro guy or ST candidate day one, but great insurance at RB. A few of his listed strengths:
- Demonstrated the ability to track the ball over his shoulder. Good flexibility and balance to adjust to patience for screens.
- Evans consistently falls forward, and he will also bounce off of or shake loose from a couple of tackles.
- Strong interior runner. Quickly presses the line of scrimmage and has the burst to get through the level quickly. A classic North-South runner who doesn't waste time moving laterally.
- He's a creative runner, finding cut-back lanes and often looking like a return specialist on some of his runs. His stop-start ability in traffic, exceptional balance, lateral agility and body control allows him to squeeze out chunks of yardage when it appears that nothing is there.
THIRD ROUND - Dawand Jones RT OSU: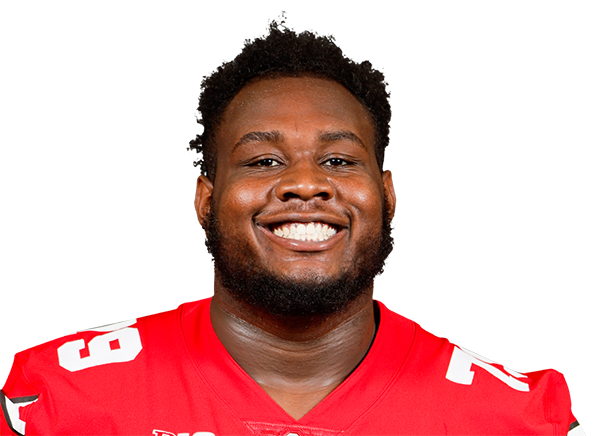 This dude - how would you like a RT 6'8" and 360lbs of badazz. That's what this dude brings to the party. Does need to cut some weight, especially if playing in a ZBS scheme, but man this is one mammoth dude and immediately getting off the bus the Broncos are legit BIG! We haven't had a RT close to this size as Orlando Franklin and Vanderhoos were big, nothing like this BIG! He reminds me of the MN LT for the Ravens now that's a starter think taken in 3rd or 4th round - do it - make it happen! Here's a few comments on his strengths:
- He's at his best fighting in a phone booth as a run blocker, where his sheer size and strength, combined with his natural knee bend and leverage, can take over.
- Displays good awareness when it comes to reading moving bodies, effectively reacting, and adjusting. Jones also shows a good feel for combo blocks.
- Jones does a nice job working with teammates to build the pocket, anchoring against bull rushers, stunts and twists.
FOURTH ROUND - Jonathan Mingo WR Ole Miss: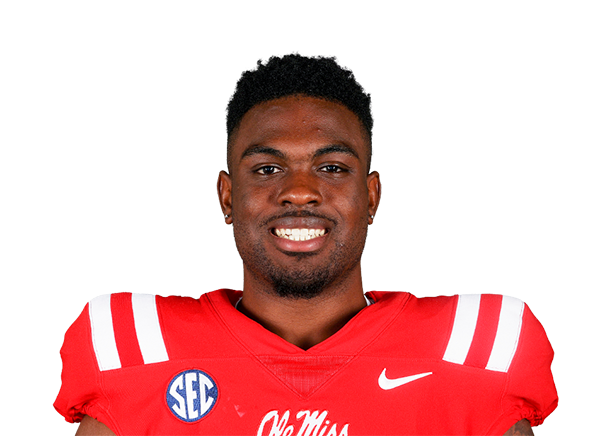 Broncoman turned me onto this dude in one of his mocks and boy howdy like him a lot - if can get him here in the fourth round then a value pick, but we shall see. He's mocked from second to fourth but has holes in his game, not a great route runner and drops have been an issue. Reminds me of Anquin Boldin a tough guy receiver, a bully boy, who will give it to DB's as much as take it. At 6'2" and 225lbs with a 4.46 40 he's faster than Boldin but not a speedster. Here's some strengths:
- Mingo transitions quickly from receiver to runner, and he has enough speed to threaten the seam.
- He's equally dangerous in catch-and-run situations as he is taking the top off a defense.
- Is an impressive blocker - can pancake DBs on running plays.
- Has a knack for getting open and is a quarterback's best friend - passers just need to toss the ball in his area and he'll come down with it
- PLAYER COMPARISON Deebo Samuel - 49er
FIFTH ROUND - John Michael Schmitz C MN: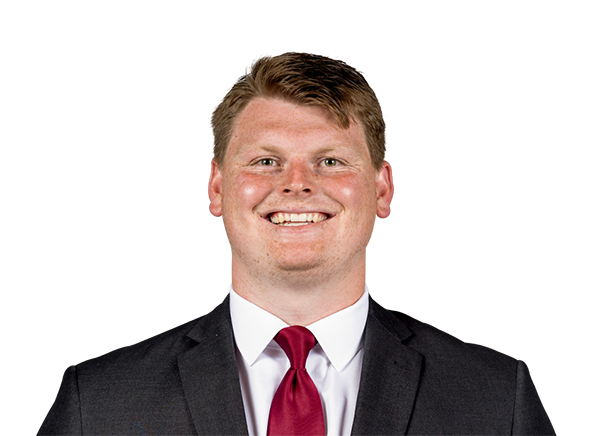 Mocked in rounds 4-6 this feels right as a 5th round dude. At 6'4" and 320lbs with 23 career starts he's not the best athlete and isn't going to wow anyone with his foot speed, yet he's a big-time upgrade in my opine from Cush. More a run guy than pass pro so needs development but damn he is gonna knock folks off the line. Am guessing Broncos will get a FA veteran to be the starter at center and this kid gives them a developmental player that can become a starter potentially in the NFL. Here's a few of Schmitz's strengths:
- Outstanding on reach blocks, showing good initial quickness and flexibility to seal the backside. He's a heady player who is quick to recognize and react to twists and stunts up front, and Schmitz shows a good sense of timing on combo blocks.
- Mauler in the run game, playing with a nasty disposition and showing excellent snap and punch quickness.
- In the run game, he explodes off the line of scrimmage and consistently gets out to the second level to the second level to do damage
- Has the strong leg drive to create movement at the line of scrimmage, consistently putting defenders on the ground.
SIXTH ROUND - Jake Haener QB Fresno St: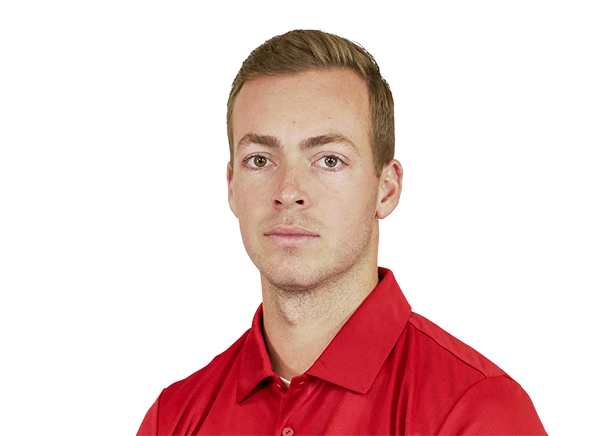 Am tempted to throw BYU QB Hall in here but just don't think he'll be around at 6th but maybe - this kid might not either as worst thing could've happened getting him late is a variety of scouts wanna call him - the next Brock Purdy. He definitely has the ability to scan the field, process the play and make a accurate throw - IF he's on platform. At only 6'1" and 195lbs, and not looking like could add much armor, he loses that zip if on the move, and he's also not real accurate as a move QB. If he's in the pocket then his accuracy is amazing even if given that the horizontal passing game dominates the Bulldawgs play calls - at 72% that's just top shelf even in a YMCA league. His 40 ain't great at 4.82 but it's not Tom Brady speed either, his biggest problem is injuries at his size. That said his teammates apparently love the li'l dude and swear by him. Some of his strenghts are:
- Good (not elite) arm strength and can easily make all the NFL throws with effortless deep passes.
- Ball placement is a strength. Haener has the natural instincts to make plays when forced to improvise.
- Haener has a quick release and shows good accuracy on shorter throws when on the move to either side.
- Good zip and ball placement on the quick slant. Good touch down the seam. Good zip and ball placement on post-corner, flag routes to attack the defense both horizontally & vertically.
CREDITS AS FOLLOWS:
- Strengths listed & pics of players to NFLDRAFTBUZZ.COM - mock draft positions on player with Walter Camp Football and YouTube for video on highlights and insights on players' tape/video. Thanks to all the people who are so helpful at Drafftbuzz - Walter Camp - YouTube doing what they do and making it public domain for all of us to review and evaluate on our own as well.