So here is my deep dive into free agent tackles, this is current list of projected tackles set to be available that I think the Broncos should consider. This list can obviously change depending on teams cutting or resigning players prior to the new NFL year.
Mike McGlinchey, SF He's still young and has proven to be a solid run blocker who works well in a zone blocking scheme, what he has struggled with is on pass protection and staying healthy. Someone is likely going to have to overpay somewhat and he will likely demand somewhere around $10 million a year. I am somewhat torn if the Broncos should target him or not.
Andre Dillard, Philadelphia – He's never been able to live up to the first round billing and struggled to stay on the field. He's actually been fairly good the last two season when he has played with 67 and 69.6 PFF ratings both years during his playing time. He might be worth a run at based on the current market. Most of his injuries have been somewhat freak in nature (torn biceps in 2020, broken arm in 2022. It's hard to gage his market level, as I said the most current tape he has performed well, he's young and plays LT and RT, so likely at least $10 million a year but comes with some risk obviously.
Riley Reiff, Chicago – He's at the tail end of his career and his better days are gone, still quit serviceable but real questions on how much tread is left on the tires. He's likely looking for about $3 to $4 million a season would be a solid one year plug type player. Solid veteran presence as well.
Isaiah Wynn, New England – He's coming off a down year after posting some really good years, he battled injuries this season which may be why he didn't fair as well. The Pats might move on from Wynn having Trent Brown at LT and Connor McDermott played well at RT. Wynn would be an interesting potential pickup, he's shorter than what you typically want in a tackle but he's a guy who has performed well generally. He's young so likely going to cost $15 million a year. I don't know if the Broncos would want to invest that in a good but not great player.
Kaleb McGary. Atlanta – Another interesting one, Atlanta may look to resign him as he seemed to improve dramatically this past year, an excellent run blocker. He still leaves some to be desired in the way of pass blocking. Due to being young and having a solid season in Atlanta, he likely is going to command somewhere between $15 million to $17 million, a lot for a RT that has some issues with pass protection.
Kelvin Beachum, Arizona – If you are looking for a veteran guy who is serviceable and would come relatively cheap, Beachum would be a good get. He's always been solid but not spectacular. I think he should be available at around $4 million a year which is decent for a starting RT.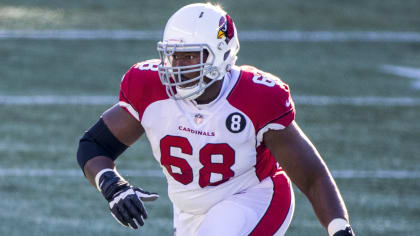 Jawaan Taylor, Jacksonville – Another young tackle that has improved but still needs work. He had 7 penalties and gave up 5 sacks this past season but PFF grade was 58.7 mainly due to his poor run blocking skills. Someone is likely going to take a chance with him and Jacksonville may also resign him, will be interesting to see where the market puts him, he's still very young (25) so that might lead to a bigger contract than what he played up to. I am guessing likely $7 to $8 million a year.
Jermaine Eluemunor, Las Vegas – He's a kid that has bounced around a bit but might be one of those potential diamonds in the rough. Still relatively young (28). This past season he took over at RT and did a solid job. He's a big kid at 6'4, 335lbs and excellent run blocker and is showing flashes of being good in pass protection. He had a 75.3 rating from PFF and only allowed 3 sacks but did have 10 penalties called on him. Might be worth going out on a limb and maybe overpaying for him at say $5 million a year.
Conor McDermott, New England – I mentioned him earlier, New England may decide to keep him. He's been a backup type journeyman in his career, but he has good length and has been solid the past two seasons when he has played. He obviously would come cheaper than most with somewhere around $3 million a year, and could be a serviceable bridge if we can find someone in the draft.