So with the first wave of Free agency nearly done, it is apparent that the Broncos are being aggressive in a win now mode. With that I thought I would adjust the mock to fit that narrative. My focus was selecting players I felt could contribute immediately.
Trade C. Sutton and Pick 67 to the NY Giants for picks 57, 89 and 100
Trade picks 57 and 100 and Mike Purcell to the Panthers for pick 39
Pick 39 – Steve Avila C/G TCU – The one area of the line not addressed in free agency was the Center position, Avila is an ideal center prospect that should be able to start right away. He's an excellent run blocker and tenacious finisher. With the emphasis Payton is making in the run game, I feel improving the Center is where the focus on the draft will be early, obviously this may be somewhat a steep price to pay but getting a guy who can be a day 1 starter, has good size and power and fits the mold of what Payton is looking for interior line play will be key. I think they go up and get their guy rather than hoping he drops.
Pick 68 – Karl Brooks, DL Bowling Green – Obviously his performance has shot him up the draft boards where his athleticism stood out and proved his production was not just a factor of playing lower tier opponents. Ability to slide inside or outside and even play standup a 300lbs is rare. He should be someone we can help immediately along the line and can play multiple positions on the line, I see him being somewhat a bigger version of Mecklenburg where a good DC will find ways to use him and create mismatches.
Pick 89 – Tre'Vius Hodges-Tomlinson CB TCU – Only thing people have questions on is his size, otherwise he's a tremendous corner who if he can hold up should become an excellent slot CB. As we saw the past few seasons, you can never have enough solid CBs and I believe he has more than enough ability to play in the NFL at a high level. I think he has the toughness to be able to play well in this league.
Pick 108 – Jalen Moreno-Cropper WR Fresno State – If we trade Sutton and Juedy stays on the outside (as he should), Patrick would be the other outside WR, which leaves a need at slot WR. Hamler health is obviously a concern as are his hands being consistent. While Hinton has a tremendous heart and is a solid back-up, he's not bringing much if we are starting him, I think JMC is a guy who can be a much more consistent and effective weapon from the slot and should give Payton some options with him, Juedy and a healthy Patrick.
Pick 140 – DeWayne McBride RB, UAB – He's got talent to be a solid rotational back and someone who can take it to the house if he gets to the 2nd level. Will have to show he can improve ball security. But I see him as a solid 3rd RB with the signing of Perine I think it allows McBride not to be under too much pressure early to be a feature back, even if Williams takes a while to fully recover.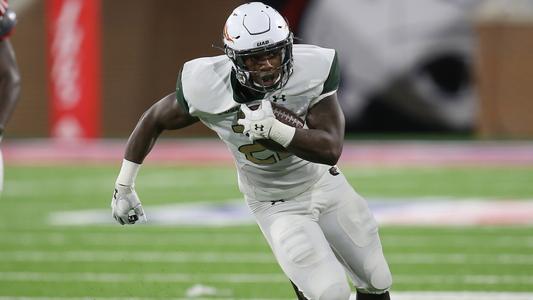 Pick 194 Jonah Tovai, DL SDSU – I think if you are looking for a true sleeper than Tovai is your guy, he has been very consistent and highly effective the past two seasons. He gets downgraded due to his height, but he has shown he can use that to his advantage and gaining leverage and overpowering blockers consistently.