So as we get closer to the draft, pro days are coming fast and furious. I figured I would do an updated mock with the assumption that we don't move on from either Juedy or Sutton and we try to pick up additional picks by trading back.
Dealt pick 67 and moved back and picked up an additional 4th and 5th and 7th rounder
Pick 68 – Isaiah Foskey, Edge, Notre Dame: This draft has a number of solid edge players and chances are that there will be some who drop that we don't expect. Earlier in the process Foskey had been projected as potential late first round pick in many draft boards and may still work out that way, if he drops, which may be a possibility, I think this may be a great haul for the Broncos in getting a player who should be able to compete for some early playing time and potential starter by mid season. He's aggressive, has good size and length, and slid speed, biggest issue is he can be a little too aggressive at times and lose contain and overrun the play. Still needs to refine his technique somewhat and use his hands better, but looks to be a player who is growing and has a chance to be a solid edge player in this league. He probably isn't elite but should be a very solid player in the pros.
Pick 78 – D.J. Turner, CB, Michigan: He put on a show at the combine, athletic freak who should be a guy who can play multiple schemes with ability to line up inside or outside. He's fluid and has very good technique. Only downside is he is more slightly built with shorter arms that may have some issues in matching up with longer WRs who can out body him.
Pick 108 -Tyler Steen, OT, Alabama: This is a projection pick, Steen is similar to Ryan Clady having moved from DT to OT in college so he is still learning a lot as far as technique. Unlike Clady, I think he's a little further behind the learning curve as far as consistency in footwork, but he has played at Vandy and played and started for Bama, so he has talent and is smart. I think a year on the bench filling in as a swing tackle will hopefully provide some much needed depth and potential to move on from Bolles in a season.
Pick 116 – Colby Wooden, DL Auburn: Kind of a tweener type player, was an edge mainly in college but will likely have to kick inside as a DE in the pro's. Needs to add some more weight to be an effective as a DL in the league but appears to have the frame, shows nice burst and good power when rushing the passer, and does well attacking on the inside. Will need to get stronger to hold up at the POA in the run game.
Pick 139 – Kendre Miller, RB TCU: I really like him, big and productive, he doesn't have the elite speed but I think he is fast enough to be effective in the league. I do understand the detractors who see someone who may not be able to be as effective in the NFL, but I think this is a guy who can be a solid rotational back who has ability to break tackles and make something out of nothing,, and size and ability to be an effective pass protector.
Pick 149 Dorian Williams, LB, Tulane: I really like him as a hybrid type of pass defender who can e an effective player especially on passing downs in this league. And will be a ST Ace who can be highly effective on overage units.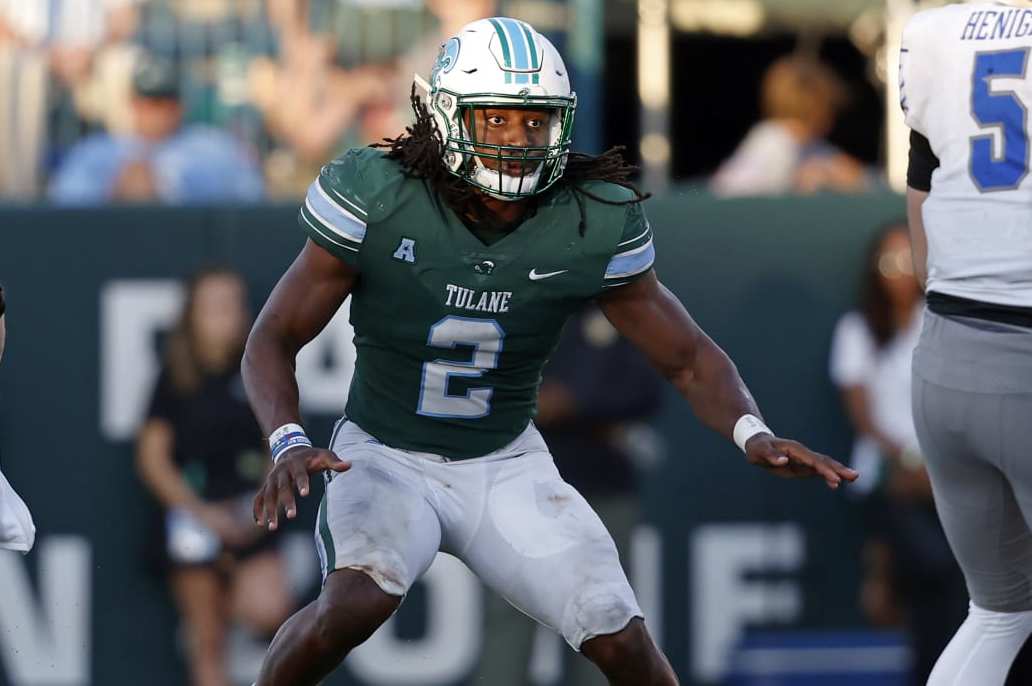 Pick 195 Jalen Moreno-Cropper, WR, Fresno State: Don't know if KJ Hamler days are over in Denver, but h as never shown he can be a player you can rely on. Cropper should be a highly effective slot WR in the pros and has shown to be a guy who can be highly effective, runs great routes, and has great hands.
Pick 228 McClendon Curtis, OG/OT Tennessee- Chattanooga: Definitely a developmental type prospect who likely will have to spend a season or two on the PS. He's got excellent size and wing span but needs to show he can play with better discipline and technique. He also likely needs a season in the weight room to get better power, but has athletic ability I think where he can play guard and spot duty at the tackle position if needed.