This year I believe is the pivotal in Russell Wilson's career. While I don't see the Broncos trying to cut bait with Wilson after this season, mainly due to the cap hit, I do believe that if he continues to underperform the Broncos will seriously look at trying to find QB 1 though the draft in 2024. And while many are going to state next year's crop is not great outside of two players, I would say it's probably as deep as this past year's class, there will be guys who rise and fall, but it would not shock me if we had at least 4 first round QB picks next season, so here is my early list of prospects to watch who may be on the Broncos radar come April in 2024.
Caleb Williams, QB USC - If the Broncos are in line to pick Williams then a couple of things happened, one Wilson had a disastrously season, and two our defense was racked with injuries. And if we are in position to pick the projected No. 1 draft pick then we certainly should pick him, regardless of Wilson contract. He should be a Day 1 starter and a franchise type of QB. He likely would of been the top selection this year had he come out. He's the prototypical QB you want in today's football with elite arm, ability to create on the run and in the pocket, and has performed well at highest level. Biggest issue with him is his size, he is 6' 1" although I think he's closer to 6' 0" and he has a smaller frame, so questions will remain regarding ability to stand up to regular season and post season pounding. He also will need to be able to play under center which he has not been asked to do and play in a more complex offense, but skill set and talent he has an outstanding ceiling.
Drake Maye, QB UNC - This is a kid who may overtake Williams as the top pick overall. He has what Williams doesn't and that is prototypical size and still is highly mobile. Terrific arm and was highly effective last season passing for over 4000 yards and 34 TDs as a red shirt freshman. Major hits with him right now are his accuracy outside the pocket drops and he's slow in his progressions, but another year and him progressing he definitely has the possibility of leapfrogging Williams to be the top overall prospect in the draft. Right now he's projected to go top 5 and unless he has a horrible season, I don't see that changing. Again if we are picking top 5 and have a chance to nab him, the Broncos would be wise to do so.
Michael Penix, Jr. QB WA- Here's where it starts to get interesting, Penix has prototypical size and speed with a very good arm but has struggled to stay healthy, last season was the first season he was able to play a full season and he put up excellent numbers. But every other season he has failed to make it through the season, he has the talent you want out of a 1st round prospect but the injury history likely drops him somewhat, probably a second rounder at this point, but someone might do a deep dive and want to take him as a developmental prospect late in the 1st getting the 5th year option. Some will also point to his age (24) as being a concern, personally I would not put that as much as the injury history since QBs generally don't peak until 26-32.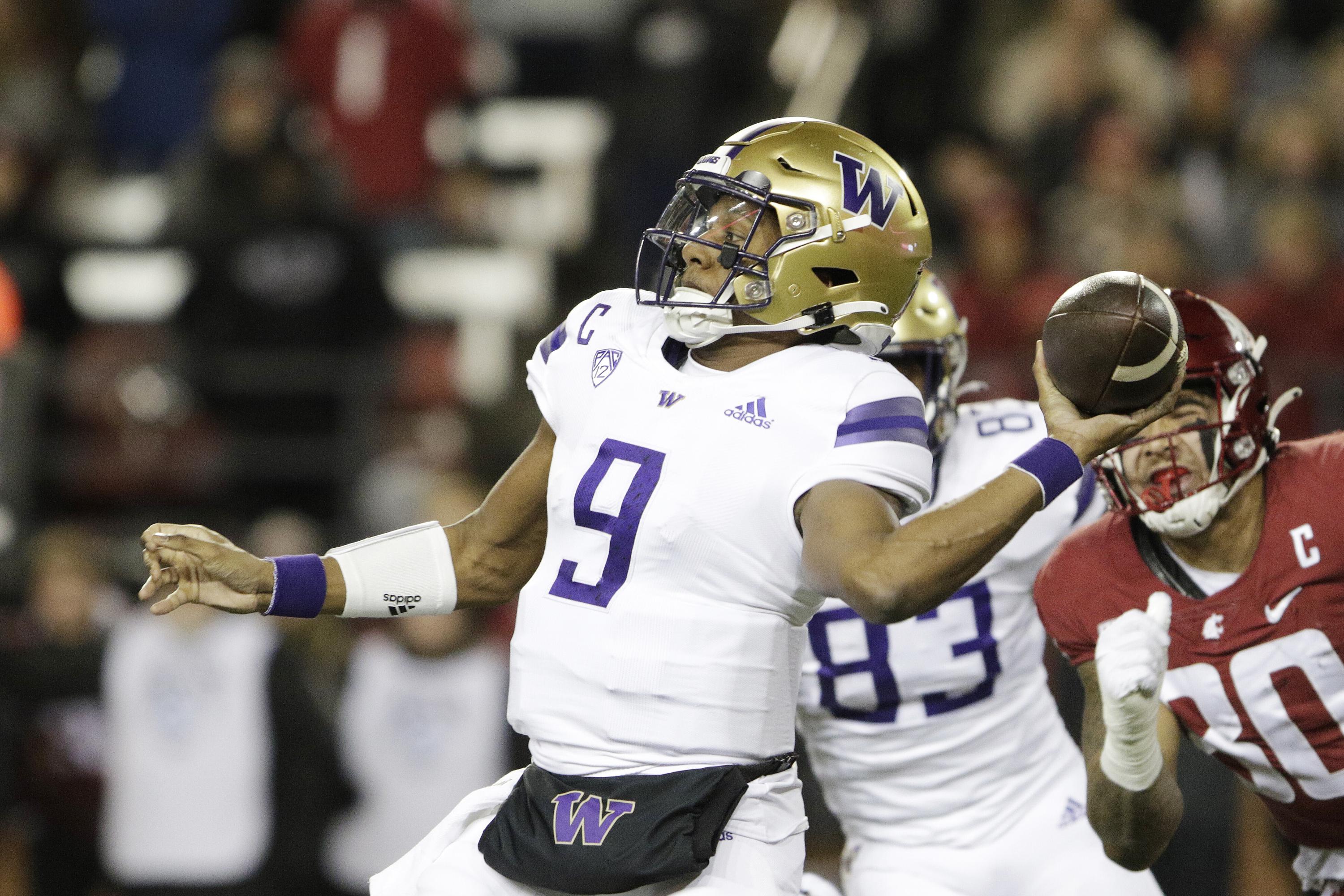 Quinn Ewers QB Texas - This is an interesting one since he might not even be the starter coming out of camp as Arch Manning may become the starter in Texas. Personally I can't see him coming out next season, as I think he ends up transferring. He saw action in 9 games last year and I would say results are mixed at best. If he can win the starter role he does flash NFL talent, the issue is he was very inconsistent. He's been slow in his progressions and sloppy in his play so far. If he can distant himself from Arch and show up big this year he might get a later first round selection based on some perception that a coach can mold him, right now though I can't see him being anything higher than a mid round selection.
Bo Nix, QB Oregon - Tremendous athlete who found a nice home at Oregon but I think is going to struggle to be much more than a backup/specialty Read/Option gimmick. He has a quick release and has decent arm but struggles to be consistent in his accuracy and struggles to read defenses. His size also will be an issue if he is a running threat in the pros as he is relatively thin. Draft boards have him projected in the 2nd round, and maybe for a team like the Chiefs that has an established starter that they can design plays for Nix it makes sense as a backup/gadget player, I don't see too many teams that would invest in him as a starter.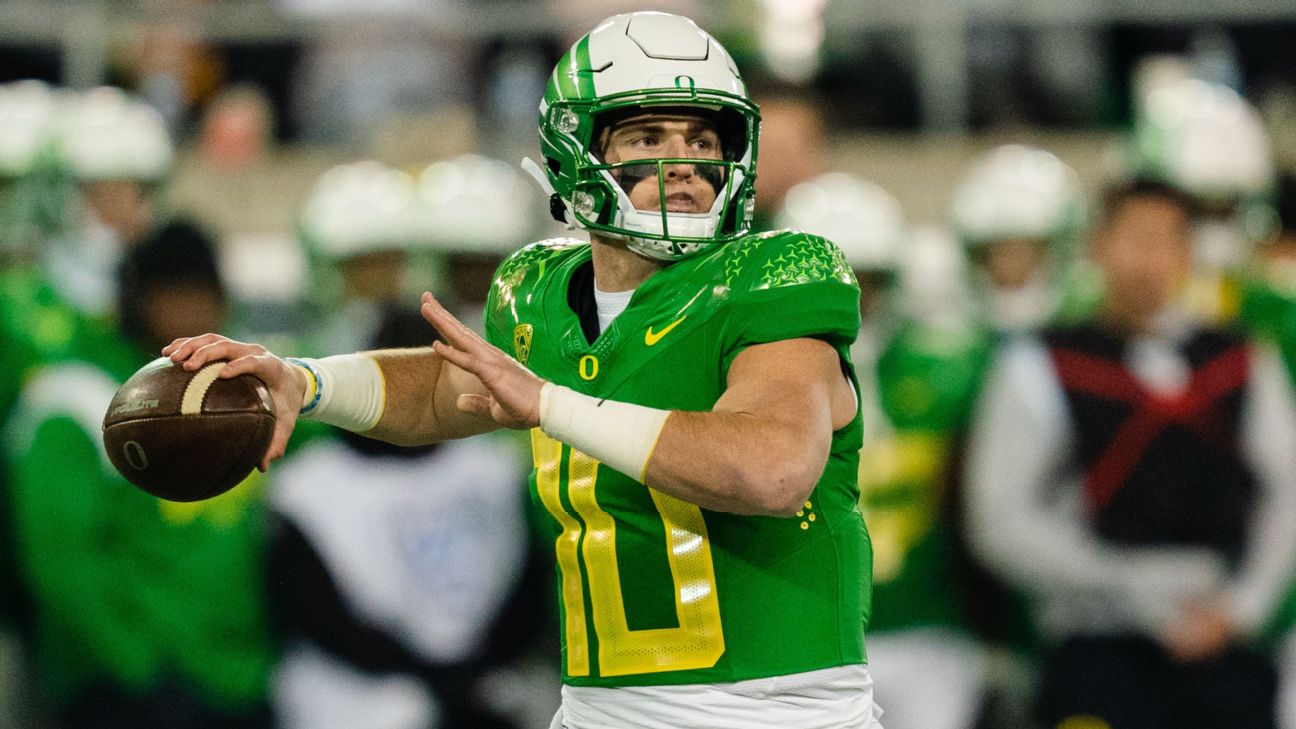 Joe Milton III QB Tennessee - He's someone who struggled to get playing time at Michigan and then transferred to Tennessee and sat behind Hooker for most of the season. He's a guy that has the proto typical size and athleticism you want but has yet to show he can be consistent. He has an opportunity in Tennessee's offense to really shine and could be someone who jumps up the board. He has issues with throwing motion, holding on to the ball too long and making panicked throws, and pre-snap recognition. To me he seems like a project and while Tennessee's offense should be good for his stat line , it might not be the best for him developmentally, I actually think Hooker was a much better prospect coming out than Milton and Hooker was drafted 68, unless Milton fixes some serious issues, I don't see him getting drafted higher than the 4th round.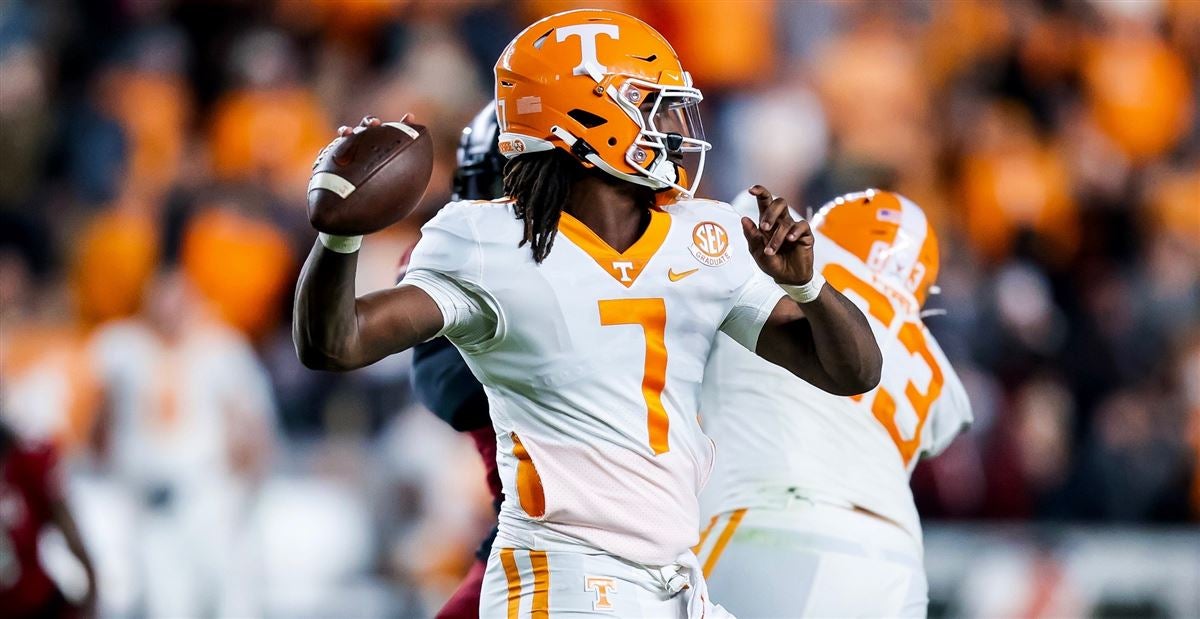 Shedeur Sanders QB Colorado- He's one I think can shoot up and be the 3rd QB taken off the board come April. Sanders has done an excellent job playing at Jackson State and now will get to play in D1 level league with some playmakers at his disposal. He's an excellent athlete and has been well coached in playing the position with executing ply fakes and manipulating the defense with his eyes, has a plus arm and can make all the throws and excellent speed at the QB position. Right now his biggest issues will be cleaning up the footwork and accuracy when outside the pocket and on the run. Depending on this season, i could see him being the third QB taken, I also could see him returning for one more season and being the No.1 overall pick in 2025. If we are picking top 10 and Sanders comes out after a great season, I would not mind targeting him.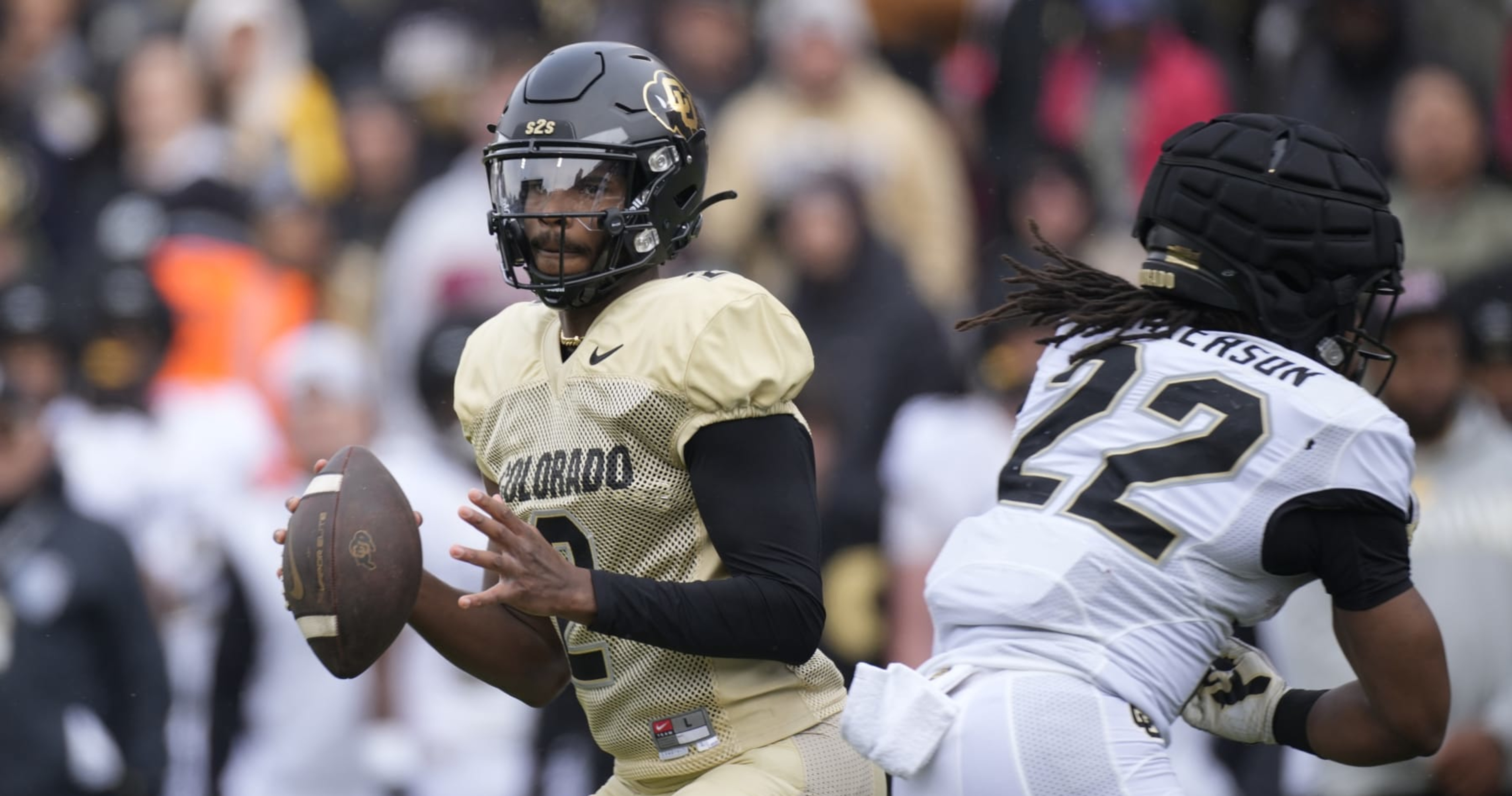 KJ Jefferson QB Arkansas - Looks like a HB playing QB, dude is well built and strong and is a threat as a runner and can deliver the blow down the field at 245lbs. Solid arm with great deep throws. Will need to show he can do better in pre-snap recognition and takes way too many sacks. Has a tendency to throw off his back foot too much when pressured, but he does a good job in overall accuracy when plays are on schedule and shows excellent touch on deep balls. Will need to show he can operate in more complex offensive system. This one is somewhat tough to project, I think he suffers somewhat in that he doesn't look like your standard QB due to his build and size, but he has a good toolset, definitely a good developmental type player, probably 3rd rounder right now, but could move up into 2nd with great season.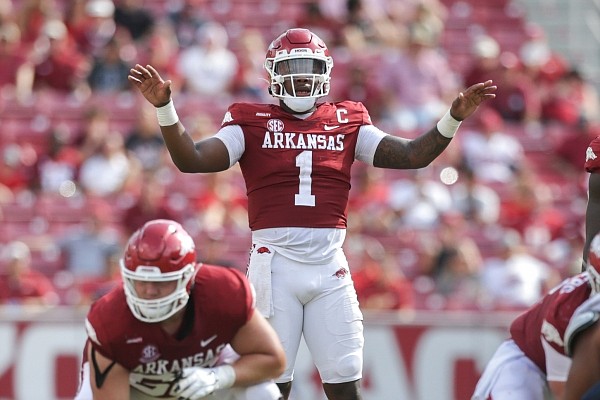 Spencer Rattler QB South Carolina - What originally was projected as the top overall pick this past year now is looking to stay on the draft boards. Last season for the Gamecocks was decent but I wouldn't call it spectacular, while his arm talent is excellent, he obviously has yet to show he can be consistent or has the decision making ability to be an NFL QB. If he has a good season, it likely means he gets drafted (somewhere in the 3rd to 6th rounds) but I don't see him being much more than a mid tier backup at this point.
J. J. McCarthy QB Michigan - Another player who may be able to push up into the first round consideration. Has the arm talent to make every NFL throw and solid coaching, he's a good athlete and plays well within the system. Is a little thin and likely will be a concern if he can hold up in the NFL. Issue he will have is Michigan style of offense is somewhat throwback with heavy emphasis on the run so he won't have blistering highlight numbers, but proven winner who takes care of the ball, has good accuracy and is efficient is not a bad thing. If he is in the 1st round conversations then it's likely somewhere in the 10 to 30 range. I would say his ceiling is probably someone like Kirk Cousins. While I think he's a decent prospect, I don't know if he is going to be worth a 1st round pick for the potential upside which I think is somewhat limited.