So here's my first way too early mock draft, so sorry but after seeing what was put forth this Sunday, had to do something to take my mind off. So this week I have us picking 4th, yeah I know, sucks to be us, but if we could not beat the Raiders at home with a healthy roster, this season looks to be bad. So with that, lets start.
Pick No. 4 – Drake Maye, QB UNC: If we are picking four then obviously we cannot pass on a franchise type QB. Maye is the prototypical guy as far as size, arm talent, and athletic a, last season he was outstanding, this season, he has been OK, but not quite the pace of last season, but it's early and he likely is going to get better through the season. His downside is obviously will be a lack of playing time with only having two full seasons after this year. This should be a no brainer for the Broncos and basically allow us to develop Maye without a need to start right away, and maybe light the proverbial fire under Wilson.
Pick No. 82 – Tyler Davis, DL, Clemson: Solid prospect with good size and power and ability to hold the POA, he's got some decent pass rushing ability from a bull-rush power perspective, but probably isn't going to be much more than a guy who is in the 5 to 7 sack a year potential, but is an ideal 3-4 lineman who can play with power and doesn't get moved off his spot. Would like someone more dynamic but in this range we are hoping for solid player who can be a solid contributor.
Pick No. 125 – T.J. Tampa, CB Iowa State: He's a player who has steadily progressed every year in college getting better, he has nice length, good speed, and shows good ability to support the run. Can play both man or zone, but probably better in zone. He's not known as a ballhawk but is a good at breaking up the pass due to his length. He's probably not going to be a starter, but should be a decent depth piece.
Pick No. 142 – Luke Lachey, TE Iowa: He might go a lot higher than this, but if he's around here then I think it's a solid pickup. He's not a burner but he has good speed, understands how to get open and is a solid target. Playing at Iowa also means he knows how to block. He's got excellent size and ability to stay on the field for three downs.
Pick 146 – Mario Williams, WR USC: Maybe a guy who is more quick than fast, he's smaller guy who should be a slot WR, kind of similar to a Wes Welker type who uses his strength and leverage to create separation and can get on top of safeties and DBs by using his tools effectively. Does well catching ball with his hands and rarely lets balls get into his body. I expect there will be a concerted effort to get more playmakers on offense, Williams may be a good value under the radar player here.
Pick 204 – Jonah Monheim, OT USC: He's a guy who definitely plays hard and plays with a nasty streak, does tend to give up too many pressures for his size which may be more about coaching and technique than anything, he has good length, well proportioned and has good strength to become an excellent blocker. This is mainly a depth pick, he plays RT at USC, may be better moving inside to G at the next level.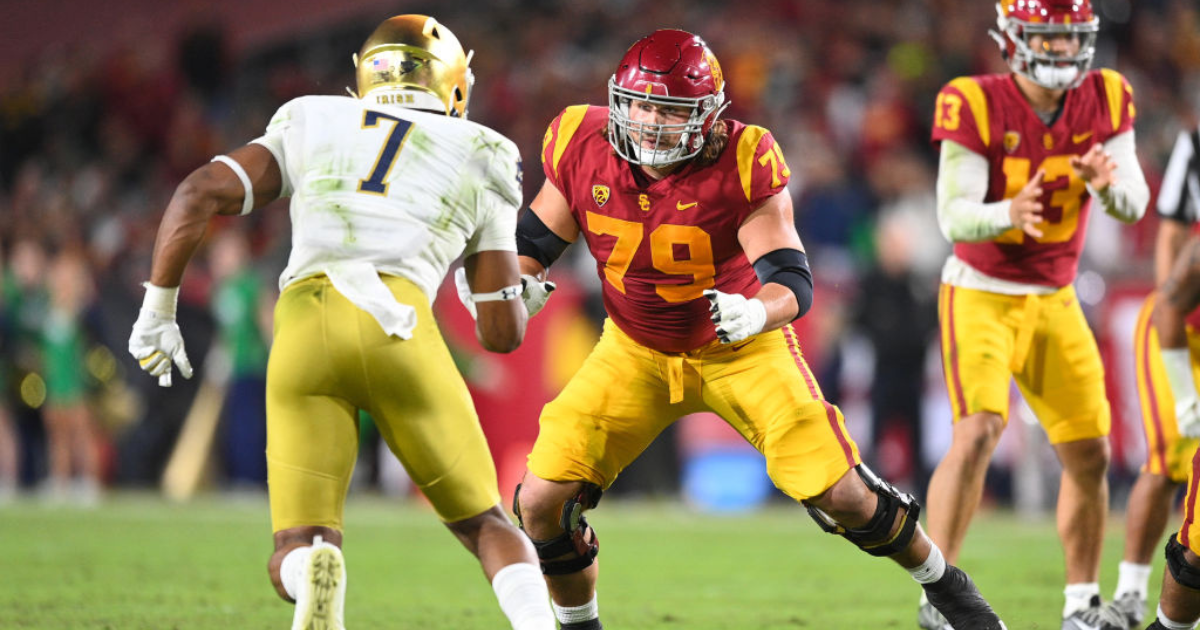 Pick 215 – Justin Dedich, C/G USC : Good technician who has played well at all three interior line spots for the Trojans, shows good burst and power in the run game, able to pull, understands leverage, and anchors well in the pass game. Likely is a Center in the pros due to arm length and height.